Our Chapter 
Our Mission
Together, we create life-changing wishes for children with critical illnesses.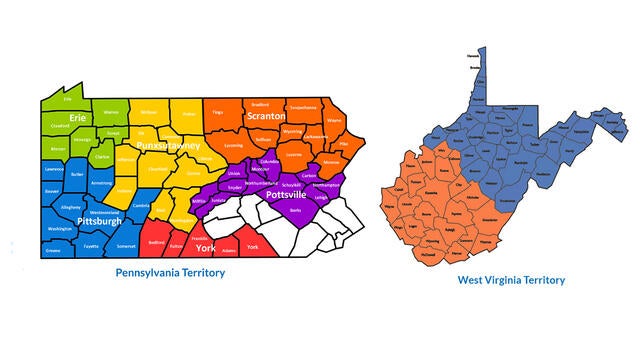 Make-A-Wish® Greater Pennsylvania and West Virginia grants wishes in 57 counties in western, central and northeastern Pennsylvania and West Virginia. The chapter is headquartered in Pittsburgh and has seven regional offices in Charleston and Morgantown, WV, Erie, Pottsville, Punxsutawney, Scranton and York, PA. The President and CEO is Judith Stone. 
Headquarters
The Gulf Tower
707 Grant Street, 37th Floor
Pittsburgh, PA 15219
800.676.9474 (toll free)
412. 471.9474 (phone)
412.471.9705 (fax)
[email protected] 
Counties Served:
Allegheny, Armstrong, Beaver, Butler, Cambria, Fayette, Greene, Lawrence, Somerset, Washington, Westmoreland 
Charleston Office
Charleston Regional Office
888 Oakwood Road
Oakwood Center Suite 330
Charleston, WV 25314 
800.664.9474 (toll free)
304.342.9474 (phone)
304.345.6568 (fax) 
Counties Served:
Boone, Cabell, Calhoun, Clay, Fayette, Greenbrier, Jackson, Kanawha, Lincoln, Logan, Mason, McDowell, Mercer, Mingo, Monroe, Nicholas, Putnam, Raleigh, Roane, Summers, Wayne, Wirt, Wyoming 
Erie Office
Erie Regional Office
1001 State Street, Suite 502
Erie, PA 16501 
877.206.0426 (toll free)
814.868.9474 (phone)
814.866.0490 (fax) 
Counties Served:
Clarion, Crawford, Erie, Forest, Mercer, Venango, Warren 
Morgantown Office
Morgantown Regional Office
913 Canyon Road
Morgantown, WV  26508 
304.292.5600 (phone)
304.292.5697 (fax)
888.808.9474 (toll free) 
Counties served: 
Barbour, Berkeley, Braxton, Brooke, Doddridge, Gilmer, Grant, Hampshire, Hancock, Hardy, Harrison, Jefferson, Lewis, Marion, Marshall, Mineral, Monongalia, Morgan, Ohio, Pendleton, Pleasants, Pocahontas, Preston, Randolph, Ritchie, Taylor, Tyler, Tucker, Upshur, Webster, Wetzel and Wood 
Pottsville Office
Pottsville Regional Office
518 Harrison Street
Pottsville, PA  17901 
888.545.9474 (toll free)
570.622.6962 (phone)
570.622.3644 (fax) 
Counties Served:
Berks, Carbon, Columbia, Juniata, Lehigh, Mifflin, Montour, Northampton, Northumberland, Schuylkill, Snyder, Union 
Punxsutawney Office
Punxsutawney Regional Office
219 West Mahoning Street
Punxsutawney, PA 15767 
877.284.9474 (toll free)
814.938.8888 (phone)
814.938.3431 (fax) 
Counties Served:
Blair, Cameron, Centre, Clearfield, Clinton, Elk, Huntingdon, Indiana, Jefferson, McKean, Potter 
Scranton Office
Scranton Regional Office
327 North Washington Avenue, Suite 501
Scranton, PA 18503 
800.480.9474 (toll free)
570.341.9474 (phone)
570.341.9448 (fax) 
Counties Served:
Bradford, Lackawana, Luzerne, Lycoming, Monroe, Pike, Sullivan, Susquehanna, Tioga, Wayne, Wyoming 
York Office
York Regional Office
2951 Whiteford Road, Suite 304
York, PA 17402 
800.440.9474 (toll free)
717.757.9474 (phone)
717.840.0222 (fax) 
Counties Served:
Adams, Bedford, Fulton, Franklin, York 
Careers & Internships
At Make-A-Wish, we are more than a great place to work — our work is life-changing. We are an inclusive and diverse group of people who, through a mosaic of backgrounds, thought and experiences, are united in purposeful work. We are fueled and guided by our values — values that are represented in the inspired people we work with and the life-changing work we do, every day. 
We are always on the lookout for great talent who share in our passion. If you are interested in a career or internship with Make-A-Wish, check out our current open positions. 
Employment Opportunities 
There are currently no positions available at this time.
Please check back for future career opportunities. 
Learn more about our Internship Opportunities here
Managing Our Funds
Make-A-Wish® Greater Pennsylvania and West Virginia finances endeavors through corporate sponsorships, special events, foundation grants and individual contributions. However, we do not solicit funds by telephone and receive no federal or state funding. As a 501(c)(3) tax-exempt organization, all contributions are deductible to the extent permitted by law. Our financial statements are audited locally by CliftonLarsonAllen LLP. 
At Make-A-Wish, we take our responsibility for the monies donated to our cause very seriously and are pleased to confirm that according to the fiscal year 2020 audit results, Make-A-Wish  Greater Pennsylvania and West Virginia spent 74.8% of every dollar on wish granting and related program expenses. Only 8.9% of every dollar was spent on management and general costs and 16.3% was allocated to fundraising. For full financial details please review our most recent FY 20 Audited Financial Statements or our latest 990.  
We are proud to be a BBB Greater Pennsylvania & West Virginia Accredited Charity Seal Holder, having met all 20 BBB Standards for Charity Accountability. 
Contact Us
Make-A-Wish® Greater Pennsylvania and West Virginia, Inc.
The Gulf Tower

707 Grant Street, 37th Floor

Pittsburgh,
PA
15219-1938
(412) 471-9474
Make-A-Wish® Greater Pennsylvania and West Virginia, Southern West Virginia Office
888 Oakwood Rd

Oakwood Center, Suite 330

Charleston,
WV
25314
(304) 342-9474
Make-A-Wish® Greater Pennsylvania and West Virginia, Northern West Virginia Office
913 Canyon Road

Morgantown,
WV
26508
(304) 292-5600
Media Center
Access news releases, background information and recent news about Make-A-Wish and connect with our Communications team.