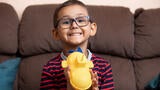 I wish to be a submarine driver
Alan, 4
brain tumor
A wish is... hope. Wishes are waiting. Your gift will help.
Ways to Get Involved
Transform lives, one wish at a time, through your support.
Enroll now and know you're helping grant wishes every month.
Help grant wishes by hosting or watching a charity stream.
54
children will qualify for a wish today
15K
wishes are granted each year
84
wish-granting volunteers are needed each day
I wish to see snow
Shore
9
cancer
When a wish comes true, it creates strength, hope and transformation.
Wishes have proven physical and emotional benefits that can give children with critical illnesses a higher chance of survival.
I wish to be a Southwest airline mechanic
Randy
5
heart condition
Southwest®, thank you for transforming the lives of children with critical illnesses through your support of travel wishes!