Volunteer
Your time and unique talents are critical to bringing strength and hope to wish kids when they need it the most. In fact, our volunteers are at the heart of every wish experience and we need volunteers now more than ever!  
Make-A-Wish volunteers consider their work impactful and meaningful. And, their efforts are rewarded—not in dollars or cents, but in the incredible difference they make in the lives of our wish kids. Volunteers even have the freedom to choose when and how they would like to help transform lives in our community. 
We understand that you want to volunteer but might not know where your skills and talents best lie. Check out our volunteer opportunities and see where you can best help make wishes come true. 
Wish Granter
Work with a partner to meet with wish kids and their families to help determine their heartfelt wishes, and then work with our staff to make those wishes a reality. 
Requirements: Completion of "Wish Granting 101" Orientation, volunteer application, background check, phone interview and completion of a wish-granter training session. 
Translator/Interpreter
Help facilitate wish experiences for non-English-speaking families. Translators attend wish visit and phone calls, but they are not directly involved in planning wishes. We especially need bilingual volunteers who speak both English and Spanish.  
Events Volunteer
Plan, organize and implement successful fundraising events by working on committees, helping on event day and/or participating in the event.  
Requirements: This opportunity is available in Western Washington only. Completion of volunteer application 
Skill-Based Volunteer
Use your professional skills and knowledge on an as-needed basis to provide much-needed skills such as reading and writing in multiple languages, graphic design, photography, skilled trades and more. 
Wish Ambassador Speaker's Bureau Volunteer
Present key information and share stories about Make-A-Wish Alaska and Washington to increase support and educate audiences on our mission. This volunteer position is best suited for individuals over the age of 21 with flexible schedules and a knack for public speaking, 
Wish Family Alumni Ambassador
Open to wish alumni and their families, represent Make-A-Wish at a number of external outreach and fundraising events to share your wish experience. 
Ribbons & Bows Volunteer
Volunteers purchase items from a personalized gift list for a wish child and return the gifts to any of our office locations. Ribbons & Bows donations range from $50 - $500 and are tax deductible. This volunteer role is best suited for workplaces and groups to help with wishes, or for individuals looking for a flexible time and financial commitment.  
Airport Greet Volunteer
Volunteers go to the airport to send wish kids off on their trips, welcome them home, or welcome them to town from somewhere else for their wish. This is a great opportunity for all adults as well as school-aged children. We are especially in need of airport greeters in Anchorage, Fairbanks and Seattle. 
Interns
Students gain valuable insights into the workplace and the innerworkings of a nonprofit. Internships are non-paid and are available in special events, communications, marketing, graphic design, accounting, development and the wish department. For more information about our Internship program and how to apply, please contact Volunteer Manager.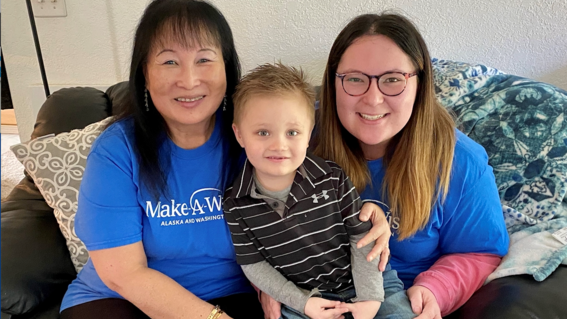 Volunteers with wish kid Tyson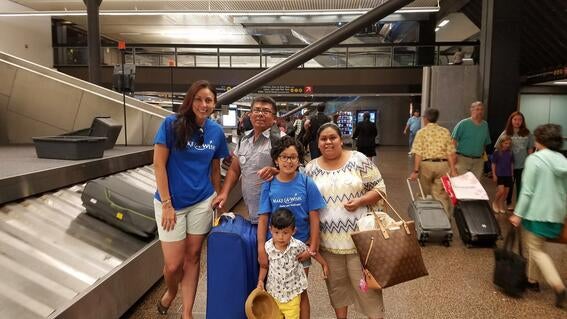 Volunteers with wish kid Noelia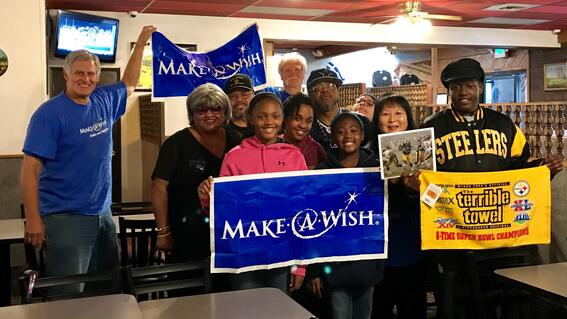 Volunteers with wish kid Khalel
Become a volunteer
Become a volunteer and begin your life-changing journey today!  
At every level of the organization, volunteers are critical to the mission.  We simply would not be successful without the support of our volunteers.   
Becoming a wish-granting volunteer takes just six easy steps: 
Review the volunteer opportunities available.  

Email Shelby Slaughter with your city, and state and the volunteer opportunities you're interested in. 

Schedule and complete a phone interview with Make-A-Wish volunteer staff. After the phone interview, we will send you the application. 

Complete the Volunteer Application packet. Upon completion of your application, we can register you for our training. 
Complete the one-hour wish-granting eLearning training. 
Complete the online background check. The cost of the background check $27.53; our background check company (First Advantage) will charge you similar to any online purchase. If you need help covering this cost, we are happy to do so. 
Ready to get started? Watch our Volunteer Opportunities video and then email Shelby Slaughter with your name and city to move forward to the next steps. 
Volunteer Satisfaction Survey
We strive to provide an exceptional experience to our volunteers because we can't do this important work without them!
That's why we survey our volunteers after every wish they helped us to grant. Those results are part of our continual process improvement. You can view our most recent volunteer satisfaction survey below.
Volunteer Survey Q4 FY 20.pdf
Other information
Background Checks 
To assure the safety of our children, we perform a national criminal background check on all of our applicants. The cost is $27.53 and can be reimbursed upon request. You must be 21 years or older to volunteer. All information in the volunteer application, and any acquired through the background check, remains confidential and is used only for screening and placement purposes. 
If a blemish appears on a background check it may be reviewed by our management team to determine if acceptance of a volunteer application is in the chapter's best interest.