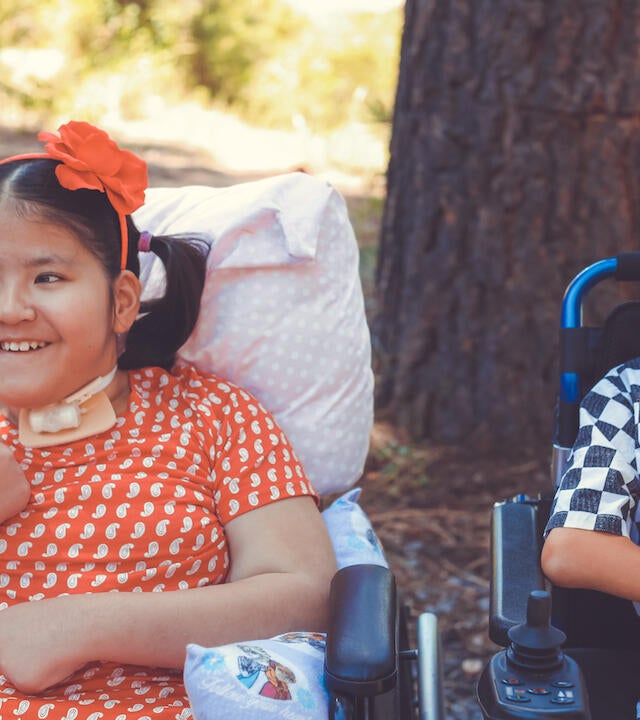 A Wish to Reunite Best Friends
The unconditional love of Dana's best friend, Nixon, gives her the courage to fight her critical illness.
The two now live thousands of miles apart, and her only wish was to see him again. In granting Dana's wish, Make-A-Wish Oregon brought Dana joy during some of her darkest days, and that joy gave her the strength to keep fighting for her health. 
"My daughter is resilient, she is brave, and I believe the world is a better place because of her," said Dana's mom, Janie.  
Dana grew up in a Mongolian orphanage, while also battling spina bifida. She often felt alone and scared, until she met Nixon. The two became inseparable and were all each other had for a very long time. Together, they motivated each other to fight through anything. 
Nixon was first to find a family in Florida, and that goodbye was unimaginably hard for Dana. Soon after, Dana met her forever family in Salem, Oregon.  
"I will never forget the day we brought home our beautiful, sweet-spirited girl and welcomed her into our family. She is our everything," said Janie.  
Last Christmas, an unexpected major medical event forever altered Dana's life. She went into respiratory failure and is now unable to breathe without the help of tubes. Still, she's a fighter. Dana is unable to talk, but that gorgeous, beaming smile of hers is how she communicates best with the world. And whenever her family talks about Nixon, she lights up. 
That's when they knew, if Dana could wish for anything, it would be to reunite with the friend who gives her strength.  
[Nixon] whispered words of encouragement. Told her how much he loved her, and to never give up. The two truly needed each other in this moment.
Janie
Dana's Mom
"In granting my daughter's one true wish, Make-A-Wish Oregon gave my family the chance to see Dana smiling her biggest smiles," said Janie. "Dana and Nixon spent a perfect five days together. They went to the Oregon Zoo, played in Sunriver, and comforted each other though this time of uncertainty." 
"When it was time to say goodbye, Nixon put his head on Dana's lap and had me rub her hand on his head. He whispered words of encouragement. Told her how much he loved her, and to never give up," said Janie. "The two truly needed each other in this moment." 
A beautiful testament to their love. One that brought Janie to tears.  
"Dana's wish impacted our lives in such a profound way. The experience united two families. It took away my anger toward this horrible twist of fate that robbed us of the Dana we were just getting to know. It inspired hope and reminded us what matters most: Each other." 
"I was supposed to be Dana's teacher, but she's ended up being mine," said Janie.  
People like you made Dana's wish possible. Your continued support helps Make-A-Wish Oregon transform the lives of local children living in our community, who are waiting to experience the healing power of a wish.  
"While Dana may not have the words to express it, I know this reunion meant the world to her. I could see that so clearly in her smiles that week. Pure joy in the presence of the friend who loves her no matter what. I will hold these memories close to my heart for the rest of my life," said Janie. 
Please help create more smiles for children, like Dana. Donate today.