November 19 - December 10, 2020
Pack the Outback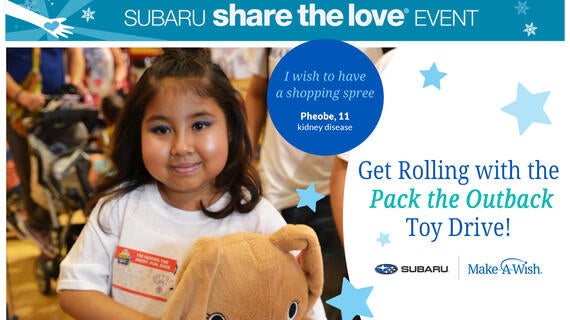 Time
Monday through Thursday: 9 a.m.- 8 p.m.
Friday: 9 a.m. - 6 p.m.
Saturday: 9a.m.-4 p.m.
Closed on Sundays
Location
Lawrence Subaru,
1726 Carlisle Pike ,
Hanover,
17331,
PA
Many Make-A-Wish® experiences start with a toy for a wish kid. It's our volunteers' way to get wish kids excited. This holiday season, participate in the Subaru Share the Love® Event and donate a toy. Help spark hope for a child with a critical illness and forever transform a life. 
Donate your unwrapped toys or gift cards for children and teens ages 2-18 at Lawrence Subaru. All gifts and gift cards must be brand new.