I wish to be a mermaid
Lilli
5
cancer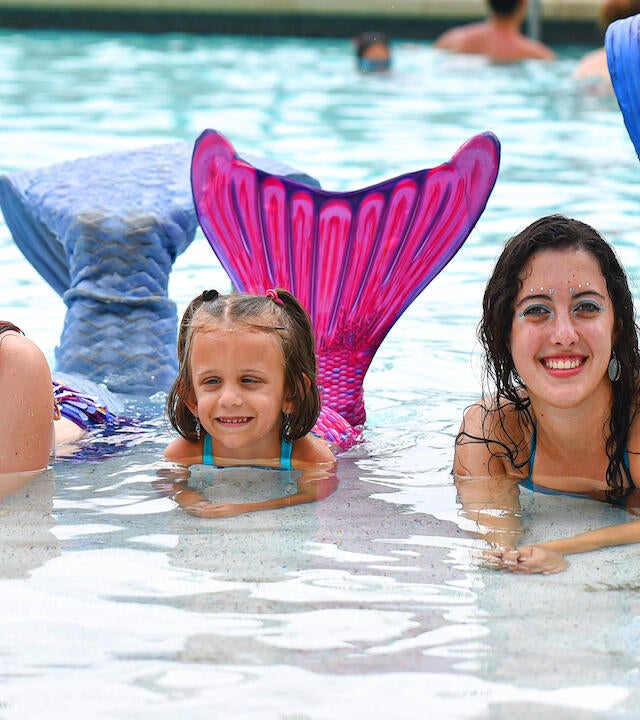 Meeting a princess is an extremely rare occurrence, but when Make-A-Wish® met Lilli, a five-year-old diagnosed with cancer, they knew they were in the presence of royalty. Not only does she introduce herself as a princess, but she also has over 130 princess dresses – and wears a different one to each of her appointments. The most captivating part about Lilli, however, is that she carries herself with the same compassion and love as a princess.
Lilli's mother, Courtney, told Make-A-Wish a story from when Lilli was first starting treatment and had met a little girl who had lost her hair during chemotherapy. Without hesitation, Lilli asked her mom if she could cut her hair and share it, and she did just that. "She was so excited" said Courtney. "The two have become really good friends since then." 
It was obvious that Lilli had mastered the art of being a princess, so she was ready conquer a new goal: being a mermaid. When Lilli found out that she and her family were taking a trip to Boca Raton, Fla., she was ecstatic, but she had no clue what surprises awaited her.
As she walked onto the warm, sandy beach, Lilli was in absolute shock when she was greeted by some magnificent mermaids. The look on her face was priceless. When asked how she felt when seeing the mermaids, Lilli responded with one word, "happy." The smile on her face was evidence enough of how meaningful and exciting this experience was for her.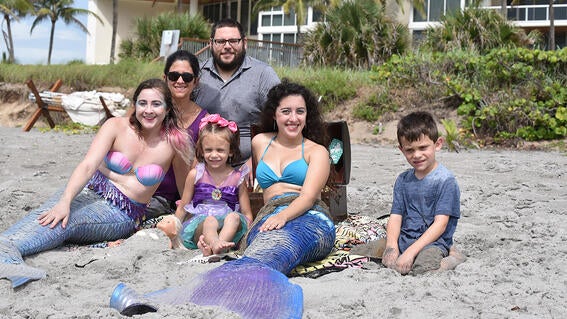 Lilli and her family meets the mermaids on the beach.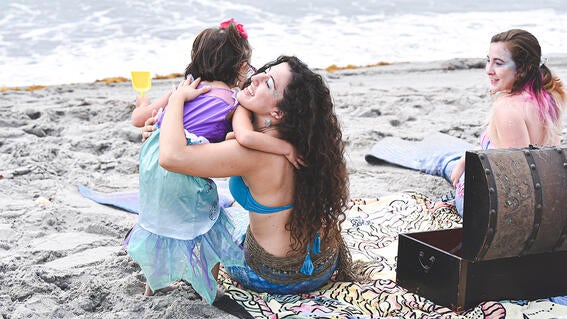 Lilli gives her new mermaid friend a hug.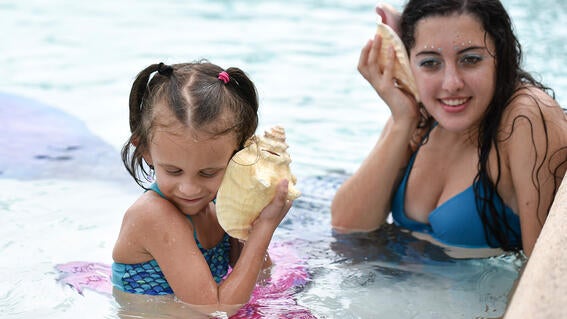 Lilli answers a call on her "shell phone."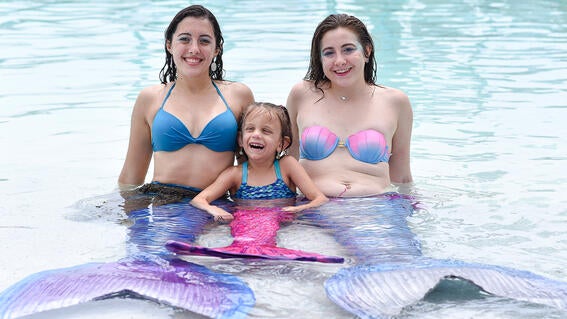 Lilli is all smiles with her fellow mermaids.
"It came at a difficult time in her treatment because she had just had an allergic reaction to her chemo the week before," said Lilli's mom. "We were all ready to go have some fun and forget about it for the week."
There was definitely no shortage of fun for Lilli. Not only did she meet mermaids, she was also presented with her very own mermaid tail in her favorite colors, pink and purple! She spent the whole day swimming and laughing with her new pals. 
As the day came to a close, it was time for Lilli to say goodbye to her forever friends. Although she missed them, she was happy when Mermaid Sam called her "shell phone" and told her all about their journey back to California and how much the mermaids had enjoyed spending time with her.
Although Lilli's wish has long been completed, the experience still holds an important place in her heart. Nowadays, she introduces herself by saying, "Did you know that I'm a princess and a mermaid?" 
If you know of a child facing a critical illness, refer them to Make-A-Wish. Your referral can be the hope, strength and happiness a child needs to continue fighting their condition.
Did you know that I'm a princess and a mermaid?
Lilli
wish kid