September 30 - November 14, 2020
Go Green with Make-A-Wish®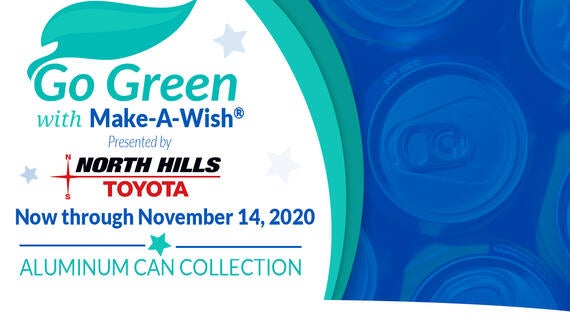 Time
Now through November 14, 2020
Join Make-A-Wish® in its initiative to go green!
We invite you to recycle and fundraise for Make-A-Wish® Greater Pennsylvania and West Virginia. In honor of America Recycles Day on November 15, 2020, we are hosting an aluminum can recycling drive from NOW until November 14, 2020. We have partnered with Gottlieb, Inc., Aluminum Recycling who will be buying our collected cans to raise funds for children with critical illnesses.
On November 14, we will have several different locations set up through the South Hills, North Hills, West Hills and East Side for you to unload all your cans. PITT OHIO has generously partnered with us to do a big haul throughout the local region to collect cans. We encourage you to come together as a community and start collecting cans within your businesses, schools, organizations, neighborhoods and your households.
OUR CAN DROP-OFF LOCATIONS:
The Waterfront (In the parking lot next to the Hampton Inn and across from AMC Theater)
Bethel Park Community Center (Located in parking lot) 5151 Park Avenue, Bethel Park, PA 15102
Northland Heights Senior Living (Located behind Kohl's) 4859 McKnight Road, Pittsburgh, PA 15237
Moon Township Municipal Building (Located in parking lot) 1000 Beaver Grade Road, Moon Twp, PA 15108 
The drop-off event will start at noon and ends at 2 p.m. Please wear a mask when dropping off cans and practice social distancing.
Now more than ever, the world needs the hope of a wish. We invite you to keep wishing, no matter the circumstances. Together, we create life-changing wishes for children with critical illnesses.
Questions? Please contact: Shenell Pooran, Development Coordinator at 800.676.9474 or [email protected]
Our Go Green with Make-A-Wish®Sponsor

Our Go Green with Make-A-Wish® Partners