I wish to have a pirate ship play set
Dontae
3
chronic respiratory failure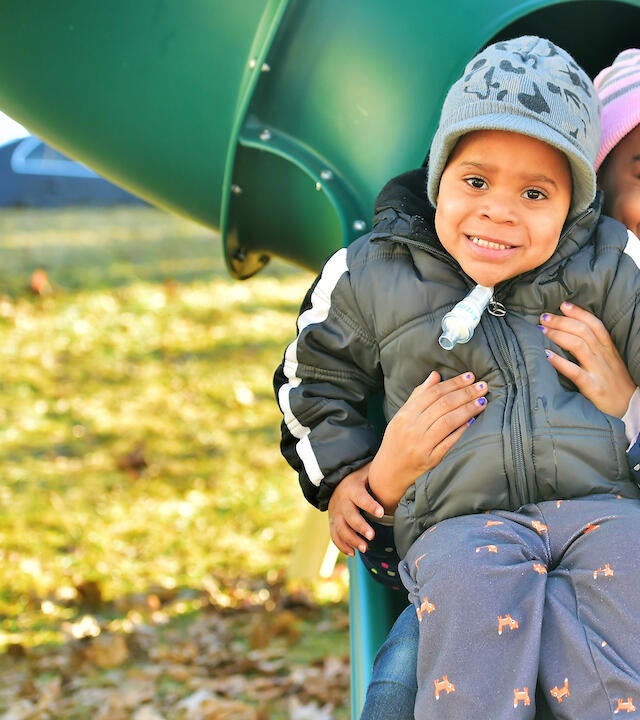 By the grin above his chin, no one would guess the trials that three-year-old Dontae has faced. At just 18 months old, he was diagnosed with a rare nervous system illness, which wreaked havoc on his health, including chronic respiratory failure. It was almost overnight that he went from being a perfectly healthy toddler to needing around-the-clock care.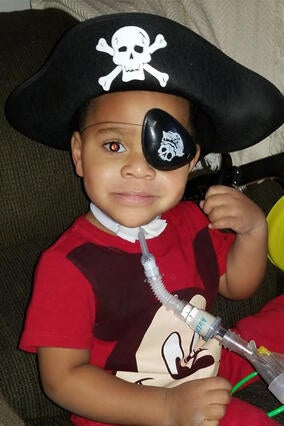 "They said what happened to Dontae was one in a million," Dontae's mom, April, told Public Opinion.
Today, Dontae needs both a breathing and feeding tube, but that doesn't stop him from living life with curiosity and adventure – like a pirate sailing at sea.
To give him endless fun and a place where he can always go to play, Make-A-Wish® Greater Pennsylvania and West Virginia granted his wish to have a pirate-themed play set in his backyard. Shaped like a ship and complete with a mast and sail, the play set was everything Dontae pictured it would be. It has three levels, port holes, a steering wheel, swings and a winding slide. On the day of the reveal, Dontae even dressed up in his pirate hat to fit the part.
Dontae's parents say that he loves to be pushed on the swings and can climb the structure with a helping hand. But because of his condition and weakened immune system, having this ship anchored behind their home means more than typical backyard fun – it's a chance for Dontae to be a normal kid without being exposed to the many germs at public playgrounds.
Dontae's mom and dad believe that having this playset is better than any one-time experience or trip. It's something that he will be able to enjoy for many years to come, and it will help keep his spirits high as he works toward good health.
Now, anytime Dontae wants to let his imagination wander, he can say "Ahoy" to his personal pirate ship and play.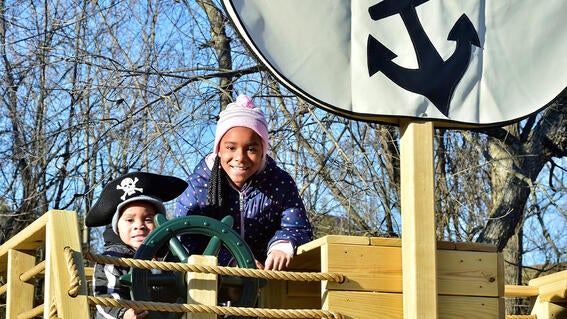 Dontae and his sister at the helm and ready for adventure.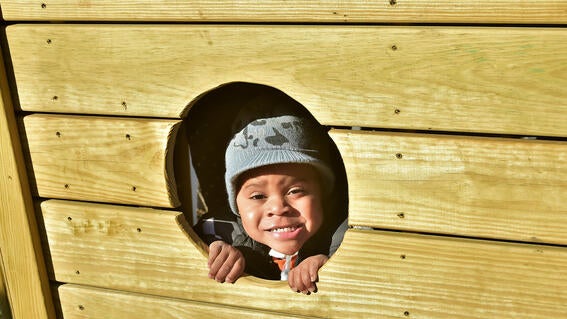 Dontae takes a peek from the porthole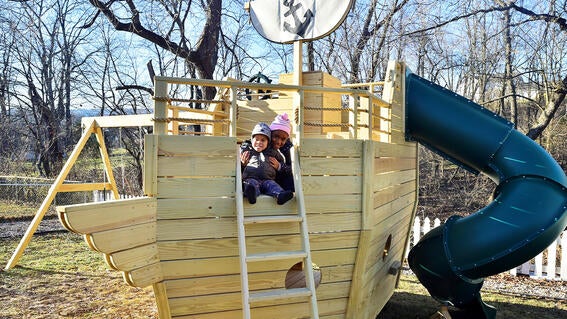 Dontae and his sister can now sail the seven seas from their own backyard.