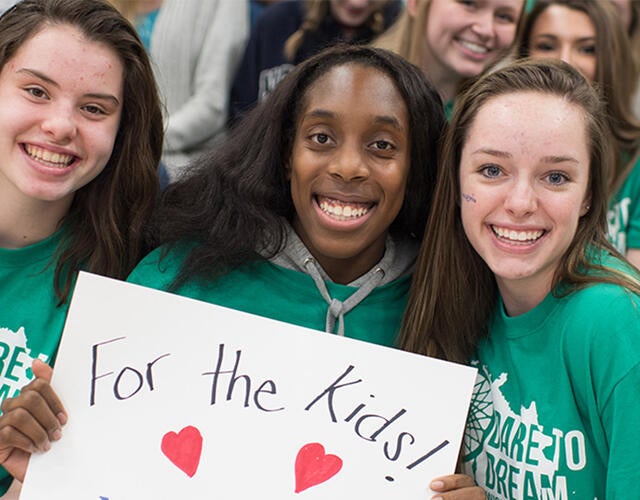 Kids For Wish Kids®
Your Passion Can Transform Lives
Kids For Wish Kids is a program managed by kids, for kids. 
Inspiring kids to have an impact in their community, the Kids For Wish Kids program engages students, schools and youth organizations in philanthropy and service activities in partnership with Make-A-Wish. The program encourages community service, leadership, volunteerism and teamwork. It builds team spirit and gives students hands-on experience fundraising to help create life-changing wishes for kids fighting critical illnesses.
Connect with your local chapter to learn more or start a fundraiser.
Project Ideas
Wish Week
With a week full of fun, you can plan different activities each day or coordinate two or three fundraisers during the week. You can even combine existing school events, such as homecoming or spirit week. It's totally customizable! 
Sell It
Sales fundraisers are a win-win for everyone! Create your own or choose from some of these sales: bake, garage, cookbook, candy grams, holiday gift baskets, finals "survival" kits, flowers, wristbands, T-shirts, Make-A-Wish paper stars, etc.
Miracle Minute
During an assembly, pep rally or sporting event, set the scoreboard clock or timer for one minute and pass a donation bucket. See how much change – or dollars – you can raise.
'Thons
Host a danceathon, walkathon, readathon or any other type of 'thon! Encourage your friends and family to make general donations and/or pledges for each minute they dance, lap they walk/run, minute they read, etc.
Get Sporty
Coordinate a sports tournament or event, and raise funds via registration fees, admission, concessions or contests. Student vs. teacher, faculty vs. administration or face off with a rival group – the format is up to you.
Fun Night
Make it a night to remember and raise funds. Whether a game or movie night, carnival or dance, charge an admission fee and sell concessions during the event. Recruit a committee to help with decorations and music.