I wish to have a puppy named Fluffy
Shanya
15
nervous system disorder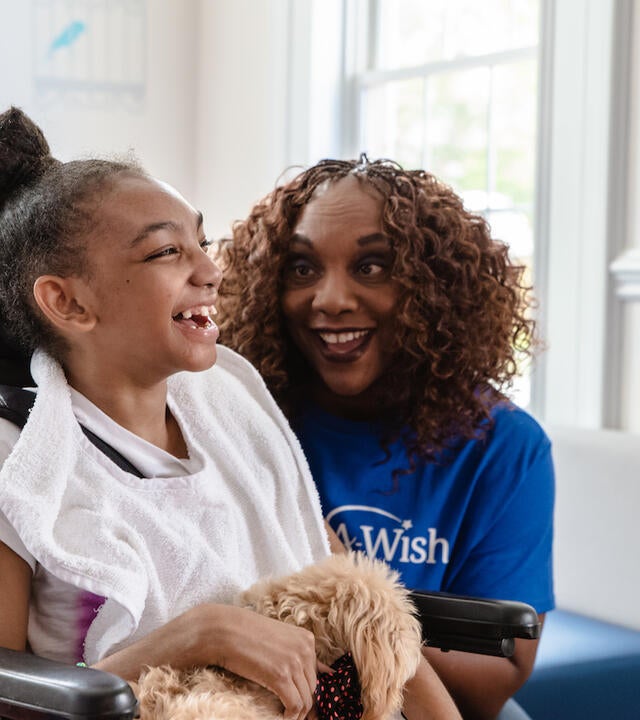 Wish Kid and Wish Granter Form a "Fur-Ever" Bond
A wish not only transforms the lives of children and their families, it has an everlasting effect on wish granters: the people who make a wish possible.
Barbara, a volunteer with Make-A-Wish, had the opportunity to witness this incredible power firsthand through her first wish granting experience with a 15-year-old wish kid named Shanya.
Although Shanya suffers from a nervous system disorder and is nonverbal, she is an expressive teenager with the "most beautiful eyes," Barbara said. From the moment she met Shanya during the wish discovery visit, Barbara sensed a special bond.
This instant connection turned out to be the key to unlocking Shanya's wish. Barbara began asking Shanya and her grandmother questions about what she likes and doesn't like. When the idea of a puppy came up, Shanya's huge smile made it clear that having a cute Maltipoo puppy named Fluffy was her one true wish.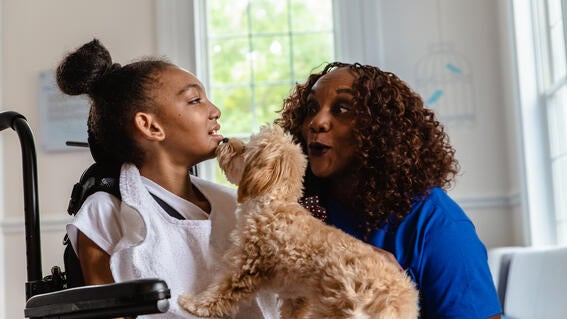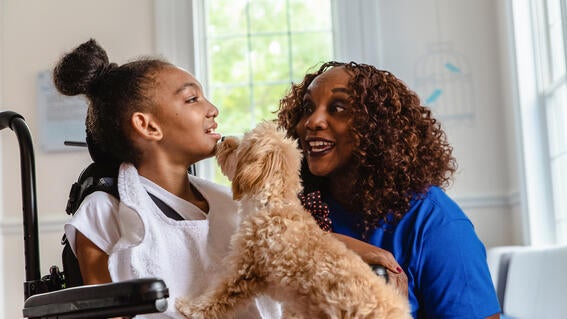 It was just one of those moments where I said, 'This is why I love this organization. This is why I give Make-A-Wish my time. It is worth every minute that I spend here to get to see
Barbara
wish granter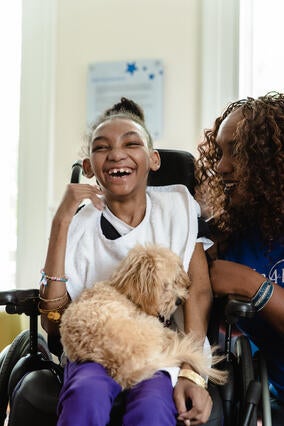 On the day of Shanya's wish, Fluffy received a royal welcome, complete with a new bed, blanket, bath supplies, treats, and, of course, plenty of fun new toys. Barbara also generously bought Fluffy a pink "blinged-out name collar."
Barbara was brimming with excitement as she brought Fluffy over to Shanya for the big introduction. "I put her in her lap and she just smiled. Fluffy immediately burrowed her little head into Shanya's chest. I fought back the tears. They just instantly bonded. Shanya looked so happy."
After taking Fluffy back to her new "fur-ever" home, Shanya's grandmother shared photos of Shanya and Fluffy cuddled in bed together and told Barbara that they were inseparable. Whenever she needs a hand, Shanya will now always have Fluffy's paw.
"Being able to interact with these kids who are just looking for that one day they don't have to concentrate on being ill or going to the doctor or doing tests – it's just a part of my life that I will cherish for many, many years to come," said Barbara, one of nearly 40,000 volunteers for Make-A-Wish across the U.S. "I volunteer with a lot of organizations. But Make-A-Wish really touches my heart."