I wish to be a pilot
Eric
leukemia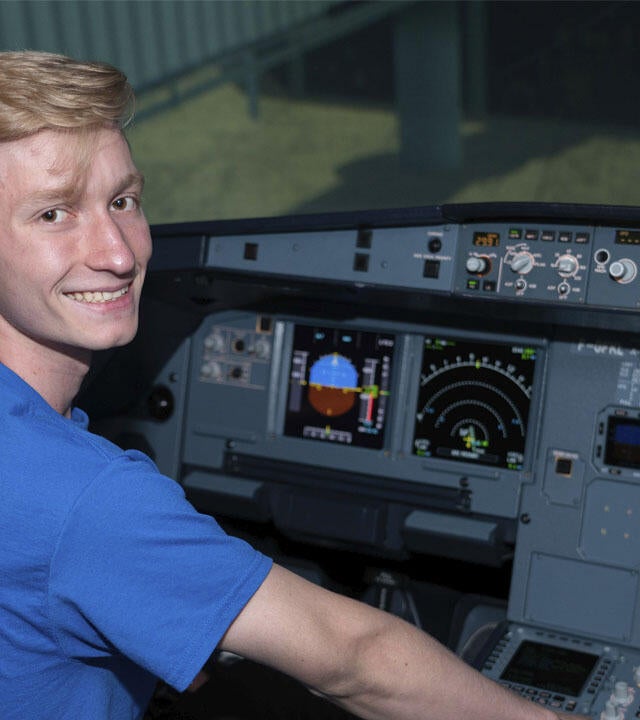 Allegiant Pilot Wish Sets Path for Wish Kid's Future
In the fall of 2015, Eric was an outgoing and active high school senior about to embark on his final year on the competition cheer squad. But just when he should have been making college plans, Eric had to put his future on hold for a fight he never imagined he'd have to endure.
Eric was diagnosed with leukemia. After several rounds of chemotherapy, Eric ultimately needed a bone marrow transplant. He turned to his older sister, Abigail, who became a donor who helped save his life.
Once in remission and with the support of his family, Eric began to think about how his wish could help chart a path for his future. He wanted his wish to positively impact the rest of his life, so Eric chose to honor his grandfather, who was a pilot during World War II and a huge inspiration for Eric as he was growing up.
Eric's grandfather passed from cancer just one month before Eric's own diagnosis. Eric looked back on their special bond and decided he wanted to continue in his grandfather's aviation footsteps. Eric wished to be a pilot – a first step to begin training to obtain his pilot's license.
I'm thankful for Make-A-Wish. They helped me a lot.
Eric, wish granted 2018
Make-A-Wish® Southern Nevada turned to partners at Allegiant Air and the Avenger Flight Group (AFG) to give lift to Eric's wish. For Eric's wish reveal, AFG put Eric in the captain's seat of their state-of-the-art flight simulator. Pilots from Allegiant guided Eric from takeoff to landing of a commercial aircraft as his family cheered him on from the passenger seats. And with his first flight under his belt, Eric was made an honorary first officer and presented with the official uniform of any good pilot – authentic commercial pilot wings and Ray Ban aviators.
"Maybe I can even make a career out of this," Eric said.
Now attending college, Eric will pursue his dream of achieving his solo license with flight lessons at the Advanced Aviation flight school in Reno, which generously donated to help make Eric's wish come true. Eric says he's proud of how far he's come after fighting cancer, and "I'm not going to let it get in the way of doing the things I want to do."