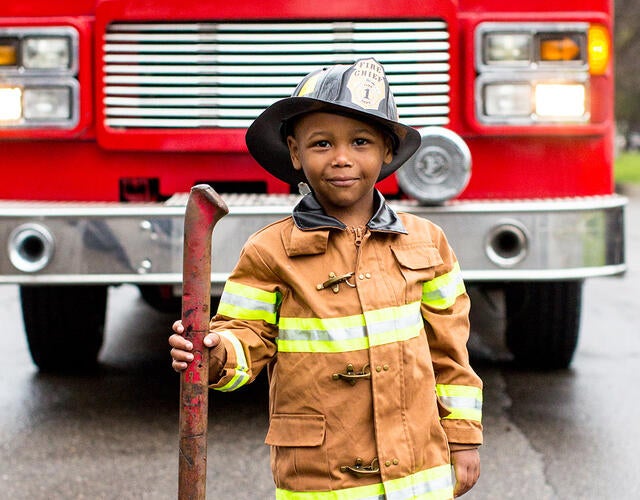 Tyren the Firefighter
Inspires a Community
As the fire engine rounded the corner, sirens blaring, it made a slow stop in front of 3-year-old Tyren's home. There was no fire today, but today was certainly significant. Little Tyren was becoming an official Detroit Fire Department (DFD) firefighter. 
Only 1,120 days old, Tyren had always dreamt of becoming a first responder. But getting to that dream had taken some work. At 2 years old, Tyren underwent a heart transplant at the University of Michigan C.S. Mott Children's Hospital. It wasn't a quick recovery, but every day Tyren made great progress, his heart got stronger … and his dream kept him going. 
"Are you ready to be a firefighter today?" asked one of the first responders as he slipped a pint-sized bunker coat on Tyren, Tyren's name proudly displayed on the back. Tyren nodded "yes." Then he took his mother's hand and together they climbed aboard the fire truck, traveling to the Engine 54 fire station.
As they pulled up to the station, they were greeted by a crowd of supporters. Firefighters, police officers, volunteers and school children cheered for the newest and youngest member for the fire department. Tyren had four generations of family present as well as many toddler friends. Even Patches, the DFD Dalmatian mascot, welcomed Tyren and then escorted him to a special ceremony. Tyren was made chief for the day and received an official DFD badge, certificate and red firefighter helmet, specially-designed for him. 
Outside and with the help of another first responder, Tyren put his firefighter skills to work, holding the fire engine hose as the water began to spray. Tyren giggled as the water hit the ground and Patches jumped through the spray. Watching the purity of Tyren's joy spread smiles and happy tears across the crowd.   
Tyren's wish experience continued with lunch cooked by the department firefighters. He and his family ate at the firehouse, laughing and chatting with their new firefighter friends. As the day came to a close, Tyren hopped into the driver's seat of the engine, his eyes barely peeking over the window. This had been a remarkable day for a kid with a heart of gold.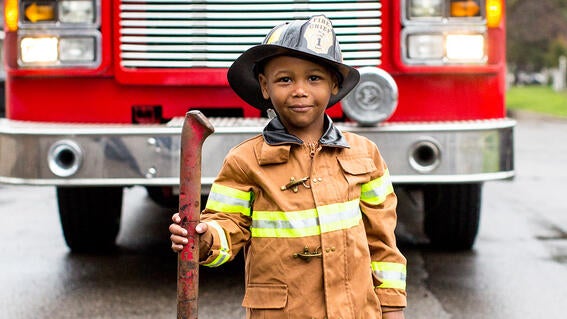 Tyren means business.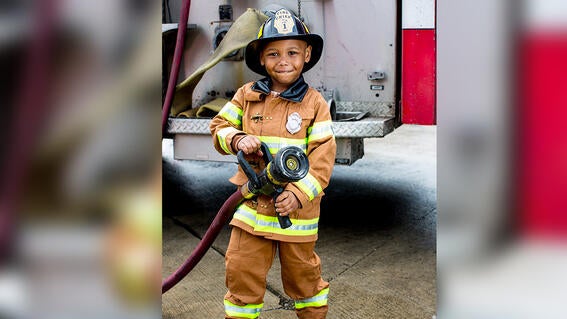 Tyren is ready to fight fires!
"Did you have fun?" asked Tiesha, Tyren's mom. Tyren had little words, but the sparkle in his eyes and sweet grin said it all. 
But Tyren wasn't the only one whose day was made. The community of volunteers, firefighters, family and friends were impacted by Tyren's courage and joy. 
"The entire day was amazing, just seeing him smile like that," Tiesha said. Tyren wasn't the only one left smiling.  
There is no greater service than the service of others – and that's what made today so special.
John King
Chief of Fire Operations for the DFD