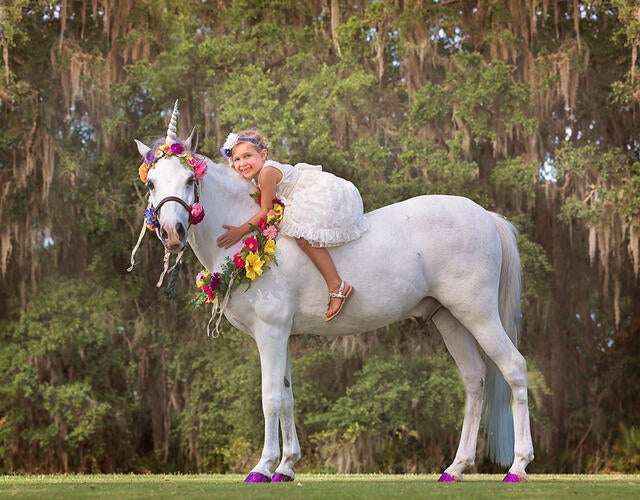 Charlotte Meets Bam-Bam the Unicorn
Two months. For a child undergoing arduous medical treatments, two months is an eternity. When 5-year-old Charlotte was diagnosed with a blood disorder, she spent eight weeks tethered to her hospital bed undergoing a bone marrow transplant. The pain, nausea and depression took a toll on the normally bright and playful child.  
Charlotte's mom Estela said her daughter loves two things: twirly dresses and unicorns. Since she could talk, she said someday she wanted to meet a unicorn. Thanks to the generosity of our Make-A-Wish® donors, Charlotte's wish came true and was a beacon of light during a dark time in her life. 
"When Charlotte found out she was meeting a real, live unicorn, she was over the moon," said Estela. "It was so refreshing to see her so excited, because not long ago, Charlotte's world was crashing down." 
The night before her wish, a beautiful dress, sandals and purple necklace were delivered to her hotel room. The next day Charlotte was led to a field where she closed her eyes in anticipation.  Then a mythical unicorn Bam Bam, covered in fresh flowers, a glittery horn and purple hooves, appeared at the edge of a "magical forest." Charlotte spent the morning with the horse, petting and riding him, even feeding the unicorn carrots and apples. When lunch arrived, Bam Bam escaped back to the magical woods.  
"Charlotte's wish brought her back to life," said Estela. "We lived so long in and out of the hospital over the years, she's missed out on growing up and having fun. Her wish reminded us that life doesn't have to be just hospitals, needles and surgeries." 
The generosity of everyone involved in granting her wish helped Charlotte look beyond the challenges of her illness and see the impossible as possible. 
These wishes give kids and their families hope that life will go back to a normal, even if it's a new normal. For Charlotte, it helped bring her back to life!
Estela
Charlotte's mom