I wish to be a police officer
Abdul
5
acute lymphoblastic leukemia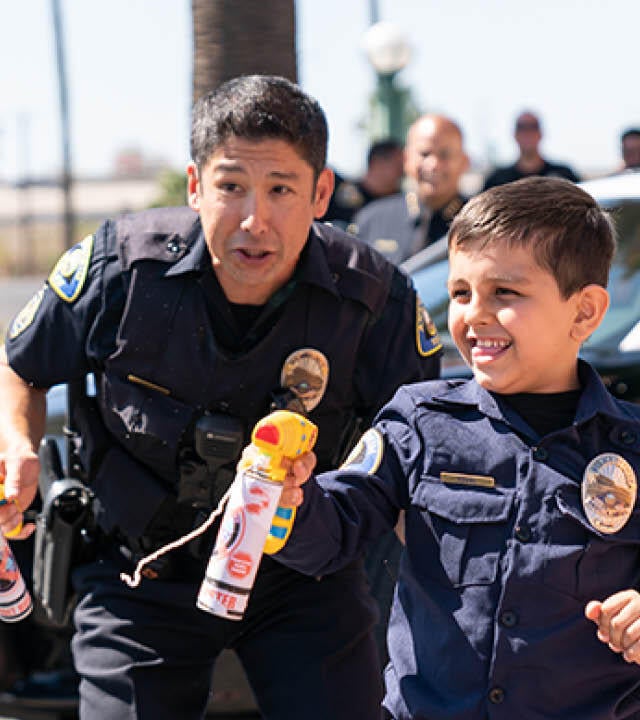 Abdul's Wish to be a Police Officer
Abdul loves everything a typical 5-year-old boy would: eating pizza, snacking on Doritos and chocolate and enjoying a good burger at his favorite restaurant.
His favorite outdoor activity is playing soccer, though he also enjoys staying indoors to play Fortnite, his favorite video game. 
However, unlike any other 5-year-old, Abdul battles acute lymphoblastic leukemia as part of his daily routine. Abdul was diagnosed at just four years old, and his previous hobbies of fighting crime in video games was replaced with fighting his condition. When Make-A-Wish volunteers inquired about his most heartfelt wish, they were excited to learn that Abdul wanted to continue his passion to fight crime and battle opponents – he wished to be a police officer. 
In September of 2019, his wish came true. With the "Toon Bandit" wreaking havoc in the city of Anaheim, Abdul had a long day of justice ahead. The day started with his swear-in ceremony at the Anaheim Police Department, where he was declared an honorary officer and received his very own Anaheim Police Department uniform. He began his crime fighting adventure to capture the "Toon Bandit" and rescue missing Toons throughout the city. 
Being able to create Abdul's wish provided me with the opportunity to help him experience one of the best days of his life.
Sargeant Jacob Gallacher
Anaheim Police Department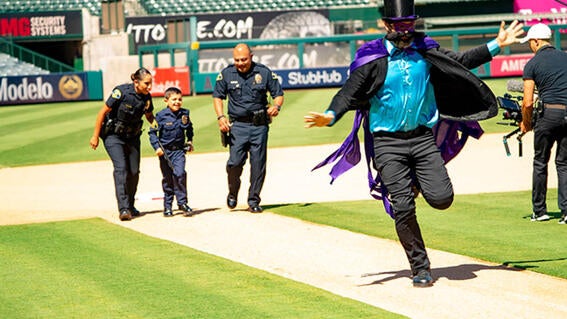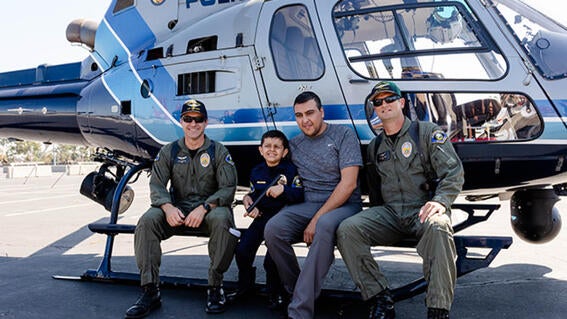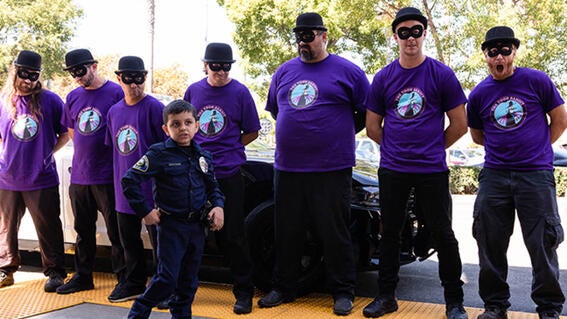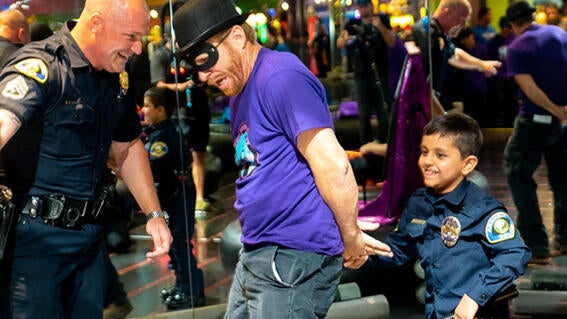 At Knott's Berry Farm, Officer Abdul solved the crime of Linus' missing blanket. Using his silly string blaster, he took down the outlaw. Shortly after, Officer Abdul was called to action to rescue IncrediBear from the Toon Bandit's Henchman! Upon arrival at John's Incredible Pizza, Officer Abdul used bumper cars to "bump" the bad guys and rescue IncrediBear from his chains. As he finished his pursuit, he was dispatched to Angel Stadium, where the Toon Bandit was spotted! Officer Abdul and his partner chased the Toon Bandit out of the stadium and a police pursuit was initiated. 
"The Angels were so happy to be a part of Abdul's special day. His bravery and courage were instrumental in keeping our stadium safe from the Toon Bandit," said Dennis Kuhl. 
After racing through the city after the Toon Bandit, Officer Abdul finally found him at the Honda Center. Officer Abdul used his t-shirt launcher to launch foam hockey pucks at the Zamboni driver, the Toon Bandit and his henchman. Officer Abdul arrested the Toon Bandit, his henchmen and SAVED THE DAY! 
Officer Abdul ended his day with a hero's welcome and celebration ceremony at the police department. Those who helped with Abdul's wish reflected on the unique experience that unfolded that day. His opportunity to fight crime and live out his dreams was fulfilled. "The opportunity to provide Abdul with a special day where he was able to forget the challenges he has faced -- to see him smile and just be a kid – was a truly rewarding and remarkable experience.  It is a day I will never forget," said Sergeant Jacob Gallacher. Abdul's wish to be a police officer touched the hearts of many, and inspired those in law enforcement. 
"Law enforcement is an extremely difficult and demanding profession and we often times see people on some of the worst days of their lives. Being able to create Abdul's wish provided me with the opportunity to help him experience one of the best days of his life," said Sergeant Jacob Gallacher. 
Presented with an honorary officer badge, Officer Abdul will always be remembered for the day he saved the city of Anaheim.