I wish to have a playset
Riley
3
brain tumor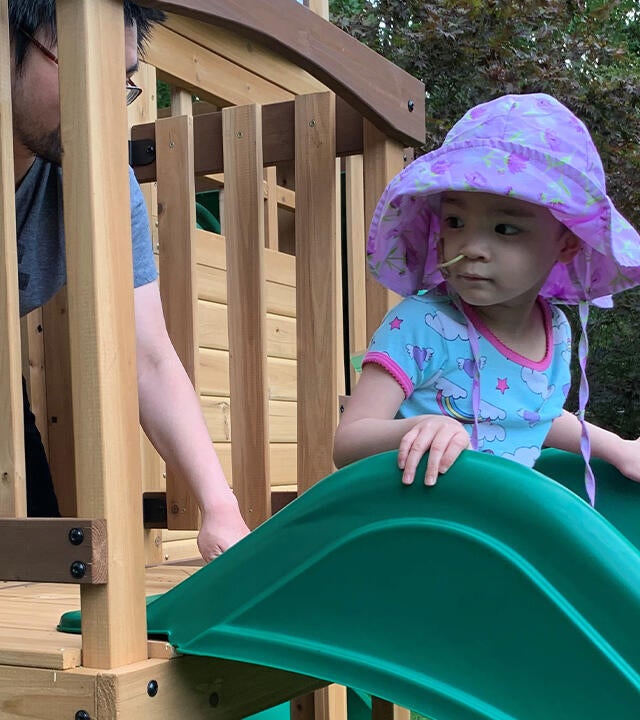 Riley's Wish Brings The Playground Home
Riley and her family faced what no family ever imagines possible in January 2020.
After two months of tests, Riley was diagnosed with a tumor in her back, and a brain tumor. She would undergo four surgeries and chemotherapy, spending over 90 days in the hospital.
After what seemed like a lifetime of anxiety and fear, Riley's family would face even more devastating news – her tumor had returned.
"Prior to receiving her diagnosis earlier this year, going to the playground was one of Riley's favorite activities," her parents Jason and Nicole shared. "During this scary time when there is some risk for anyone leaving their house, imagine the risk for a child in treatment for cancer."
Riley has endured multiple surgeries, radiation treatment, and chemotherapy is once again on the horizon.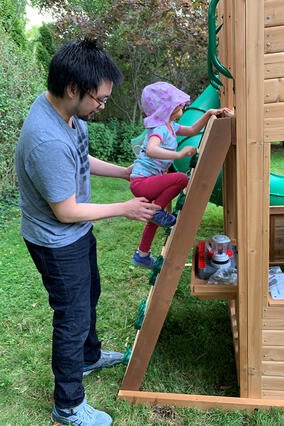 With the current global pandemic, life became even more complicated for Riley's family. With her immune-compromised system, caretakers for Riley and her new 3-month-old sister could not safely be in the house. Riley's grandfather, a nurse actively working in the hospitals on a COVID-active floor, could not visit.
Riley's family was, for the safety of their children, essentially on their own.
Riley's mom stopped working, and Riley's dad had to take leave from work to take care of the family during her time in the hospital, beyond the initial diagnosis and treatment – over seven months, in total.
But Riley's family always remained positive – their family motto seemed to become to always pivot, to "always look forward", and that they did, and continue to do.
Riley and her family spent time in the hospital discussing the possibilities of a wish, thanks to their incredible medical care team and significant referral source to Make-A-Wish, Hackensack Meridian Health in Hackensack, New Jersey. After much consideration, it was clear that Riley's greatest joy would come from a playset in her own backyard that she could call her own. With a love for Mickey Mouse Clubhouse, the backyard oasis is now themed "Riley's Playhouse" but has its Disney themes around it.
"One of Riley's cancers doesn't have the greatest prognosis, but we will keep hoping and fighting," her parents Jason and Nicole continued. "However, we don't want her to spend whatever time she may or may not have left cooped up inside our home. This playset has provided Riley with a safe space where she can get her energy out and just enjoy herself. She has also had two brain surgeries which have affected her mobility and dexterity in her left-sided extremities. This playset has also provided her with another means of physical therapy to help her get stronger. Whenever we ask her, 'Should we go to Riley's Clubhouse?' her face immediately brightens as she runs for her socks and shoes."