Our Chapter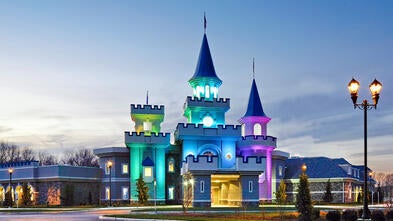 The Samuel & Josephine Plumeri Wishing Place
The Wishing Place is the only one of its kind. It provides an environment that is free of limitations, confinement, and stress. It stimulates the imagination and reveals to seriously-ill children the imaginative possibilities of a wish.
Managing Our Funds 
Make-A-Wish New Jersey finances endeavors through corporate sponsorships, special events, foundation grants and individual contributions. However, we do not solicit funds by telephone and receive no federal or state funding. As a 501(c)(3) tax-exempt organization, all contributions are deductible to the extent permitted by law. Our financial statements are audited locally by CliftonLarsonAllen LLP.
At Make-A-Wish, we take our responsibility for the monies donated to our cause very seriously and are pleased to confirm that according to a three year average of audit results, Make-A-Wish Foundation of New Jersey spent 78% of every dollar on wish granting and related program expenses. 8% of every dollar was spent on management and general costs and 14% was allocated to fundraising. For full financial details please review our most recent FY20 Audited Financial Statements or our latest 990.
Download Our Financial Information
Our Board
David Indursky
Board Chair
President, Encon Mechanical
Chris Avallone
Board Member
President/Owner, Alpha Associates
Don DeGolyer
Board Member
CEO, Vertice Pharma
Patrick Dunne
Board Member
Managing Director, BFI Furniture
Stacey-Ann Easy
Board Member
Director, Garden of Dreams Foundation
Brian Mulvaney
Board Member
Regional Sales Manager, M&T Securities, Inc
Michael Oakes
Board Member
Senior Vice President, Springpoint Senior Living Foundation
Christopher Perry
Board Member
President, Broadridge Financial Solutions, Inc.
Allison Stangeby
Board Member
Vice President of Community & Corporate Relations, New York Football Giants
Careers & Internships
At Make-A-Wish, we are more than a great place to work — our work is life-changing. We are an inclusive and diverse group of people who, through a mosaic of backgrounds, thought and experiences, are united in purposeful work. We are fueled and guided by our values — values that are represented in the inspired people we work with and the life-changing work we do, every day. 
Careers 
There are no available positions at this time.  
Internships 
Due to COVID-19, our internship program has been put on pause. Please check back in Summer of 2021 for new opportunities. 
Contact Us
Make-A-Wish® New Jersey
Samuel & Josephine Plumeri Wishing Place

1384 Perrineville Road

Monroe Township,
NJ
08831
(609) 371-9474