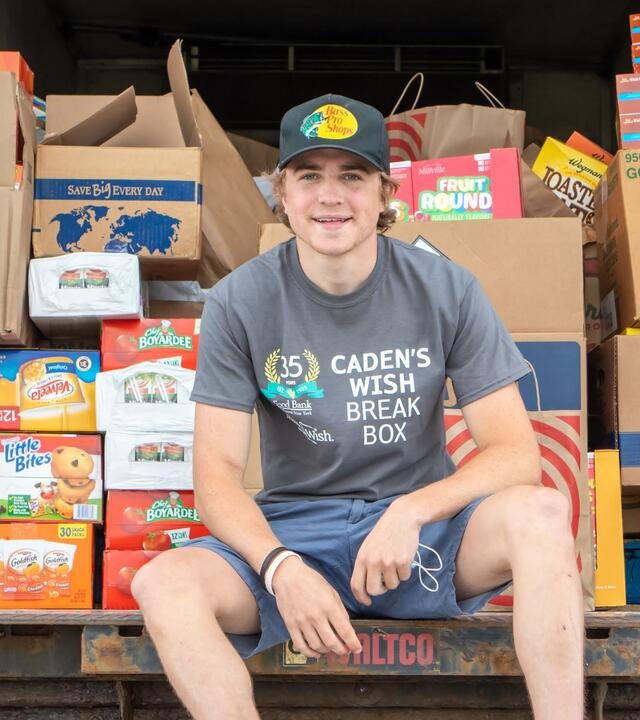 Caden's Wish to Give Hunger Relief to Struggling Children
Eighteen-year-old Caden was just three months old when diagnosed with cystic fibrosis, a life- threatening genetic disease that affects the lungs and digestive system.
The diagnosis was scary, but early detection helped Caden's family keep him healthy, and access to clinical trials gave him the opportunity to try breakthrough treatments with success. As he grew, Caden was able to enjoy favorite activities like boating, water skiing, and snowmobiling with enthusiasm.
While Caden was referred to Make-A-Wish® several times throughout his childhood, he declined the opportunity for a wish. It wasn't until he learned he could use his wish to give that he said yes to the once-in-a-lifetime experience.
Making a difference in the lives of low-income children was imperative for Caden.
"I felt I've had a pretty good life and have been able to travel and enjoy so many fun things in life," Caden said. "I wanted to give back and share with kids in need that may not be as fortunate as I am."
Caden was considering how to make an impact when COVID-19 led to the shutdown of communities throughout his state. The closure of businesses and schools was triggering food insecurity and having a devastating impact on low-income families. There were children, he learned, whose primary access to meals was through school.
"I live for food so I couldn't imagine children struggling to have access to it," Caden said. "It made me sad to think some kids don't have enough, so when COVID hit and they couldn't go to school any longer, I felt there was a real need."
With Caden's input, Make-A-Wish partnered with Food Bank of Central New York to make his wish come true. A food drive was held in support of
"Caden's Wish Break Boxes" and 5,700 pounds of food was collected.
As word spread of Caden's generosity, the local community was deeply moved. One family – Chris and Nancy Gorman and daughter Emma – had been saving for a family vacation. When they learned of Caden's wish, they donated their $5,000 vacation fund to lend support.
"Helping kids is very important to us," said Chris Gorman. "We want to show others that everyday people can make a difference."
Through Caden's wish, more than 2,100 boxes will be distributed this year to Central New York locations serving struggling children and their families. To ensure sustainability, The Boeheim Foundation - a nonprofit run by Syracuse University Men's Basketball Coach Jim Boeheim and his wife Juli - donated $10,000 and committed to support the program annually.
"When he decided to do this for the community, we wanted to help right away," said Jim Boeheim. "He's a great young man."
When praised for his generosity, Caden casually shrugs off the accolades. For him, it's all about making a difference.
"Living with limitations taught me to be stronger and kinder to people," he said. "Giving back was my goal in all of this."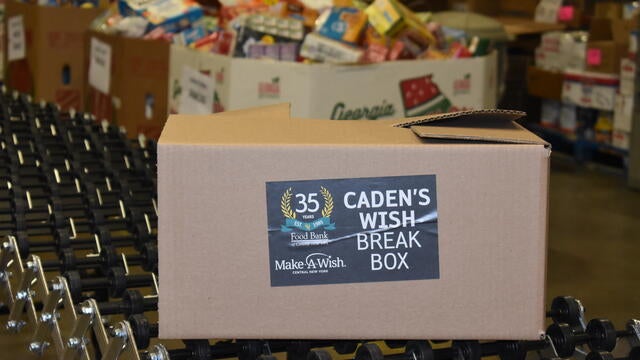 "Living with limitations taught me to be stronger and kinder to people. Giving back was my goal in all of this."
Wish Kid Caden, 18