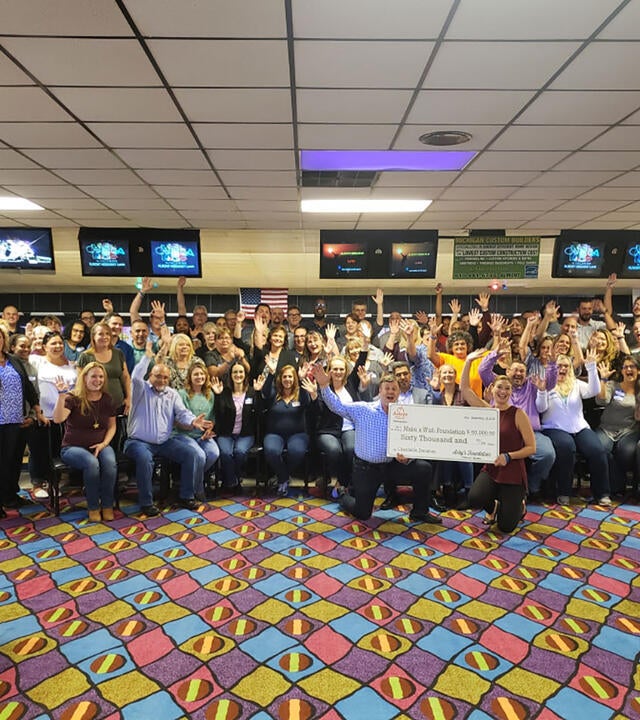 Arby's: A difference maker for Make-A-Wish Michigan
Twice a year, Arby's and The Arby's Foundation activate their "Make A Difference Campaign" where guests are asked to donate $1 during their visit over a four-week timeframe. The funds raised are meant to go to local charities that work closely with and impact children. 
In 2019, the Arby's team visited Make-A-Wish Michigan's Brighton office and was inspired by the room of toys for young kids in need as well as the wall of wishes in the hallway. Shortly after their visit, the Michigan operators voted to select Make-A-Wish Michigan as a recipient of a portion of those funds totaling $60,000. In 2020, Arby's is the Match sponsor at the virtual Wish Ball – Southeast Michigan.
Wishes are funded entirely through support from individuals, foundations and corporations like Arby's.
"Our employees are thrilled [to be involved with Make-A-Wish]," Ballance said. "We had the opportunity to have [a Make-A-Wish representative] come to a recent meeting where all of our General Managers were present. She explained to them how Make-A-Wish worked and then showed the video of Forrest, the young man with a passion for cooking. We were able to see first-hand how Forrest's wish came true and the impact it had on not only him but his family as well. Then, they were hooked!"
Companies can make a donation of any size to help grant life-changing wishes for Michigan kids with critical illnesses. Engaging in a wish gives employees the chance to be personally invested in helping a local child see their wish come true.
Arby's has its six core values that we live by: Dream Big, Work Hard, Play Fair, Have Fun, Get It Done and Make a Difference. We saw so many of these values being lived by Make-A-Wish.
Eric Ballance
Senior Director of Operations, Arby's
Behind every child's wish, there are special individuals, corporations, student organizations and foundations that make it possible.