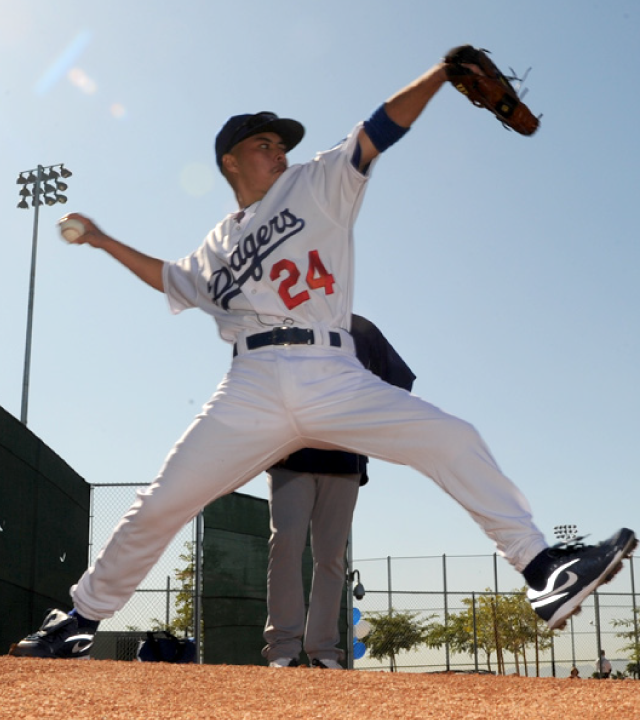 Believing in the best, making the big leagues
Wish Alum Q&A: Christopher
Wish alum Christopher was diagnosed with brain cancer in 2010, when he was a high school senior. Initially, doctors thought he might have only a few months to live. When he learned he was eligible for a wish, Christopher knew he wanted to meet his favorite baseball team.
Christopher turned his frustrations into motivation and fought hard to survive. Ten years after his wish, he is a healthy 28-year-old and has a young son, Alexander. For the past eight years, Christopher has worked at Macy's, a longtime partner of Make-A-Wish. Christopher always enjoys sharing his inspiring story during Macy's Believe campaigns, including the one happening right now!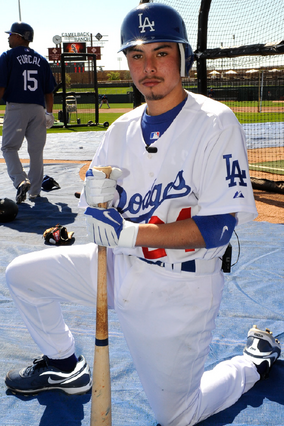 How was your wish experience?
It all started in 2010 when I was battling brain cancer. I was only given three months to live and then Make-A-Wish came into my life. The organization granted me a wish to meet my favorite baseball team, the Los Angeles Dodgers. It was one of the best experiences I've ever had because I was able to work out with the Dodgers and be around a Major League Baseball team. Everything was just perfect!
Did your wish help you get through treatment?
It definitely helped. At the time I was going through a lot of chemotherapy and had a couple of surgeries. When I was at UCSF, I was told that I was eligible for a wish. That entire time I was trying to get stronger—working out and just getting ready for the wish experience.
Can you share a little but about your medical journey?
I was 16.5 or 17 and it was my senior year at Capuchino High School. At that time, I was supposed to be looking forward to senior ditch day, senior prom, and all those things. Unfortunately, I was getting really bad headaches. One day, I had a seizure and went to the hospital where they took a CT scan of my head. From there, they proceeded with surgery and removed a cancerous tumor. It was very devastating. I was more shocked than anything, but I also was motivated to beat it. I was in and out of treatment for a while. It was a process.
What was the toughest part of going through all of that?
Seeing my mother and sister at the time. My mom is a single parent, and she was dealing with it all by herself. I had a lot of friends, but it was mostly just my mom and sister who were there for me.
Do you have a favorite memory from your wish?
It was just the entire big league experience. It took place on the Dodgers' Spring Training field. Being able to work out and meet people around the organization—it was really great.
How are you doing today?
Today, I'm doing really well. I haven't had a headache since I was 16 and a half or 17. I have a baby boy named Alexander and am about to graduate college. I am eternally grateful for Make-A-Wish because it opened so many doors for me.
What are you up to now?
I work in the fragrance department at the San Francisco Union Square location, the second biggest Macy's in the country. I started working at Macy's when I was in my early 20s. I remember coming back from baseball practice and stopping at Macy's with my Mom. She told me that I should apply for a job, so I did and the next thing I know I was hired.
Have you been involved with the Macy's Believe campaigns over the years?
Yes, each year when they do the Macy's Believe campaign I volunteer and share my story with my colleagues. I am very grateful that Macy's has given me the chance to share my story. Macy's involvement with Make-A-Wish was a big reason why I wanted to work for them. It is a win-win for me.
Why do you think wishes are important for kids?
I think a wish is important because you never know what life will give you. My wish gave me something to look forward to and to be strong and keep going no matter what happens. All the support that I got from Major League Baseball and my community—it was one of the best experiences I could get at the time.
What advice would you give to wish kids?
If you are going through a tough situation or tough experience, never give up because I am a prime example how things can change for the worse at one point, and turn around and be really positive. Don't give up and just keep fighting!
You can join Christopher and Macy's in bringing hope and joy to wish kids this holiday season! Through December 24, for every letter you write to Santa online, Macy's will donate one dollar to Make-A-Wish, up to $1 million. Use our special link to show your support for the Make-A-Wish Greater Bay Area chapter. There's no limit to the number of letters you can submit!