Celebrating 40 Years
of Life-Changing Wishes:
Disney and Make-A-Wish®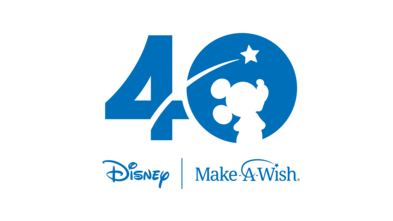 Following the debut of the popular Wishes Come True Blue color collection, Disney continues to celebrate the 40-year anniversary of Disney and Make-A-Wish with a lovable Mickey Mouse plush – which unlocks yet another donation to Make-A-Wish – along with a brand-new animated short!  
Mickey Mouse Vintage Holiday Plush & New Animated Short 
For every Mickey Mouse Vintage Holiday Plush sold through Jan.31, 2021, shopDisney will donate 25% of the purchase price to Make-A-Wish to help grant wishes. The new and adEARble Mickey Mouse Vintage Holiday plush is available now online at shopDisney.com. 
In addition to the lovable Mickey Mouse plush, Disney Parks, Experiences and Products launched a three-minute animated short entitled "From Our Family to Yours." This animated short highlights festive traditions and shared experiences that connect generations and make lifelong memories. It features two new lovable characters, Lola and her granddaughter, alongside a familiar friend – Mickey Mouse.
Wishes Come True Blue Color Collection
The Disney Parks Wishes Come True Blue Color Collection celebrates 40 years of Disney and Make-A-Wish working together to grant life-changing wishes for children with critical illnesses. Sales of this collection have unlocked a US $500,000 donation from Disney to Make-A-Wish.
The collection marks the first-ever color collection that celebrates and supports a nonprofit's impact and on-going collaboration with Disney. It is inspired by the official color of Make-A-Wish and the stars on the collection tie to the star in the Make-A-Wish logo.
In honor of the collection, Disney donated 10,000 Wishes Come True Blue face masks by Spirit Jersey to Make-A-Wish.
The Wish Effect
We all know the incredible power of wishes for kids facing critical illnesses. And for some kids, a wish can be transformational – impacting a child's life long after. 
We're excited to introduce you to a new video series from Disney called The Wish Effect, where we'll take a deeper look at the journeys of some amazing wish kids and their unforgettable stories. You'll hear first-hand about their wish, how their wish has stayed with them, and what they're up to these days.
About the Make-A-Wish & Disney Alliance
For more than 40 years, Disney has been providing magic to wish kids and their families when they need it most. In fact, Disneyland was part of the first wish ever granted by Make-A-Wish. 
Since 1980, Disney has helped Make-A-Wish grant more than 140,000 wishes around the world.
Every part of The Walt Disney Company helps Make-A-Wish grant life-changing wishes: from the theme parks around the world, to Disney stores, to the television and movie studios, here are some of our stories.
Our 500,000th Wish
This September, we granted 16-year-old Karina's wish to give sick kids a day to forget they're sick – marking 500,000 life-changing wishes granted as an organization worldwide. #KampKarina brought thousands of people together in celebration of her selfless act and 40 years of wish granting. Learn more about how our friends at Disney helped make it possible.
Learn About Some of Our Disney Wish Kids