I wish to meet Snow White
Penelope
6
nervous system disorder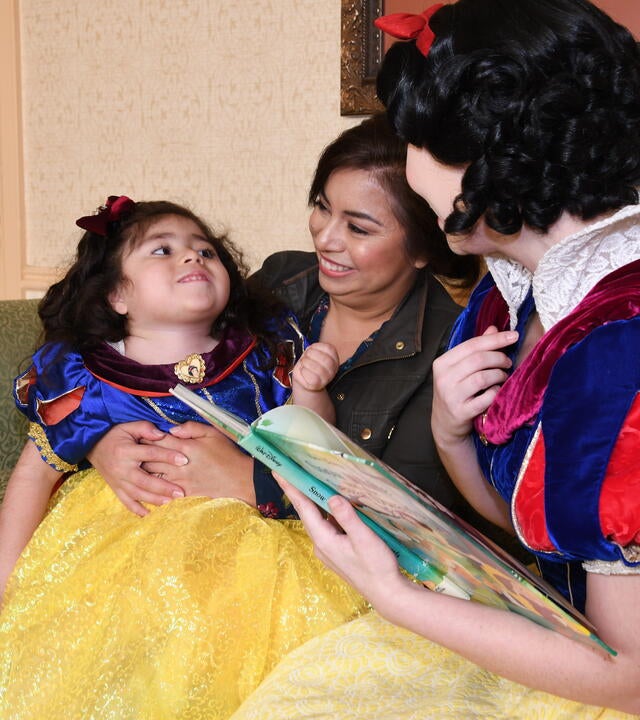 By Cecilia Hernandez, Penny's mom
As I put her in her very own blue, yellow and red dress and styled her curly hair to the side with a velvet garnet bow, I shared with Penny that she would be meeting a very special princess just like herself. Penny's beautiful brown eyes opened wider, then with a quick squint of her eyes and puckering of her lips, she excitedly vocalized a high-pitched squeal. I'm certain she knew who she was going to meet.
Although Penny is legally blind, she has always been drawn to Snow White for her bright primary colors that are visually stimulating for her vision. Penny's wish was to visit Disney World and meet Snow White.
As we walked into Magic Kingdom, we were in awe of the beautiful Christmas decorations and Cinderella's Castle. Taking it all in, we stopped and pointed out each detail to Penny and the boys – a moment of complete excitement.
As Snow White made her grand entrance, Penny's gaze looked for her by the sound of her sweet voice. As Penny fixed her eyes on Snow White, making direct eye contact, her facial expressions went from quiet to the most beautiful of smiles and twinkling of her eyes, while her right index finger, which she has loved to use a pacifier since birth, moved away from her mouth.
As I held Penny on my lap to give her the opportunity to sit next to Snow White for pictures and for a short reading of her story, she experienced a mild cluster of seizures. Snow White was calm and gracious as she continued to read. I was overwhelmed with tears of deep thankfulness for this beautiful moment that we, as a family, were able to share.
"These memories will forever be deeply embedded into the fabric of our hearts."
Cecilia, Penny's mom
A MOMENT THAT BECAME THE TURNING POINT
These memories will forever be deeply embedded into the fabric of our hearts. Make-A-Wish Central & South Texas granted Penny her wish while also giving us the opportunity to experience the magic of Disney with her during a healthy season in her life. Make-A-Wish has shown us their deep commitment to embracing each child's wish fully, hoping alongside with us as families, to see those moments of pure joy and bright beaming smiles light up entire worlds, our world.
Since her wish, Penny, has made great strides with her health, showing us how motivated she is to move freely and independently in her gait trainer and on the floor. She's surpassing the goals set by her teachers at school. Snow White continues to be her favorite princess whom she chooses to take along for every doctor appointment, hospital admission and surgery. Her facial expressions continue to reflect her personality, with her smiles, high-pitched squeals and direct eye contact.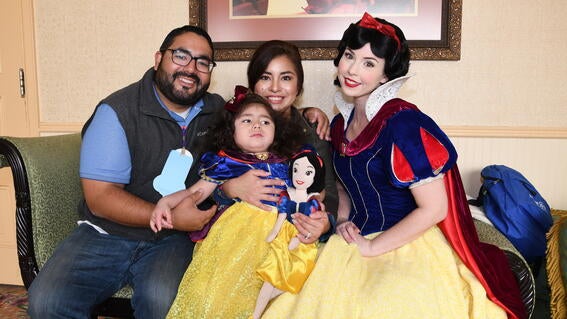 Penny and her family with Snow White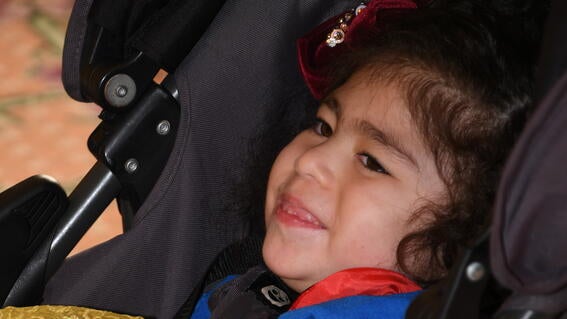 Penny dressed as Snow White in her stroller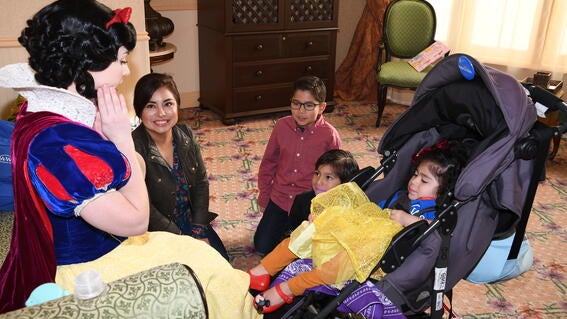 Penny dressed as Snow White with Snow