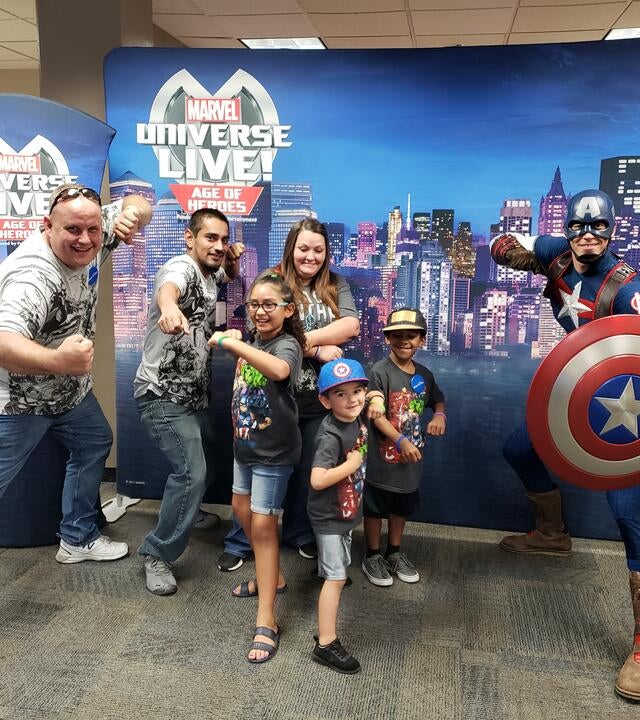 Matt's Volunteer Experience
Written by Matt Kostak
My volunteer work with Make-A-Wish began around 2009. One of Make-A-Wish's board members, who worked for the same company I did, was looking for someone who could help provide technical support at an Annual Make-A-Wish Gala for the Oklahoma chapter. I said "yes" to this opportunity and began volunteering at many different galas around the country. After providing tech support at many different galas, I was given the opportunity to help in other areas such as registration, volunteer training, and answering any of the guests' questions. During one gala, the volunteer coordinator told me I should become an official Wish Volunteer in order to eventually become a Wish Granter. I was hesitant about the position, but I went to a Wish Granter training.  
When I got my first wish, I was nervous. I had never done anything like this before. The Lead Wish Granter showed me pictures of a strong girl named Faith playing softball. I got to meet Faith's parents, who looked so happy that Make-A-Wish was helping provide a joyful experience for their daughter. When I finally met Faith, she looked a lot different than she looked in the pictures of her playing softball. It was in that moment that I decided I wanted to be a part of helping her on her journey. 
I got to spend some time talking with Faith and learning more about her. She opened her ice-breaker gifts and lit up brighter than the sun. Faith was overflowing with happiness and excitement as she started talking about her wish to go to Disney World. I was amazed by how much joy Faith's wish brought her. 
I thought to myself, "Wow!  If I can do this for Faith, and now I'm smiling and happy too, I can do this forever!"  And I haven't looked back!  I'm up to almost 30 wishes and helped with 25 total galas. Some of my favorite wishes to help grant are the shopping spree and local tech wishes. 
5 years later I moved to Texas for work. I was sad to leave Make-A-Wish's Oklahoma chapter, but I reached out to Make-A-Wish CSTX so that I could continue my volunteer work in Texas. I've been volunteering with Make-A-Wish's CSTX chapter since the end of 2016. I can't wait to get back to doing in-person wishes once COVID-19 has subsided and we can meet safely again!