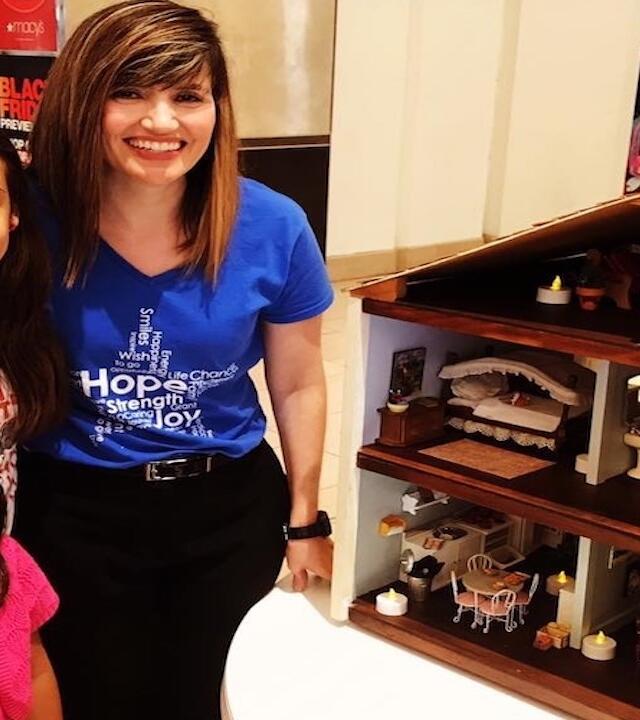 The diagnosis of a critical illness is devastating, but Elizabeth uses her story of recovery to help inspire wish kids all over the Central & South Texas area.
Elizabeth is a survivor of synovial sarcoma and her sister passed away when she was 10 of leukemia. These two experiences forever impacted Elizabeth's life, and encouraged her passion for volunteering with children and families who are going through similar pain.
Elizabeth started volunteering with Make-A-Wish in 2013 after speaking to an annual donor.
"We spoke about her family member who'd died of sarcoma and with her story and also hearing how another sarcoma warrior had a wish granted to meet Hugh Jackman before she died, I thought, this is a sign," Elizabeth said. "This is what I can do and how I can also honor our fallen sarcoma warriors."
I want [parents] to see a 30+ year sarcoma survivor and to have hope that their child, like me, will be okay. More than okay.
Elizabeth
Volunteer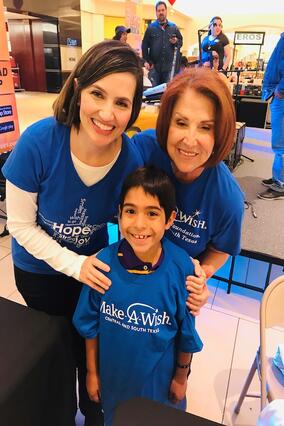 After volunteering for Make-A-Wish for a few years, Elizabeth and her friends decided to band together and fund a wish each year. The group is named "Elizabeth's friends."
Twelve year-old Krychel's wish to visit Disney World was the first wish "Elizabeth's Friends" were able to grant. When deciding on her wish, Krychel first offered to help her parents pay the rent, but the family decided to go on a once-in-a-lifetime trip and celebrate Krychel's strength together.
"Krychel showed me how generous our wish kids are and how they think of their families first," Elizabeth said. "Her maturity and grace were well beyond her young years."
In order to raise money to sponsor her second wish, Elizabeth and her mother remodeled her childhood dollhouse and sold raffle tickets for it. Before the raffle, Elizabeth had invited Krychel and her family to come and see the dollhouse at her office.
"They loved it, and Krychel said it would be so much better than TV, having that doll house," Elizabeth said.
Krychel even offered up $10 of her own money to put into the raffle because she wanted to "help kids the way she was helped."
The Laredo Association of Realtors won the raffle, but they had already told Elizabeth to pick someone worthy of the dollhouse if they happened to win. Elizabeth told the family to come with her, some of the Make-A-Wish team, and the relators after the auction was over. After Elizabeth told Krychel and her family they had won the dollhouse, they cried and her mom was saying 'gracias, gracias!' and crying at the same time. I'll never forget that, " Elizabeth said.
Elizabeth has a unique and inspiring reason for continuing to serve wish kids and families.
"I want them to see a 30+ year sarcoma survivor and to have hope that their child, like me, will be okay. More than okay," Elizabeth said. I love meeting the kids and giving them hope, too, but I have a special reason for doing it for the parents. When I tell them my story, their shoulders drop a little, their faces soften. Their eyes brighten. And I know my sister would love this work, so I take her along with me in spirit on every wish."
Volunteers like Elizabeth are what makes Make-A-Wish so special. Nearly 40,000 volunteers across the United States and its territories help Make-A-Wish grant tens of thousands of wishes each year. Elizabeth is an inspiration to all and continues to help Make-A-wish pursue their vision of granting a wish to every eligible child diagnosed with a critical illness.