I wish to have a BrailleNote computer and printer
Arianna
16
nervous system disorder
Arianna loves to know the answers. 
She is the first kid in her class at the Arizona State Schools for The Deaf and The Blind to volunteer to look things up as a teacher's assistant. She is constantly asking her parents to find things for her online and she loves to read, researching every word she doesn't understand with the dictionary. 
Her wish to have a BrailleNote Touch computer and printer was her perfect answer. 
"We have BrailleNote computers at my school and I love to use it," said Arianna, 16, when asked how she decided on her wish. "It works the same as a computer but I can read the braille under the keyboard so I can read books, play games, look things up and do it all on my own."
On her own is a big thing for Arianna, who has been blind since the age of 2. In addition to dealing with everything that comes with her blindness, Arianna also has to deal with the seizures caused by her nervous system disorder. She must rely on doctors, nurses, her parents and everyone around her to keep her healthy and safe. She hopes the BrailleNote will enable her to return to doing more things independently.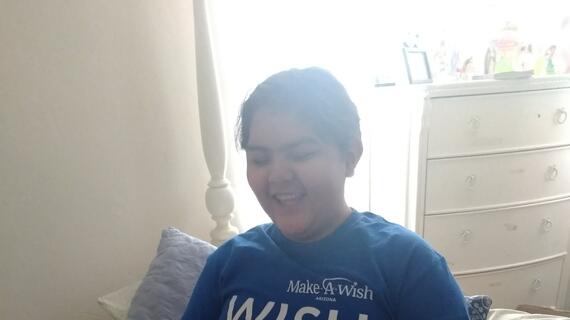 Arianna wished to have a BrailleNote computer and printer to change her life and allow her to be more independent. 
"Now that I have a BrailleNote of my own, I can read what I want and find new things on the Internet or even contact my best friend from school by email," said Arianna. "Plus, I can print things out that I need online or create pictures that I can print and feel! Thanks to my new printer, I won't have to bother the kind Mr. Fred at school to print them for me or wait to return to school to get them printed. My BrailleNote also allows me to set my own alarms and it lets me download apps that give me notifications that I need and want."
"When I found out my wish was coming true, I started crying because it was so awesome," Arianna continued. "And when they surprised me that it was there already – it was even better!"
The surprise was arranged by Arianna's wish granters, Brian and Cindy, with help from her parents and the Arizona Foundation for Blind Children. The foundation crafted a letter in braille that shared that Arianna's wish was to be granted. And while she was reading the letter, her mother, Maricela, deposited the computer right in her lap.
"This wish came at just the right time," said Maricela. "Arianna had been in the hospital multiple times and they were having a hard time finding the right medications to help control her seizures. She had just been told she and her classmates weren't returning to school due to COVID and she didn't get to say goodbye because she was in the hospital. 
"When we received the call from Arianna's wish granter volunteers that she was approved, we were so grateful and so excited to give her something happy to focus on during everything. We feel so blessed to have been able to receive such a wonderful gift for our daughter. She has been through so much, Make-A-Wish Arizona truly gives the meaning to how beautiful people can be to each other."
Now, Arianna is using that focus to find new answers and try new things on her BrailleNote. 
"I am teaching myself new commands and using it every day," said Arianna. "It connects me to everything I want to know and all the people I want to talk to and let's me be more and more independent. I love it."