I wish to have an Easter egg hunt
Ayla
3
Wilm's tumor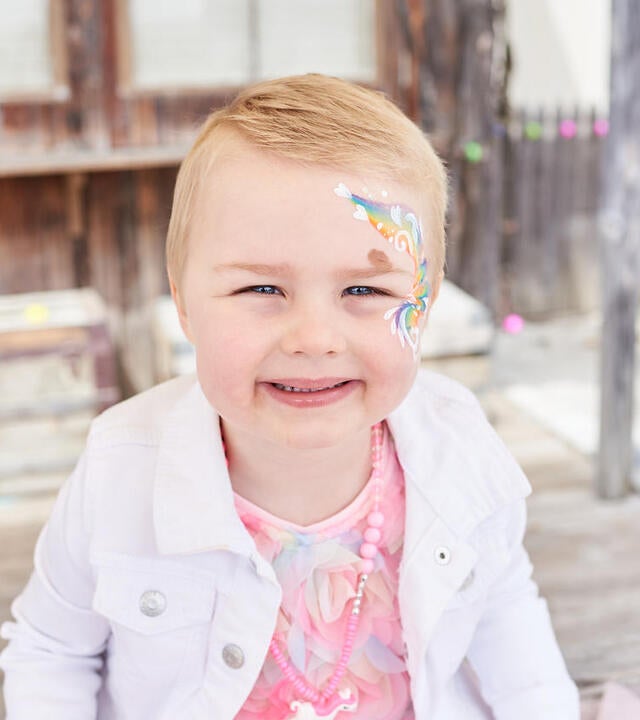 Imagine yourself coming back from the happiest day of your life...
...you have been dreaming of attending this event for as long as you can remember, and are still buzzing from excitement, when suddenly that excitement is stripped from you without any warning. This is what happened to wish kid Ayla. Days after Easter, her parents had discovered an unusually small hard lump on the right side of her abdomen. Worried sick, they rushed her to the hospital. They sat anxiously as the doctors conducted an ultrasound on their daughter. "We sat in the pediatrician's office and her doctor walked in, and I knew from that moment our lives were going to change" said Ayla's mom. That day, she was diagnosed with bilateral Wilms tumor – Ayla had a 14 cm solid mass on her right kidney and a few smaller ones on her left. Her parents felt the earth quake, sending a ripple of fear throughout their entire bodies as they were uncertain for what was to occur next for their precious daughter.
Through countless hospital visits, Ayla remained a warrior during her treatments. She would stay perfectly still and tell her mom, "I did it mommy! I'm brave. It didn't hurt." Her mom would respond by calling her princess which Ayla would then quickly correct her by saying, "I'm not a princess mommy, I'm a queen." And a queen she was. She recently completed her 25-week chemo regimen as well as her 3-month MRI off chemotherapy with all scans coming back clear as day.
The light of hope and joy continued to shine brighter when their social worker informed them that Ayla was eligible for a wish from Make-A-Wish. When asked by Make-A-Wish volunteers what her most heartfelt wish would be, Ayla's imagination blossomed into a canvas, instantly painting a picture of her perfect wish experience – to have an Easter egg hunt. This did not come as a shock, as her entire time in the hospital she always asked to look back at memories from the local Easter egg hunt her family had attended just before her diagnosis.
Recently, her wish came true! The moment Ayla stepped foot on the farm, her face beamed with excitement. She started off the day with a yummy pancake breakfast with her family and friends, then proceeded to the face painting station. It was no surprise what Ayla had chosen to get painted on her face – a rainbow-colored butterfly. Butterflies are a beautiful symbol of transformation, and to say that portrayed Ayla perfectly is an understatement. She is a warrior of endurance, change and hope, bringing vibrant joy to those around her.
After enjoying all the fun the farm had to offer, the moment she longed for finally arrived – meeting the Easter bunny! "Her face the moment she saw the Easter bunny was pure magic" said Ayla's mom. With her new friend in tow, it was off to the races! Ayla was on the hunt to find every Easter egg in sight. She filled four whole baskets with eggs, each blooming with colors which drew a rainbow that replicated her very own imagination – bright and extravagant. It wasn't long before she got to the end of that rainbow of color and found the jackpot – the golden egg. Upon retrieval of the golden egg, Ayla's eyes lit up like fireworks, followed by a highly contagious smile which spread nothing but laughter and happiness throughout the farm.
Ayla's wish was everything she could have imagined and more, allowing her to lift the bubble she and her family had been confined to for so long. As Ayla's mom explained, "I can't possibly thank everyone enough not only for what they did for Ayla, but what you all continue to do for these kids every single day. Something as simple as an Easter egg hunt can mean the world to a child who has gone through countless cancer treatments and surgeries that no child should ever have to endure at such a young age. Their wish brings back a piece of childhood that was taken away from these kids, and that alone brings tears to my eyes."