I wish to be a singer
Taylor
7
Ewing's sarcoma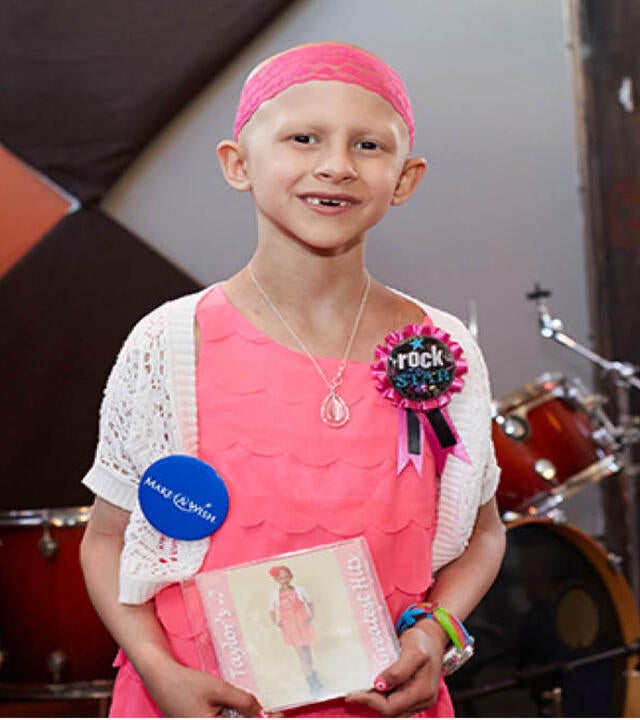 A foreword:
Once Taylor's wish to be a singer came across our desks here at Make-A-Wish, we never envisioned the amount of community members that would come together to make it possible. From a local magazine to a well-known radio show host; to a recording studio along with a salon in Newport Beach - each welcomed this young girl, and our organization, with open arms. We are humbled and grateful for the support in making Taylor's wish come true!
Taylor's story below is told by Sascha Zuger - Editor, Parenting OC Magazine.
Meeting our April Cover Girl, Taylor, was an honor and a humbling experience for all of us at Parenting OC Magazine. When we first became involved with Make-A-Wish® Orange County and the Inland Empire, we knew by the nature of the good work they do that we were going to have a meaningful experience. However, none of us were prepared for the little firecracker who stole our hearts. The spirit of this tiny girl filled Ana Brandt's Old Town Tustin photography studio, as she jumped into her role with more sparkle than one would have believed possible from a just-turned-7-year-old who had been released from the hospital just days before.
Taylor instantly took to her role as a superstar singer, and to her co-cover subject, Ellen K, morning host of 103.5 KOST FM. The two giggled together between shots as if lifetime fast friends. She listened thoughtfully as Thrive Causemetics founder, Karissa Bodnar, explained that she wanted to personally fly in and do Taylor's makeup, designating her as one of the organization's "Littlest Inspiring Women" and naming a lip gloss after her. Karissa offered wise advice on how to keep your look "natural" as the 7-year-old nodded along, as if mentally taking notes for the following Saturday night and not a decade down the road.
Our cover shoot was just the beginning. The folks at OC Hit Recording Studio continued the star treatment as Taylor recorded her debut album a few days later. If we thought we were wow'ed by Taylor and her family during the photoshoot, we were blown away at the KOST FM studio, when Ellen K played Taylor's album live on the radio. Taylor grinned as her tiny voice rang out, belting out the songs she used to stay strong during her treatment. The adults, cried…and attempted to breathe as the final acapella line, "I've still got, a lot of fight left in me," echoed through the studio.
We walked out of the studio, quietly brushing away tears, not even reaching the end of the hallway before the listening audience response started rolling in and we were rushed back inside. Taylor's public called. The first listener explained how amazing it was to hear Taylor fulfill her dream of being a singer, particularly since she had been a blood donor in order for one of Taylor's many surgeries to be successful. It was inspiring to hear how this little girl had touched so many lives.
Days later, Taylor went on for another glam session with TReSs Apothecary and Salon in Newport Beach before a rousing album release party at Boathouse Collective in Costa Mesa. There, she signed copies of her Parenting OC Magazine cover and shared her songs with a crowd of family and friends, all while being photographed by Asea Tremp. We later learned that Ellen K and 103.5 KOST FM had brought the child back into the studio to present her with a Platinum Record of her album.
It is unquestionable that this little girl was special. But what might have been equally inspiring was the fact that in the name of bringing her Make-A-Wish experience to the next level, the entire community of Orange County and beyond jumped in together. There were no "no's" in this experience. Just endless individuals and organizations coming together without ego or ulterior motives with the goal of making this one little girl feel like a superstar. Being part of this was humbling and an honor. I hope everyone gets the opportunity to someday do the same.