I wish to go to the Walt Disney World® Resort
Crosby
4
morquio a syndrome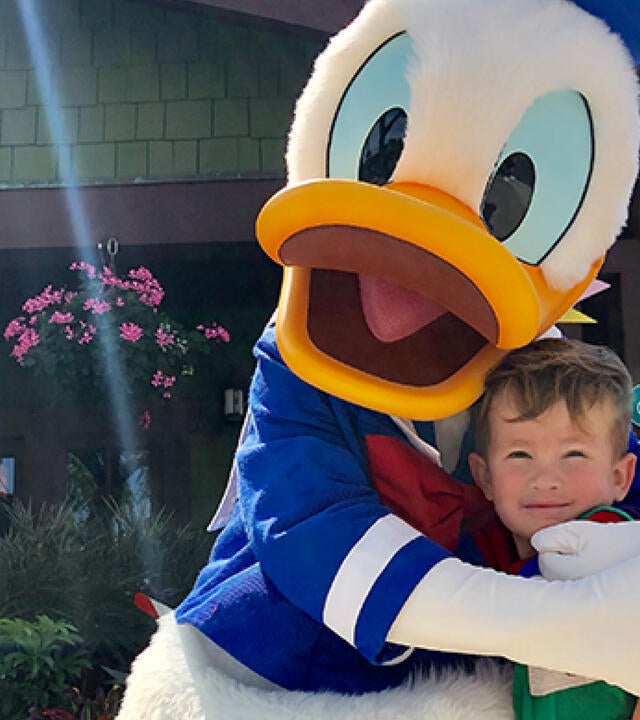 Crosby is a charismatic and adventurous child who enjoys jumping on trampolines, playing video games, and eating peanut butter and jelly sandwiches. His bubbly energy and kindhearted nature will make anyone around him smile.
In 2016, Crosby's family received devastating news. Crosby had been diagnosed with Morquio A Syndrome, a rare genetic disorder that brought on a wave of constant doctors' visits and trips to the hospital. Despite his condition and numerous treatments, Crosby's positive spirit never wavered. Famous for being the biggest Mickey Mouse fan at his hospital, it was no surprise that Crosby's most heartfelt wish was to go to the Walt Disney World Resort with his family. He was thrilled It was his desire to go on all the attractions and to finally meet his favorite characters in person.
In April 2019, his wish came true! Crosby and his family began the wish trip in style as they were escorted to the airport in stretched-out limo. After arriving in Florida, the long-awaited moment finally arrived. Crosby stepped into Disney's Magic Kingdom and was filled with excitement as he took in the vibrant colors and magnificent attractions that adorned every inch of the park. It was everything he had imagined and more. In addition to hanging out with the friendly characters and eating delicious treats, Crosby and his family enjoyed exploring the other parks within the resort, watching the parades, and taking in the bright fireworks display.
One of Crosby's highlights was meeting Mickey Mouse and having him autograph his vest. After so many appointments and treatments, Crosby's wish trip allowed him and his family to focus on what mattered most to them: having fun with one another.
"Crosby has always been an example to us to live in the moment. To live in today. To not worry about tomorrow, because anything is possible. Crosby's wish meant a week of him having his every dream come true, a week of no hospital visits, a week he got to be spoiled. For our family, it meant a week with no worries, a week we could be together as a family and heal. Crosby's Make-A-Wish was a week none of us will ever forget. We are forever grateful to you for granting Crosby's Big Wish, and bringing so much joy, at the most perfect time, to bond our family. We all lived like Crosby during his wish." - Kerri, Crosby's Mom.
Together, they created incredible memories that they will treasure forever.