I wish to go to the Daytona 500
Cameron
15
osteosarcoma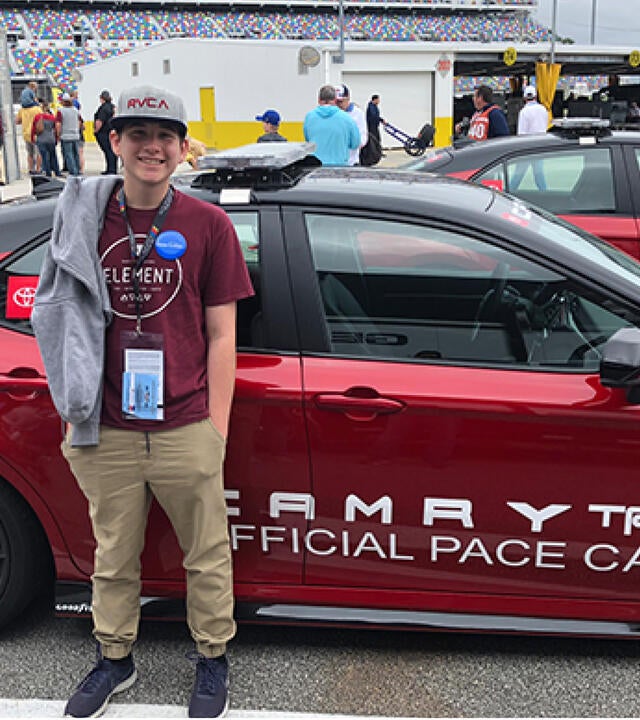 Cameron is a kind and smart young man that loves staying active, whether it be playing baseball, volleyball or going on hikes to challenge himself. Some of his favorite things to do are listen to his favorite bands, learn new songs on the piano and watch NASCAR with his family. Cameron enjoys hanging out with his friends and beating them in video games when they are all together. Unfortunately, Cameron's time playing sports and learning new hobbies was interrupted when he was diagnosed with osteosarcoma, a form of bone cancer.
His time spent outside in the fresh air hitting baseballs and hiking up steep trails was transformed into a whole new uphill battle when he started treatment. Cameron is strong-willed and positive, never letting his diagnosis take away his smile. His days are now filled with hospital stays and doctor appointments as he is on the road to recovery, but the one thing that keeps a smile on his face is watching his favorite NASCAR driver in races on television.
When asked by Make-A-Wish volunteers what his most heartfelt wish would be, it was no surprise that he wanted to go to Daytona 500 to see his favorite driver in person. His wish was granted and before he knew it, Cameron was standing on the in-field of the race track with his family. There was a rain delay which threw a wrench in the plans, but it only made Cameron more excited to finally experience the race in person. The whole day Cameron was in awe watching the pit crews and seeing his idols on the track. To Cameron, there's nothing like the adrenaline rush of watching the cars race around the track. The race had an explosive ending with a car catching on fire, which made the experience a true adventure!
Cameron and his family were extremely grateful to spend quality time together watching the Daytona 500 in Florida. The experience gave them memories that will last a lifetime and inspired hope for the future.