I wish to go Aulani®, Disney Resort & Spa
Grace
12
mitochondrial encephalopathy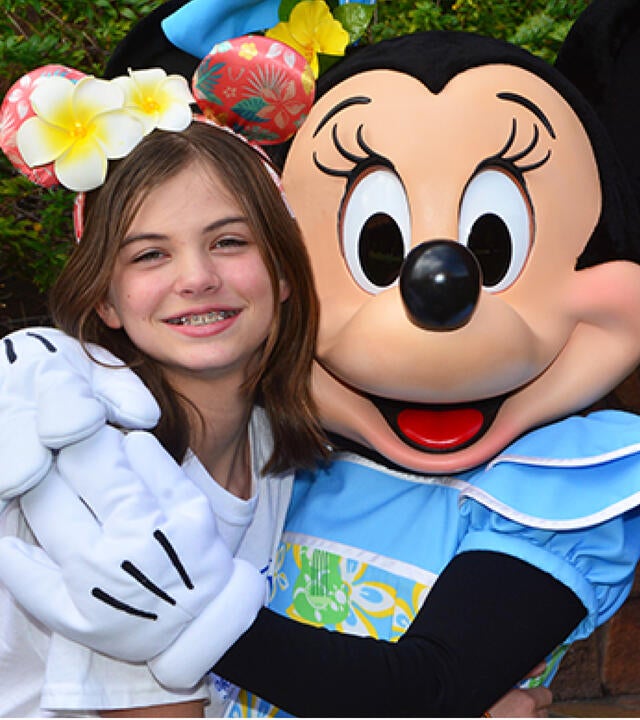 Grace is a bright and outgoing 12-year-old girl with a smile that can light up the room. She loves the colors blue and purple, watching Harry Potter movies and science class. In her free time, she enjoys playing board games with her family especially games of Battleship with her dad. She also enjoys riding bikes with friends in her neighborhood.
As a toddler, Grace was diagnosed with mitochondrial encephalopathy, also known as MELAS. This is a condition that can affect the brain, nervous system and muscles. This makes everyday life more challenging for Grace, but she always has a smile on her face. Through everything, Grace continues to stay positive with her upbeat attitude!
Previously, Grace and her family planned to take a trip to Aulani®, a Disney Resort & Spa, however, due to unforeseen circumstances they couldn't go on the trip. Grace was really looking forward to it, and she was sad when it didn't work out. When Make-A-Wish volunteers asked what her dream wish would be, Grace immediately knew she wanted to visit Aulani with her family. The vacation Grace dreamed of was about to become a reality. Grace was beyond excited to have fun in the sun and meet her all-time favorite Disney character Pluto!
In March of 2019, her wish came true. Grace and her family were picked up in a limousine to start off their Hawaiian vacation. Once in Hawaii, they went to the beach, met Grace's favorite characters and had a relaxing time as a family. They even experienced a taste of Hawaiian culture at a traditional Luau! Throughout the trip, Grace sported some fun Hawaii-inspired Disney ears.
"I have always wanted to go to Hawaii. Being able to go with my family was nice and much needed. There were a bunch of special appearances from my favorite characters like Pluto and Minnie and we had a private photo shoot."
Grace and her family had an incredible time at Aulani. A relaxing Hawaiian vacation was the exact escape her family needed. They came back with once in a lifetime experiences that they will never forget.
"Thank you for making a difference in the life of my daughter. It has made such a difference that I can't even communicate in words." -Grace's Mom