I wish for my hockey team to play the Dallas Stars
Anderson
10
congenital heart disease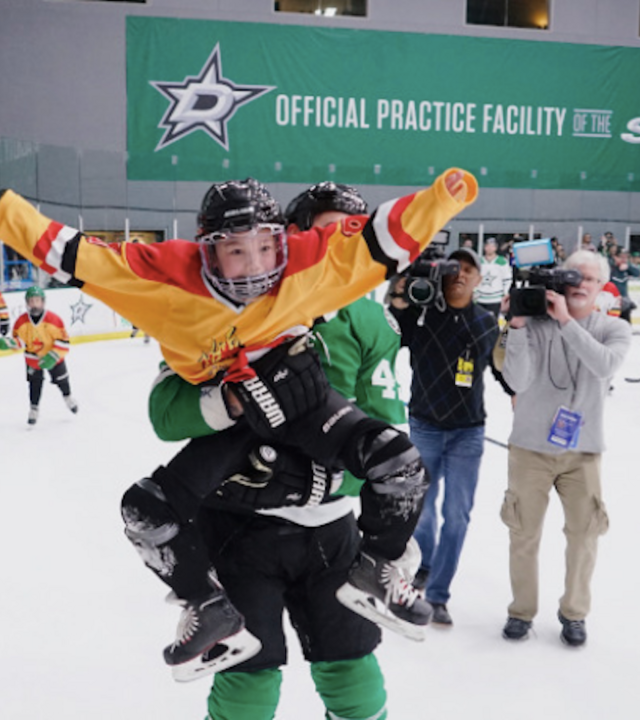 Born with a congenital heart condition, Anderson McDuffie has never been able to pursue or participate in his one true passion – playing on a hockey team. His wish would change that. 
"I have always loved hockey," Anderson said. "I have been carrying a hockey stick since I was a baby. I want to grow up and become a professional hockey legend like Mike Modano. He is so awesome! The Stars are my heroes."  
Anderson's wish embodies so much more than just a game. The sense of selflessness & giving represented by the McDuffie family is second-to-none. Anderson is no different. 
 
"My brother and my friends are also my heroes. They have always been very nice and supportive so they will join my EKG's hockey team. Our colors are yellow jerseys and our names will be in red and white with flames around a broken heart. I want to know how it feels to actually play on a hockey team." 
 
Just days after Anderson's second heart surgery this past May, he was up and walking around the hospital with a stick in his hand. Six weeks later, Anderson was back on skates. 
I just think about my wish and how I powered through my surgery. It gave me a burst of energy to know that I can do stuff.
Anderson
Wish kid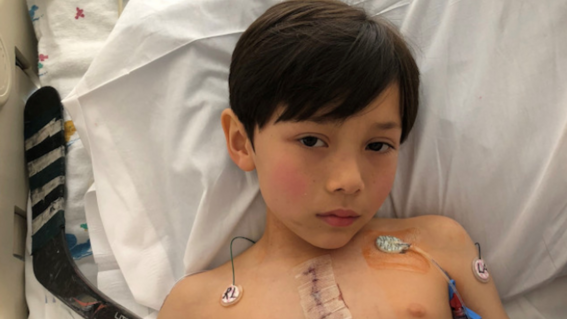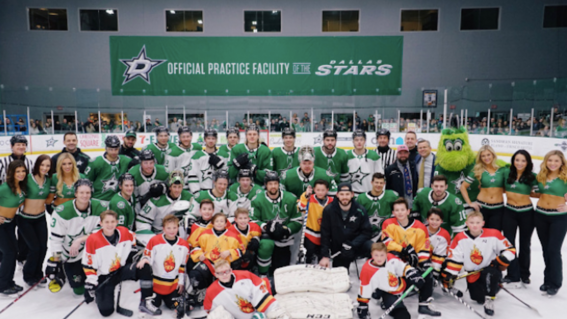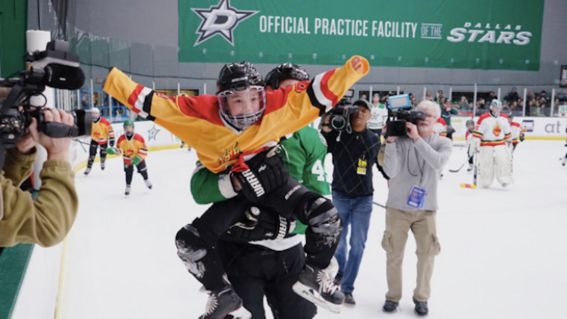 Saying the McDuffie family has a heart for Make-A-Wish is an understatement. Anderson's mom, Loan, is an avid wish granter, she and her husband Chad are dedicated donors, and Anderson's sister Delaney has even devoted countless hours to raise money for Make-A-Wish. Loan has granted about 20 different wishes over the last six years, and is diligent about involving schools, corporate partners and the entire community however possible. 
 
Delaney (15) created a unique Make-A-Wish bracelet to sell with every penny raised benefitting the foundation. Not only was this a smashing success in her school, Prince of Peace Catholic School, and around the North Texas chapter, but other Make-A-Wish chapters even purchased her bracelets to sell to their supporters. As if the time and genuine care dedicated to the organization wasn't enough, the McDuffies have also donated an additional $25,000+ to Make-A-Wish and are omnipresent at major events. 
The Wish: 
On January 16, 2019, Anderson and the EKG's met at his home in Plano, TX, all dressed up in their suits ready to board their bus to the Dr. Pepper Arena. Escorted by the Frisco Police Department, they arrived to the Stars practice facility to hundreds of fans waiting to catch a glimpse of their favorite hockey players. Through the crowd, the EKG's made their way to their official locker room where both custom home and away jerseys were waiting for each player. To kickoff the game, the Frisco mayor Jeff Cheney dropped the puck and got the game underway.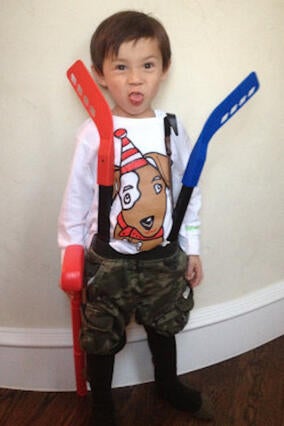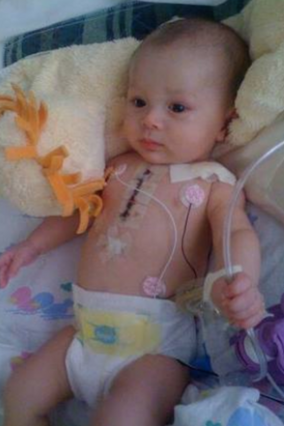 The matchup consisted of two – 10-minute periods. The first was the EKG's against the Dallas Stars and then the second one mixed it up with the two teams playing amongst each other. All with the stands filled of hundreds of eager fans chanting E-K-G and holding up signs of encouragement. A majority of the crowd was made up of Anderson's Prince of Peace classmates who received an excused absence for the afternoon to support their friend. 
 
A highlight of the game came when Anderson got into a scuffle with Stars player John Klingberg. After some pushing and shoving, they both dropped their gloves and Anderson ended up on top of Klingberg. 
 
The game culminated in Anderson scoring the final goal making the score 6-5. To celebrate the exciting ending, the Stars surrounded him in a celebratory huddle. In the middle of it, Stars player Roman Polak lifted Anderson above his shoulders and began skating around the ice with him. Anderson flipped his gloves away and flapped his arms as the pair circled the ice. 
 
For everyone in the arena, it was a moment of complete joy and accomplishment to witness. 
 
"I said are you scared to be standing up against all of these celebrities, these giant players?" Loan said. "'No, mom. They're my people.'"