I wish to have an online shopping spree
Tre'Mars
7
nervous system disorder
Tre'Mars Wish Brings Joy to a Community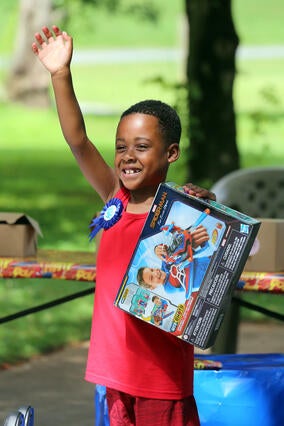 Spiderman, the color blue, eating pizza, and playing with LEGOs - these are just a few of Tre'Mars favorite things. Although these items might be considered typical activities for a young boy, Tre'Mars is not like most 7-year-olds. When he was only a year old, he experienced his first seizure. Caused by a nervous system disorder, Tre'Mars' diagnosis has led to frequent hospital visits, treatments and medications. It also guided his social worker to refer him to Make-A-Wish. During his visit Wish Discovery Visit at The Wishing Place, he imagined all the amazing things he could do with his wish and also found out one more thing he loved: the video game NBA2K that he played on the PS4 in the Wish Room.  
Shortly after his  Wish Discovery Visit, the coronavirus spread across the world and devastated North Carolina. In order to remain safe, the statewide Stay at Home Order was put into place.  At home, Tre'Mars couldn't stop talking about the NBA2K video game and how much fun it was to play.  Instead of waiting until it was safe to go on a trip or meet his favorite celebrity, Tre'Mars decided for his wish he wanted to have a shopping spree so he could get a PS4 and his beloved video game.  Although he wasn't able to go shopping in malls or toy stores, his Make-A-Wish team ensured that COVID-19 wouldn't delay his wish from being granted.  They worked diligently to order all the toys and games he wanted to keep him entertained during quarantine.  
On the day that Tre'Mars' wish was granted, his volunteer wish granter prepared the perfect outdoor celebration, complete with plenty of balloons, signs, and of course, all of his shopping spree items wrapped up in blue and red wrapping paper. His wish list included a bean bag chair, a scooter, and lots of toys including LEGO blocks, and a pogo stick.  As a special surprise, he even received his very own Spiderman costume!   
"I just love seeing him enjoy himself. I think this is one he'll remember."   
Tre'Mars' Mom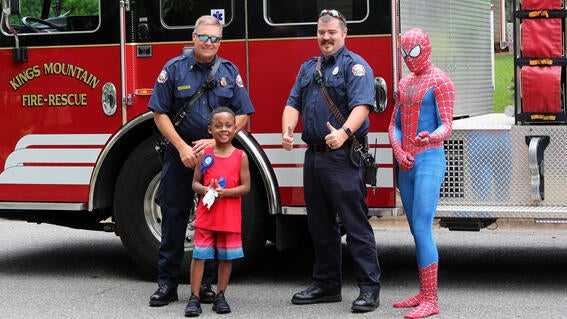 Local heroes come to support Tre'Mars as part of a parade on his wish day.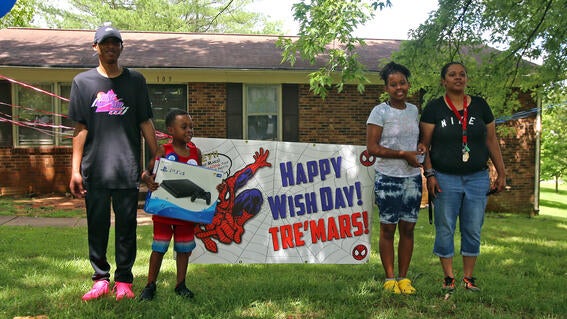 Tre'Mars and his family are all smiles on wish day.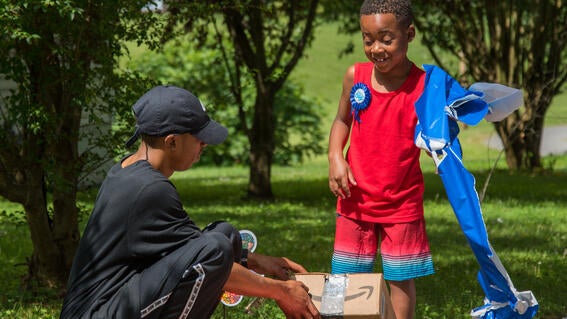 Tre'Mars opens his online shopping spree gifts.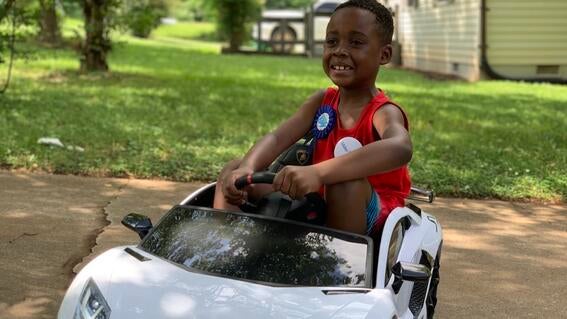 Tre'Mars test drives out his new motorized car.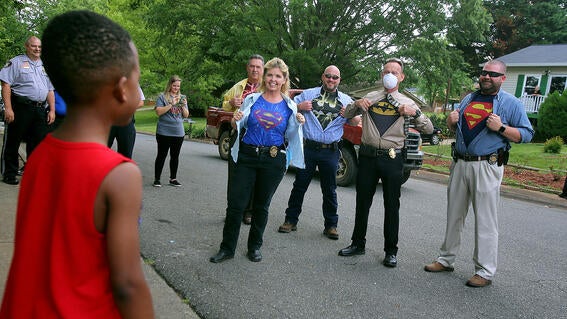 First responders show their superhero spirit and support for Tre'Mars.
As Tre'Mars opened his presents, the streets flooded with the sounds of a dozen fire trucks and emergency vehicles honking and cheering their way to his house. In between tearing open gifts, Tre'Mars waved to the first responders, some of them even dressed up as his favorite hero, Spiderman. They took photos, showed off their superhero t-shirts and shared their support for Tre'Mars and his family. "It means a lot to me, to us, that Make-A-Wish would do this, and all these people would take the time out to come by,"  Tre'Mars' mom said.  
When there was only one present left to open, he tore the paper to reveal what he had been most looking forward to: his new PS4 with his favorite video game! "Oh man, oh man,"  Tre'Mars said grinning. "This is it right here."   
After his wish, as Tre'Mars and his family remain safe at home, they have plenty of fun activities to enjoy together and memories to cherish for years to come.