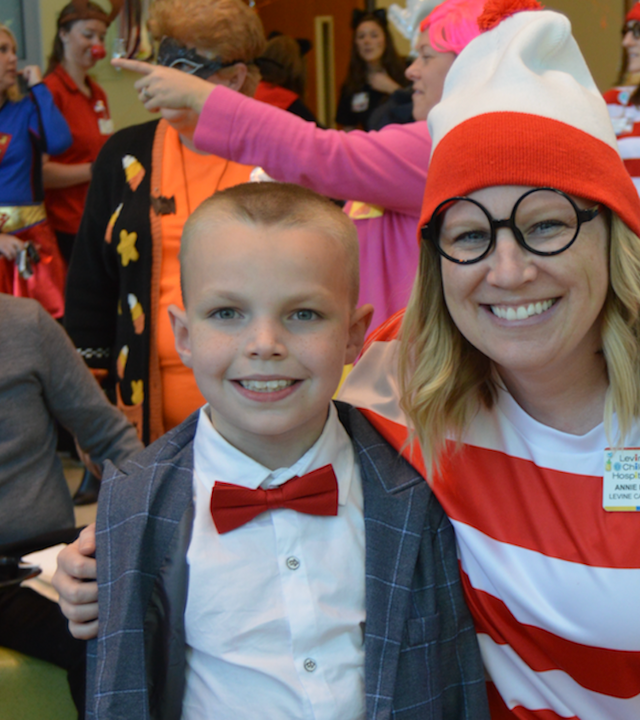 Annie's Referral Ignited Peyton's
Fun-Filled Wish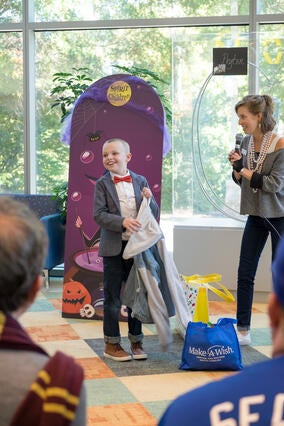 The first conversation about a wish often happens in a hospital room – between the wish child and a doctor, nurse, or social worker – with one question being asked: "If you could have one wish for anything, what would you choose?" When 8-year-old Peyton was asked this question by his social worker at Levine Children's Hospital, he declared that he wanted to host a Halloween costume party for all of the kids at the hospital! 
Peyton has a severe blood disorder, and because of his complex condition, he has spent much of his childhood in and out of the hospital. Peyton knows first-hand how difficult it is to be stuck in a hospital room – especially during a holiday when all of your friends and family are participating in festive activities. "Peyton missed the Easter egg hunt at our church earlier this year and it broke his heart," explains Peyton's mother, "I knew that he was going to have a unique wish!" Peyton's social worker, Annie, was also excited about Peyton's wish and said, "I have never experienced a wish like this before. It has been awesome to hear all the creative details he keeps coming up with and how motivated he is to brighten the day of all the children and staff in the hospital." 
"To offer this gift of a wish to a child who is dealing with a life-threatening condition is life-changing for me." 
Annie
Peyton's Social Worker
Annie works hard to ensure every qualifying child receives a wish by making referrals for kids who might get overlooked. "A lot of people assume Make-A-Wish is only for kids with cancer," she says, "so it is rewarding to connect qualifying hematology patients with Make-A-Wish. To offer this gift of a wish to a child who is dealing with a life-threatening condition is life-changing for me." 
On the morning of Peyton's wish, all the kids in the hospital received a pack of UNO cards inviting them to the special celebration. Then they had the opportunity to choose from over 300 different Halloween costumes that were donated for the event! During the party, the kids played Halloween inspired games and went trick-or-treating. Make-A-Wish National partner Party City also got involved and donated balloons and decorations to transform the hospital. There were also other fun activities including LEGO tables, a photo booth, and even a special visit from the Ghost Busters! For Peyton, the best part of the day was wowing the crowd with his incredible dance moves as an honorary member of his favorite dance group!