Volunteer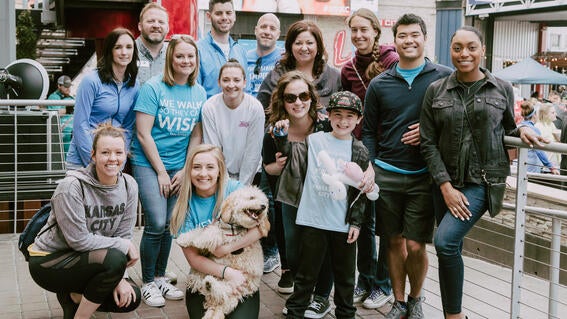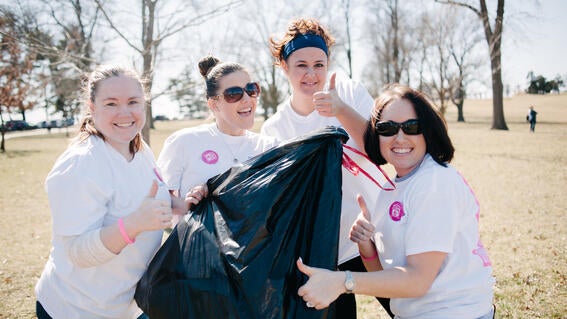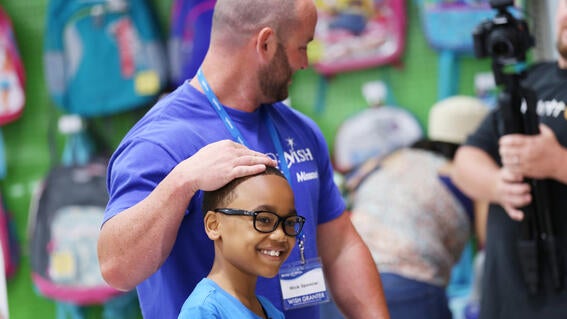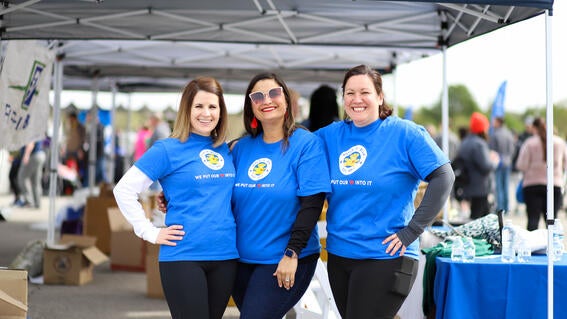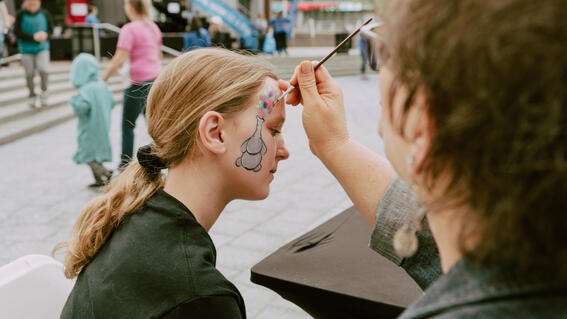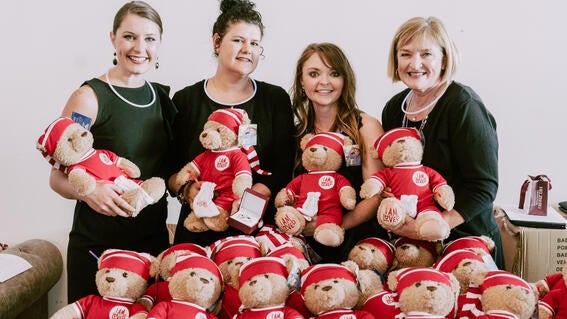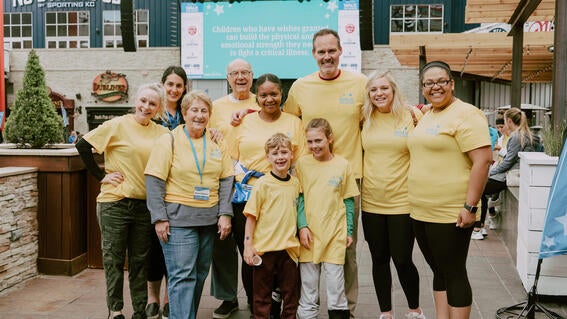 Join a caring community of volunteers who transform lives. Together, we can make countless wishes come true. 
Your time and unique talents are critical to bringing strength and hope to wish kids when they need it the most. In fact, our volunteers are at the heart of every wish experience. 
Make-A-Wish volunteers consider their work impactful and meaningful. And, their efforts are rewarded - not in dollars or cents, but in the incredible difference they make in the lives of our wish kids. Volunteers even have the freedom to choose when and how they would like to help transform lives in our community. 
We understand that you want to volunteer but might not know where your skills and talents best lie. Check out our volunteer opportunities and see where you can best help make wishes come true.
Wish Granter
A wish granter is the first face of Make-A-Wish® Missouri & Kansas to a wish family. Wish granters work with a partner to meet with the child and their immediate family members to help determine the child's most heartfelt wish, while completing all required wish-related paperwork and work with Make-A-Wish staff to make that wish a reality. Additional training required for this role.
Intern 
Make-A-Wish® Missouri & Kansas offers a variety of unpaid internships to provide opportunities for students and recent graduates, to receive academic credit and/or valuable work experience in the nonprofit field. Students must be a junior or senior to apply. Internships are located in the St. Louis, MO office headquarters. Available internships can include administrative, fundraising/events, marketing/communications, and mission delivery/wish granting. Interested in learning more about our internship opportunities? Email [email protected]
Translator/Interpreter 
Help facilitate wish experiences for non-English-speaking wish families by accompany a fellow wish granting volunteer on a wish visit, assist in determining the child's wish, and help the wish family understand the wish paperwork packet. 
Office Volunteer 
Assist with various projects at our St. Louis, Missouri office, including phone calls, research, mailings, etc. Perfect for volunteers with daytime availability who live near the Make-A-Wish® Missouri & Kansas office.
Events Volunteer
Volunteers lend their time to help with Make-A-Wish® events. Event volunteer roles vary from event to event. Interested in volunteering for a local event? Find upcoming events on Our Events page.
Skill-Based Volunteer
Use your professional skills and knowledge on an as-needed basis to provide much-needed skills such as reading and writing in multiple languages, graphic design, photography, videography, landscaping, construction, painting, carpentry and more! Skill-Based Volunteers are needed across Missouri & Kansas.
Speaker's Bureau Volunteer 
Present key information and share stories about Make-A-Wish® Missouri & Kansas to increase support and educate audiences on our mission. Email Brian Miller at [email protected] for more information.  
Wish Family Ambassador 
Open to wish alumni and their families, represent Make-A-Wish® at a number of external outreach and fundraising events to share your wish experience. If you are interested in learning more about this volunteer opportunity, please email [email protected].
Get Started
Your Make-A-Wish Journey Starts Today
Thank you for your interest in volunteering with Make-A-Wish® Missouri & Kansas! Our wishes, wish kids and wish families are all unique, and so are our Volunteers. All prospective Volunteers are asked to meet a series of requirements before approval. 
Fill out our Volunteer Inquiry Form 




Once you are familiar with our roles, fill out our 

Volunteer Action Pack & Application Form

. Once your application is completed, please email it back to

[email protected]

. A member of our Volunteer Services department will contact you once we receive your application.  

 

Interview 




Once your application is received a member of our Volunteer Services department will contact you for a short 10-15-minute phone call to review your application, discuss next steps, and answer your questions.   

Criminal Background Check & Online Training Sessions




Due to the nature of our work, Volunteer applicants must complete a criminal background check every three years. All information in the Volunteer Application, and any acquired through the background check, remains confidential and is used only for screening and placement purposes. Make-A-Wish® Missouri & Kansas does not employ or utilize any individual as a Volunteer who has been convicted of a crime that (a) victimizes children, (b) is sexual in nature, or (c) involves violence, fraud, or significant theft. After an approved background check, you will be registered for several online training modules.

Complete Training 




Find and join upcoming Training dates related to Wish Granting on 

Our Events

page. Any Volunteer interested in becoming a Wish Granting Volunteer will be required to attend a Wish Granter Training session.

Welcome! 




You are officially now a volunteer for Make-A-Wish® Missouri & Kansas. You will be an integral part of bringing hope, strength and joy to Missouri & Kansas kids.
Have Questions?
Check out our most frequently asked questions below. 
What are some of your greatest volunteer needs?
Currently, we have a vital need for volunteers who meet any of the following criteria:
Bilingual speakers (English and another language)

Live in the Kansas City or Springfield regions

Well versed in virtual platforms (Zoom, Facetime, Skype, etc.)
Who makes a great volunteer for Make-A-Wish® Missouri & Kansas?
Volunteers who believe in and adhere to our values are our best fit. Our values are: Integrity, Child Focus, Excellence, Community and Inspiration. 
Integrity: We approach every aspect of our work with unwavering standards of honesty, transparency and respect for wish recipients, their families and supporters. 
Child Focus: Our business practices always put the interests of wish children first. 
Excellence: We aspire to have best-in-class business practices, and we embrace the challenge to exceed expectations at every opportunity. 
Community: We foster a collaborative, global community of staff, volunteers and donors with the collective ability to make the broadest possible range of wishes come true. 
Inspiration: We are inspired by the examples of our wish kids and the actions of the entire Make-A-Wish® Missouri & Kansas community to approach our mission with life-affirming enthusiasm, imagination, and creativity.
Can I volunteer around my schedule?
Yes! Many volunteers lead busy and active lifestyles with personal and professional commitments. Volunteer opportunities are self-selected and project oriented. Flexibility is key as there will not be consistent, set Volunteer hours.  
Wish granters schedule a time to meet with our wish families based on the family's schedule as well as their own. Event volunteers can select specific events and times based on their schedule.
Why do you require a criminal background check?
Because we work closely with children, Make-A-Wish® Missouri & Kansas requires that all volunteers submit to and pay a fee of approximately $26.00 for a criminal background check. More information will be sent to volunteers after completion of the Volunteer Application and interview. All information received from these reports will remain confidential and be used only for screening and placement purposes. 
Make-A-Wish® policy prohibits our chapter from using the services of a volunteer if the individual has been convicted of a crime that victimizes children, is sexual in nature and/or involves violence, fraud or significant theft. 
If you have any questions regarding this policy, contact Volunteer Services at [email protected]
I am not 18 years old. Can I still volunteer?
Although all official volunteers must be 18 years old, there are a number of other volunteer opportunities including hosting a fundraising event or organizing a fundraiser at school through our Kids For Wish Kids program. Email [email protected]an.wish.org for more information.
How can my workplace get involved?
We have several opportunities for groups to support Make-A-Wish® Missouri & Kansas! To learn more, please click here.
What is a Wish Granter?
Wish granters assist with the wish process by meeting with the family, helping the child determine the wish and acting as an extension of Make-A-Wish® Missouri & Kansas. This volunteer role is best suited for anyone 18 and over with warm energy, a compassionate heart and the ability to give freely of their time. Volunteers must be positive, outgoing, comfortable in a variety of social situations and passionate about children and our mission. It is also important that Volunteers are adaptable and accepting of lifestyles and situations different than their own as well as the unpredictability of wish family needs. 
What is a Wish Granter Training?
Wish granter trainings are specialized trainings that consist of an overview of Make-A-Wish® Missouri & Kansas, the wish granting process, meeting with wish families and planning a wish. Find upcoming wish granter training dates on Our Events page. 
Do Wish Granters travel with the family/child?
No, wish granters do not travel with the family. There are 59 other Make-A-Wish chapters around the country and many international affiliates. When we send a wish family to another state or country, that chapter or affiliate will help facilitate the wish.