Wishmakers on Campus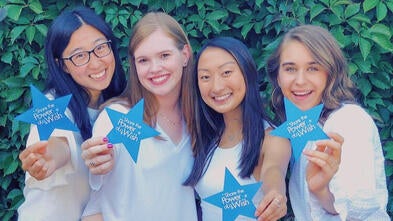 Join our Wishmakers on Campus® program, a fundraising program designed for post-secondary students, such as athletic teams, student governments, Greek organizations or even just a small group of friends, interested in contributing some of their time and energy to help grant Minnesota wishes.
Wishmakers on Campus provides a hands-on experience for students to help raise funds to grant wishes for Minnesota children with critical illnesses. This is a custom-tailored fundraising program that provides students the opportunity to engage in philanthropy and service activities, all while encouraging leadership, community service, volunteerism, teamwork and resume building.
Fundraiser Ideas
Host an event, sell food on campus, incorporate Make-A-Wish into your existing events – the opportunities are endless! Take anything you enjoy and work with us to turn it into a phenomenal fundraiser.
Auction
Movie Night
Star Sales  
Penny Wars
Sports Tournament
Walkathon
Talent Show
Candy or Bake Sale
Dinner with Campus Celebrity
Resources
Download Fundraising Guide
Wishmakers on Campus Fundraising Toolkit
For more information about Wishmakers on Campus, contact: 
Alicia Wiesneth 
Senior Events Manager 
(612) 767-2764 
[email protected]