Volunteer
Join a caring community of volunteers who transform lives. Together, we can make countless wishes come true.  
Your time and unique talents are critical to bringing strength and hope to wish kids when they need it the most. In fact, our volunteers are at the heart of every wish experience. 
Make-A-Wish® Michigan volunteers consider their work impactful and meaningful. And, their efforts are rewarded—not in dollars or cents, but in the incredible difference they make in the lives of our wish kids. Volunteers even have the freedom to choose when and how they would like to help transform lives in our community. 
We understand that you want to volunteer but might not know where your skills and talents best lie. Check out our volunteer opportunities and see where you can best help make wishes come true. 
Wish Granter
Work with a partner to meet with wish kids and their families to help determine their wishes, and then work with our staff to make those wishes a reality. Wish-granting volunteers must be 21 years of age, attend a wish-granting training and be able to commit to at least one year of volunteering.
Translator/Interpreter
Help facilitate wish experiences for non-English-speaking families. Translators attend wish visits and phone calls, but they are not directly involved in planning wishes. They may also assist with the translation of documents and other materials as needed.
Office Volunteer
Assist with various projects at our chapter offices in Brighton and Grand Rapids, including phone calls, mailings, research and data entry. This opportunity is only available during business hours Monday–Friday. 
Special Events Volunteer
Plan, organize and implement successful fundraising events by working on committees, helping on event day and/or participating in the event. Our special events volunteers help us by staffing our registration tables, handing out T-shirts, cheering on participants or welcoming attendees. Opportunities may also include speaking engagements, check pickups, representing Make-A-Wish Michigan at various activities hosted by community groups or businesses and distributing flyers or posters to promote an upcoming event.
Skill-Based Volunteer
Use your professional skills and knowledge on an as-needed basis to provide much-needed skills such as reading and writing in multiple languages, graphic design, accounting, photography, licensed carpentry, interior design, landscaping and more.
Wish Family Ambassador
Open to wish alumni and their families, represent Make-A-Wish at a number of external outreach and fundraising events to share your wish experience. If you are interested in becoming an ambassador, contact Kierstynn Rozema.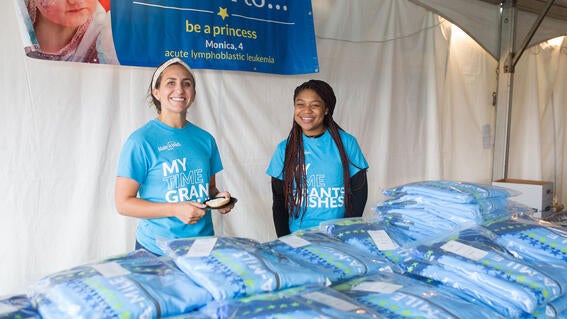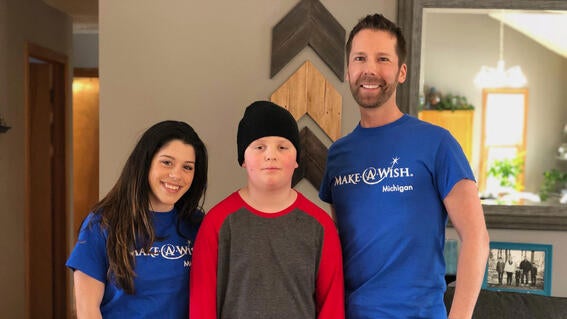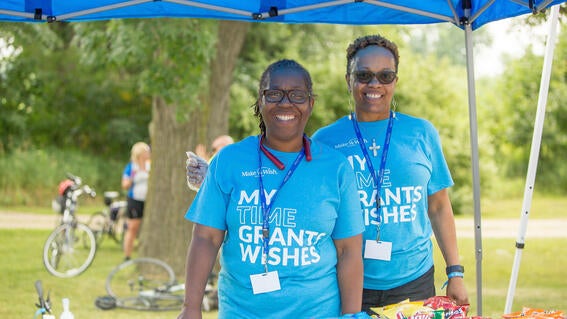 Your Make-A-Wish Journey Starts Today
At every level of the organization, volunteers are critical to the mission. Get started today and soon you can bring hope and joy to Michigan children with critical illnesses as a Make-A-Wish volunteer. 
Fill out application: To begin the volunteer process, complete the volunteer application and submit it to our Brighton office via mail, fax or email. The application MUST be signed on pages 4 and 5. Electronic signatures cannot be accepted.
2020 Volunteer Application.docx
        Make-A-Wish Michigan
        7600 Grand River Ave., Suite 175
        Brighton, MI 48114
        Fax: 734.994.8025
        [email protected]
Phone interview: After we receive your completed application, we will contact you within two weeks for a phone interview. You will speak with a current staff member to get your questions answered and allow time to learn more about you and your interests. Afterward, we will review our current volunteer openings and determine alignments with your interests. We will contact you for a background check if there is a match.  
Submit your paperwork: After your phone interview, you will be asked to complete a criminal background check and submit final paperwork. Once the background check is completed and approved, we will notify you and get you signed up for volunteer orientation and wish-granting training. You will also start to receive our weekly volunteer e-newsletter, the Volunteer Voice. 
Attend a volunteer training session: Attend a digital orientation and training session to learn about our mission to grant wishes for children with critical illnesses and how you can help. You can find upcoming dates on the calendar page to register. 
Welcome! You are officially now a volunteer for Make-A-Wish Michigan! You will be an integral part of delivering our mission forward. 
Frequently Asked Questions
Why do I need a background check?
In order to provide our wish children and their families with the best possible experience, select volunteer positions must successfully complete a criminal background check every three (3) years. Make-A-Wish does not employ or utilize as a volunteer any individual who has been convicted of a crime that (a) victimizes children, (b) is sexual in nature, or (c) involves violence, fraud or significant theft. Please contact us with any questions related to past convictions and/or our background check screening process.
Who do I contact with questions?
Our team is happy to answer any questions or address any concerns that you may have. Contact our Volunteer Department at [email protected] or call 800.622.9474.
How far will I have to travel?
It is suggested that you volunteer for wish children in your home area. Make-A-Wish does not reimburse for mileage. Depending on what type of wish the child chooses, you may be accompanying them on their wish if it is a shopping wish or object wish.  
How many wishes will I be asked to sign up for each year?
We ask that you participate in a minimum of two volunteer opportunities a year (i.e. joining two wish teams or volunteering at an event and joining a wish team). We want to make sure you are active and connected to our mission throughout the year.
Do I need a partner?
All wish discovery meetings require two wish-granting volunteers. You will be paired up with another wish-granting volunteer if you do not have a regular partner.
Privacy and protection
Security of information is extremely important to us. All information submitted is available to and accessed by only relevant personnel. Information is never sold or shared.
Wish-Granting Volunteer Trainings
Before registering for a volunteer training, please ensure that you have completed the steps listed above to become an official volunteer.