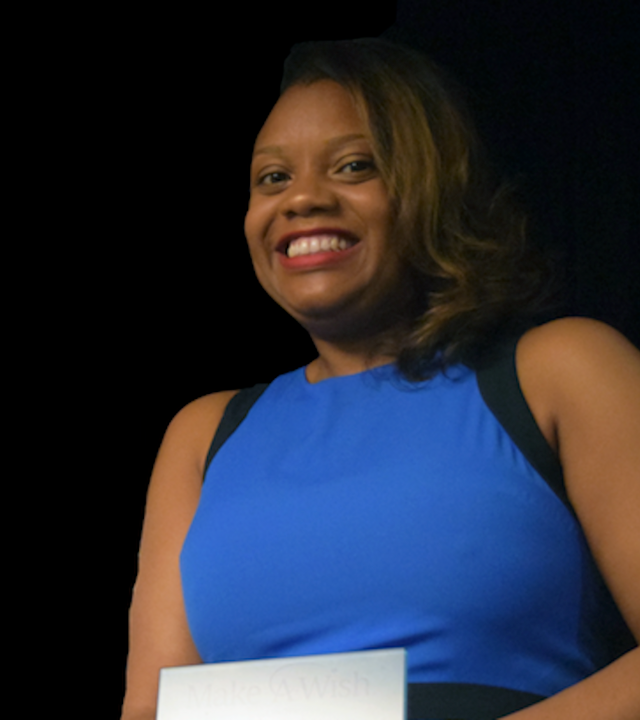 Through Tanisha's Referrals, Wishes Are Possible
As a sickle cell nurse practitioner, Tanisha spends most of her days engaged in care coordination and managing inpatient and outpatient rounding, prescriptions and family support. She also has the ability to refer patients to Make-A-Wish Illinois.  
While working in hematology and oncology for the last 15 years, Tanisha Jones, RN, BSN, C-FNP, was able to discover her passion in caring for children. She has been at La Rabida Children's Hospital and Comer Children's Hospital for the past six years. 
"The compassion and enjoyment that I get from the pediatric population made me realize that pediatrics is where I need to be," she said. 
In 2004, Tanisha spent most of her time working directly with cancer patients on a pediatric bone marrow transplant unit. This is where she first learned about Make-A-Wish and realized the potential benefits for her patients. Now, she plays a critical role in the process as a referral source, directing many potentially qualifying children to Make-A-Wish Illinois. 
"When I first found out about Make-A-Wish, I thought it was only for a small handful of kids. I never really saw the impact at that time," Tanisha said. "Now that I am actively involved in the process, it is very exciting to see the impact that it has. It makes me want to reach more kids that can qualify." 
She enjoys being able to talk and look at pictures with children and their families after their wish experience. She'll never forget when one of her patients ran up to her wearing Mickey Mouse ears saying, "I just want to thank you so much for this." It brought tears to her eyes. The child was leaving for his wish to go to Disney World the next week.  
"That moment showed me how important a wish is for these families to get away and not have to think about the illnesses that they are facing."
Tanisha
Wish referrer
It's times like this where she is able to see the true and lasting impact of a wish. "All of our kids that come back from their wishes, the impact is on the whole family…mom, dad and siblings are gleaming with joy," she said. "That is what really makes me excited." 
Because of Tanisha's dedication as a referral source in the medical field, she was named a 2019 Women Impacting Wishes Honoree at Women, Wine, & Wishes, an annual event hosted by the Women's Network of Make-A-Wish Illinois.  
"I'm very honored and overwhelmed at times about it…I never really sat down to take it in until recently. This is really big. I am extremely honored and just overjoyed." She went on to say, "It is a very humbling experience for me because I honestly do it for these kids and the expressions, gratitude and smiles you get from these families."