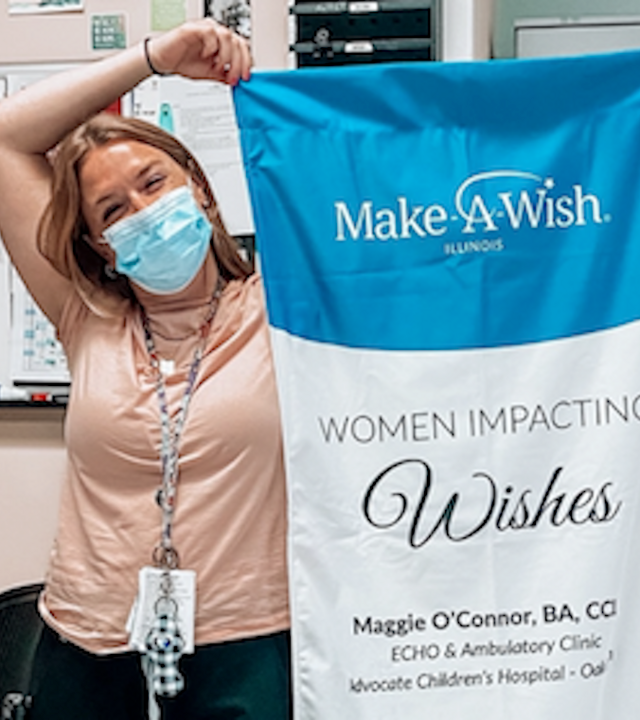 Women Impacting Wishes Honoree - Maggie O'Connor
Maggie O'Connor spends most of every day with kids, helping them through some of the toughest times of their lives as they deal with critical illnesses involving their hearts. For friends and family who have known Maggie her whole life, her work comes as no surprise. 
As a preteen, she was the go-to babysitter for neighborhood families. While attending college, she considered other ways to help children as a career, but nothing felt right until in her junior year she learned about the world of child life. 
Now on staff at Advocate Children's Hospital in Oak Lawn working in the outpatient cardiology department. She sees many of her patients regularly, as often as every two weeks, as they come in for various tests and check-ups.  
Referring children to Make-A-Wish offers Maggie the opportunity to share good news.  
"Going into a room and telling a child that they are eligible for a wish and watching them light up," is just one of the ways she sees that the wish journey is positively impacting her patients Maggie said. And, talking about the wish offers opportunities to build a relationship with her patients as they discover, plan and receive their wishes. 
"I've seen the full wish journey. When I ask a child about their wish they instantly light up – even if it was ten years ago."
Maggie
Wish referrer
She also sees how a child's illness can stress the whole family and appreciates that Make-A-Wish includes the whole family, with parents often as excited as the children and sharing their excitement long after the wish has been granted.  
Maggie O'Connor only began referring patients in February of 2019 and has already connected more than 19 patients to Make-A-Wish. The Women's Network of Make-A-Wish Illinois honors Maggie as one of its Women Impacting Wishes honorees for 2020. Those recognized as Women Impacting Wishes exhibit outstanding support for their patients and advancing the vision of reaching every eligible child with the life-changing hope of a Make-A-Wish experience. 
"I'm honored I can play a small roll in something that will impact them the rest of their lives." 
2020 Women Impacting Wishes Honoree 
Maggie O'Connor, BA, CCLS 
Advocate Children's Hospital Oak Lawn