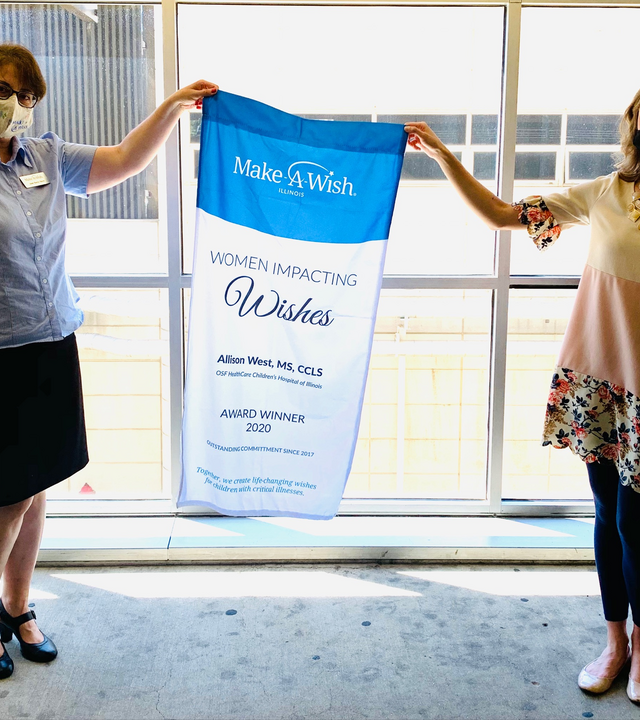 Child Life Specialist Recognizes the Impact of a Wish
When Allison West was a child, a neighbor who had been diagnosed with cancer had a wish granted and that was the first time she heard about Make-A-Wish. At that time, she couldn't know that she would be helping to grant wishes one day. 
Allision she discovered her talent and joy in working with children through her family's day care business. She had always liked interacting with kids and helping children soon became her career focus as she gravitated toward the field of child life.  
Reintroduced to Make-A-Wish as a healthcare professional, Allision learned from a senior colleague how important wishes can be. That coworker had spent more than 20 years referring patients to the organization and witnessing the positive impacts it had on their lives and overall health. 
In working with young patients every day she sees how deeply a diagnosis of a critical illness can affect their disposition.  
"So much of their childhood is taken away from them," she shared. "It affects so much the emotional side of their coping and healing."
Allison
Wish referrer
Working in the outpatient clinic of the St. Jude Midwest Affiliate Clinic in Peoria, she can see up to 30 patients a day. She spends her time checking in on how they are coping with their illness, exploring any school needs of the child and his or her siblings as well as tracking medication compliance and behavior that might indicate the child is struggling.  
"On the downest of days we can present the opportunity for Make-A-Wish to these patients and offer a sense of hope, a ray of sunshine," Allision said about knowing when the time is right for a wish. "It is such a humbling experience to be able to offer them something outside of the medical world at such a difficult time in their lives and to be able to get them involved with a whole new support system through this as well." 
Since 2017, Allsion West has referred 167 patients to Make-A-Wish. The Women's Network of Make-A-Wish Illinois honors Allison as one of its Women Impacting Wishes honorees for 2020. Those recognized as Women Impacting Wishes exhibit outstanding support for their patients and advancing the vision of reaching every eligible child with the life-changing hope of a Make-A-Wish experience.