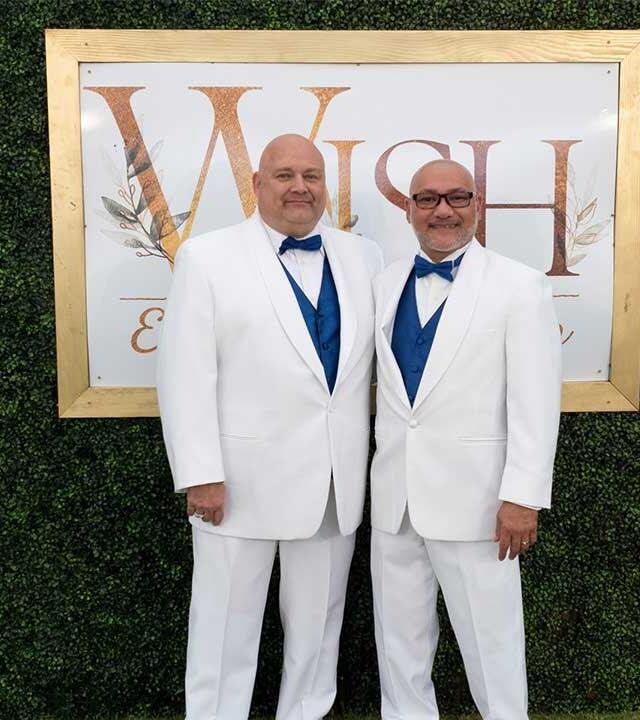 A Shared Passion for Changing Lives: Peter and James Mateo
Over the years, we have gotten to know so many kind, compassionate people in our community who come together to make wishes possible. Those who consistently go above and beyond for our wish kids truly become celebrities in our office; theirs are the standout names we hear often—the names that we excitedly announce in the hallways (or now, over Zoom) have agreed to assist with another event, or have made another sizable donation, or have become involved in yet another new way. Peter and James Mateo are two of those names, two Hawaii wish celebrities working together to make a difference in the lives of local keiki.  
James first moved to Hawaii for work in 1992, sight unseen. He met Peter, originally from Guam, at a work function in 2000 and the couple married and settled into a busy, happy life on Oahu. In their spare time, they pursue their respective hobbies: for James, collecting and restoring antiques, gardening, and completing DIY projects, and for Peter, watching sports and enjoying Korean food. 
Both became involved with Make-A-Wish Hawaii seven years ago, separately at first. Peter, who works at Dave and Buster's, became familiar with the mission after meeting numerous wish families and volunteers who hosted wish reveal parties at the restaurant. At the same time, James had answered a call for volunteers to assist with our annual WISH! gala. 
"When I arrived at the first gala, I was immediately drawn towards setting up the silent auction," explains James. "It was something I had some experience with, and I tend to have an eye for setup and design. I have assisted with the silent auction setup for every gala since."  
James enlisted Peter's help with the auction a few years later, and, since then, the two have either volunteered at or attended numerous annual fundraising events like gala, Waffles for Wishes, Wine for Wishes, and Jingle Rock Run. And while this year's gala—our first virtual WISH! celebration—looked a little different, the Mateos' names were still at the forefront, with the duo assisting in our virtual auction and making a sizable donation.   
In fact, aside from "attending as many fundraising events as [they] can," the couple regularly supports local wish kids through generous donations and personal fundraisers—support they recognize is crucial to fulfilling our mission. If that weren't enough, Peter and James also recently completed their wish granter training and will soon be working with children and families directly to identify their most heartfelt wishes and bring them to life.  
"We are excited to be official wish granters," the couple says. "Our most rewarding moments are meeting wish kids and hearing their stories, about the challenges they face and their tenacity and success to overcome them. The wish is oftentimes that life-changing moment when wish kids change the trajectory of their illness and take a turn for the better. What could be more important than that?" 
For Peter and James, this dedication to changing lives has become not only a shared passion but a way to remind themselves about what is truly important. "Make-A-Wish definitely helps us be better people. It reminds us of all we have and the need to share it with others," they say. "We both work long hours, and it gives us something to do together and help kids at the same time. The shared passion and vision definitely helps strengthen our own relationship and being able to do this together brings us closer together." 
In addition to strengthening their own relationship, their experiences at Make-A-Wish Hawaii have also made them part of our 'ohana, and they've forged lasting relationships with wish families, staff, and fellow supporters—all of whom are grateful for and inspired by their dedication.  
"Peter and James are wonderful ambassadors for our mission, and they bring such energy and heart to everything they do," says Make-A-Wish Hawaii President and CEO Trini Kaopuiki Clark. "They have given generously in so many ways over the years, and they are as much a part of our team as the staff granting wishes every day." 
We are lifelong believers in the power of a wish and will always remain part of the Make-A-Wish family.
Peter and James Mateo
Make-A-Wish Hawaii supporters