I wish to go to Walt Disney World
Danny, wish granted 1997
cancer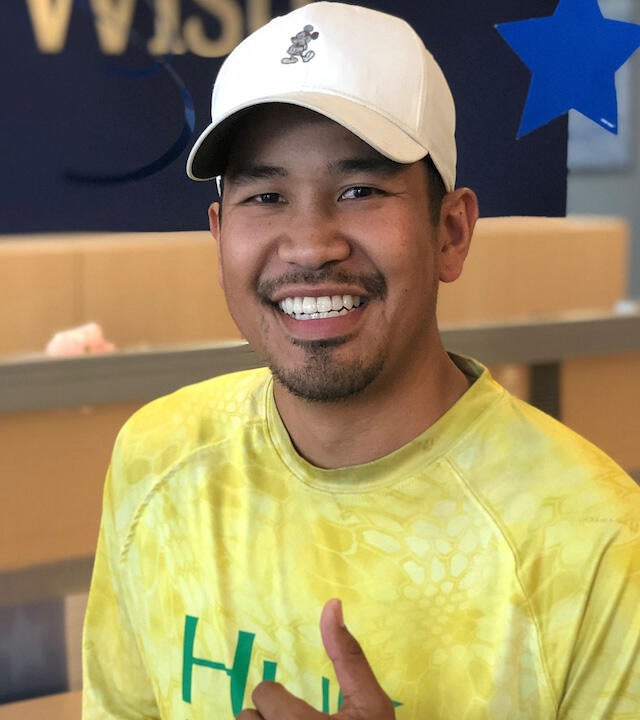 My Life Now: Danny's wish inspires decades of gratitude and giving back
Two-time cancer survivor. Disney junkie. Giver. If you ask 29-year-old Danny to describe himself, he'll point to these as his most defining characteristics.
But if you ask what made him this way—what drives him to deliver carefully wrapped presents to children in the hospital each Christmas and to work hard all year to surprise his family with vacations to Walt Disney World—he'll point to one pivotal event in his life: his wish. 
At just 5 years old, Danny was beginning a long, arduous battle with non-Hodgkin's lymphoma—a fight that would consist of biopsies, radiation, and chemotherapy alongside missed school, long hospital stays, the excitement of recovery, and the heartbreak of relapse.  
Little Danny turned to a love of Michael Jackson to get him through the toughest times. He could often be found moonwalking down the hallways of the hospital, IV pole in hand, laughing with the nurses he called aunties and uncles.    
"You learn to navigate life and keep moving like water," he says. "You're not going to stop and be stagnant; you're going to keep moving."
When Make-A-Wish Hawaii entered his life and told him he could wish for something, it was an unexpected opportunity to dream about life beyond the next treatment. Eight-year-old Danny ultimately decided on a trip to Walt Disney World with his family, an experience that would inspire a lifelong love of all things Disney.  
It changed my world forever, and I came back different.
Danny
Wish Alum
Years later, he proposed to his wife at Magic Kingdom and married her at Aulani, A Disney Resort and Spa. Now a father of an 11-year-old with twins on the way, he and his family travel to Disney parks around the world every year. But the magic of that very first trip, from the limousine ride to Daniel K. Inouye airport to the endless ice cream at Give Kids The World Village, has never been matched.  
"I remember it like it was yesterday. At Disney and Give Kids The World, you've got nothing to do but smile. I held onto that magic since," Danny says. "It changed my world forever, and I came back different," Danny says. "As a kid, you come back for treatment and have a whole lot to tell your nurses."  
Years later, the ripple effect of Danny's wish is still changing lives. Now in his 10th year of what he refers to as "D-Clause," his annual season of giving, Danny is grateful for the opportunity to show children currently fighting for their health the same hope and joy that his wish gave to him. 
"Because of Make-A-Wish, I am the giving person I am," he says. "Changing the world is each person doing a little bit and the little bit adds up." 
And as he walks the hospital ward delivering presents, each year more extravagant than the last, he smiles and waves to the same nurses he once told about his wish and reflects on the journey that led him here.  
"Receiving a wish as a kid makes you realize there's people out there who care," he explains. "This organization means a lot to me and who I've become. Make-A-Wish is in my DNA."