I wish to have a saxophone
Bradley, wish granted 1998
acute lymphoblastic leukemia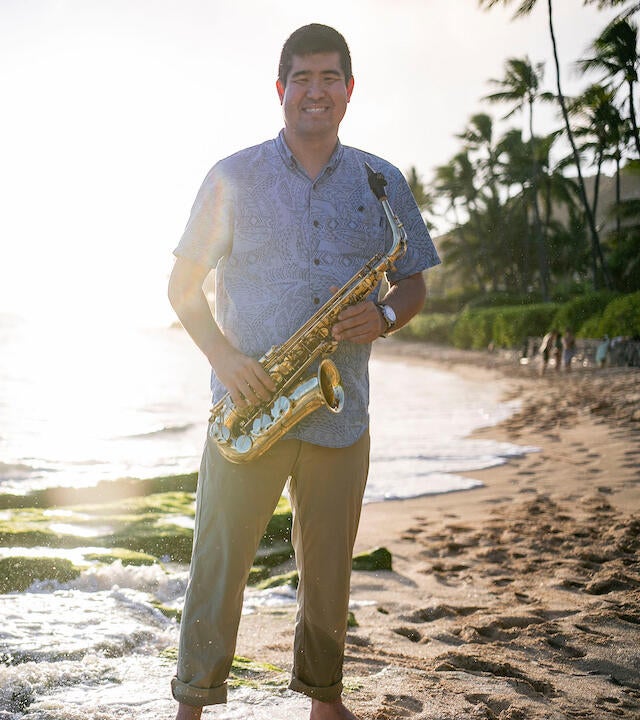 My Life Now: Bradley Akamu
Volunteer Outreach Coordinator at Hawaii Meals on Wheels, dog owner, outdoor enthusiast, amateur photographer—31-year-old Bradley Akamu wears many hats.
He's also a childhood leukemia survivor, and a former wish kid; Make-A-Wish Hawaii granted his wish to have a saxophone nearly 20 years ago, a wish that he still reflects on as a turning point in his journey. 
Then an 11-year-old battling high-risk acute lymphoblastic leukemia, Bradley had recently been given good news: his treatment was going well and his prognosis was good. So, when he was told he was eligible for a wish, Bradley was confused. "At first I thought Make-A-Wish was for kids who were terminally ill," he said. "I thought, 'How come I get to do this then?' I think it's great that I get the chance to put the spotlight on those [like me]…there's so many kids out there that have recovered, gotten treatment, are in remission, and getting that wish really makes such a difference." 
For Bradley, that difference came by creating a lasting reminder of the positives in life during an otherwise traumatic time. 
"It's easy to remember the negatives—the treatments, feeling nauseous, being sick all the time," he explains. "You may know that whatever you have is treatable or survivability is really high, but it's hard to see the end, especially as a kid. If you've only been on Earth 11 years, a few years of treatment is forever. But being able to have something to look forward to, something that is still associated with what you're going through but that's positive—that's amazing." 
Though he's been in remission for 18 years, Bradley thinks about his wish often, pulling out his saxophone and reflecting on the escape it provided him from his battle with childhood illness. He thinks about the excitement of being told he could wish for nearly anything in the world. At first, he thought about a trip to Las Vegas to see the magic shows. But, eventually he decided he wanted something more tangible and lasting. He'd been taking saxophone lessons, and thought, "What about a saxophone?"
I had something that I could enjoy. I still have it.
Bradley
Wish Alum
Bradley approached his music teacher with the idea and asked for his opinion on which model to ask for; his teacher suggested a professional-level alto sax, the one he would get if he were to buy one. They were both shocked when Make-A-Wish Hawaii quickly came back with a 'yes.'  
Soon, Bradley was playing his brand-new saxophone at lessons, in the jazz band at school, and at home. "I had something that I could enjoy," he smiles. "I still have it." 
The wish also had an impact on his family. Bradley says he often speculates that his fight with leukemia must have been harder for his parents than for him. "I thought, I just have to get through being sick and going through treatment. All they can do is sit there and watch their son being sick," he explains. "For them, being able to see me happy about something made a really big difference and helped them as well. It's not just the wish kid that benefits; it's the whole family."  
Today, Bradley hopes to touch people in the community in need just as his wish granters and Make-A-Wish ohana touched him and his family. Originally an electrician, Bradley had a friend who worked at Meals on Wheels and always seemed so happy. When she encouraged him to apply for the open Volunteer Outreach Coordinator position, he thought he'd see if it was the right fit—it turned out to be best career move he could have made.  
"I love what I do," he says. "You can see the effects of what you do every day, the impact you're making."  
Bradley equates it to the work we do at Make-A-Wish Hawaii. While the populations we touch are different—the elderly in need versus children with critical illnesses—the motivation is the same. Both organizations change lives and show people that there's an entire community of people who care about them. And just as Bradley points out the misconceptions about Make-A-Wish—namely, that wishes are only for children for terminal illnesses—he also addresses misconceptions about Meals on Wheels. Many believe the service is only for low-income people or those in public housing; instead, it's based on need.  
Bradley draws one more important similarity between our organizations: that sometimes people don't see the impact beyond the one meal or one wish day.  
"Wishes are like our meals. The meals are the thing people think of, but it's what goes beyond that that really makes a big impact," he explains. "For our clients, it's being able to see somebody, a smile to look forward to…something that improves quality of life. It's the same for me and other wish kids. If you have nothing to look forward to and you can't see the end and everything is negative, it can be easy to give up. Being able to have something that can keep pushing you and brings you happiness…that really helps positive outcomes." 
If you'd like to support kids currently fighting battles like Bradley's, learn how you can get involved at http://hawaii.wish.org/ways-to-help. To support Meals on Wheels, visit https://hmow.org/.  
As Bradley says, "It's so important to give what you can, whether that's through your skills or your time or monetarily…or simply going out and telling people, 'Hey, here's this great organization!' There are a lot of different ways to give."