I wish to have a Mustang makeover
Mano, 17, Kapolei
brain tumor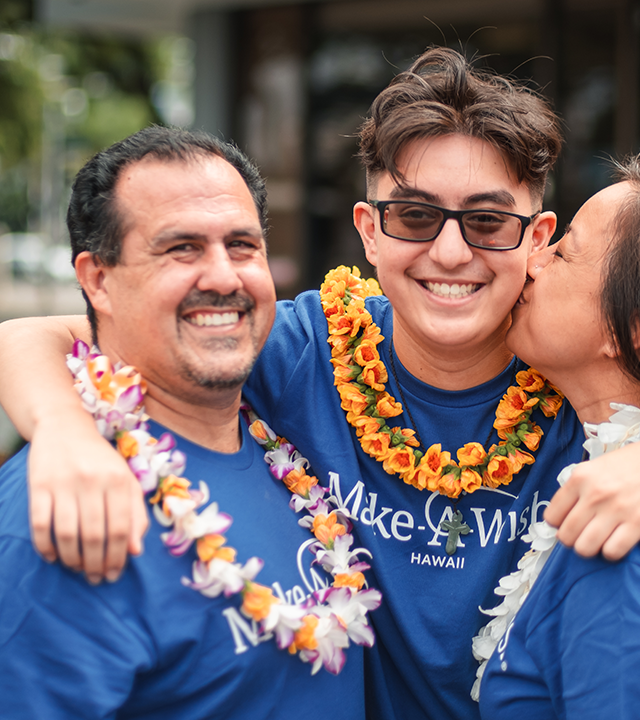 Mano's wish to have a Mustang makeover 
Wish dad Manuel III recalls every detail of the moment his life changed. It was November 30, 2018, and doctors at Tripler Army Medical Center had just shown him the MRI results. His 15-year-old son Manuel IV, affectionately called Mano, had a large, invasive brain tumor that required emergency surgery, and he was the one to break the news: "I said, 'Before I tell you this, you've got to promise me that you're going to be strong. There's going to be some tough times ahead, but you've got to be strong. You have a tumor—a pretty big tumor, and we're looking to get you into emergency surgery.'"  
None of it felt real. Just hours before, Manuel and his wife Tracy thought the headaches and vision problems bothering Mano might just be the result of a new glasses prescription. Now, they were faced with the life-altering, sobering reality that their happy, positive son was being thrust into an unimaginable medical journey. True to his hopeful spirit, Mano, however, listened to his father, promising him, "Don't worry, Dad. I'll be strong." Manuel explains, "He was the one comforting us."  
Soon, Mano was in surgery, and all Manuel, Tracy, and their two elder children could do was wait. The surgery took four hours, and doctors removed about five percent of the tumor; any more would have risked damage to Mano's carotid artery and optic nerve. As Manuel tried to come to terms with all that had transpired so quickly, gratitude emerged among the flood of emotions. He was grateful for the neurosurgeon who came back in the wee hours of the morning, just hours before a flight to a medical conference, to check on Mano. He was grateful for the nurses and medical staff who took such good care of his son. And he was grateful, above all, for more time. 
Mano spent the next three weeks recovering in the ICU, making it home just in time for Christmas. Afterward, the family's new normal set in. Mano began taking medications, experiencing nausea and weight gain as side effects. But, through it all, he remained positive. Mano's older brother Jonathan recalls, "In his weakest point, he was still trying to crack jokes and be as happy as possible." Jonathan remembers going into a "protective mode," wanting to keep Mano from all the bad in the world. But, like his parents, he realized that Mano's strength was uniting the entire family.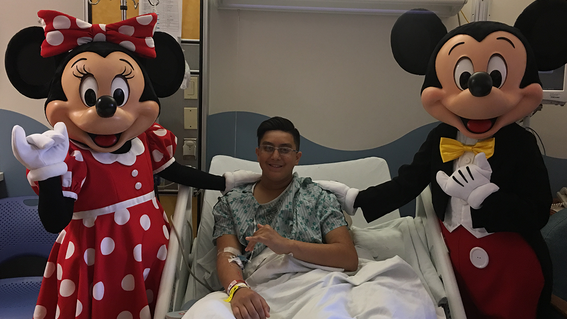 And one thing that kept Mano's spirits high was his family's 1992 Mustang GT 5.0. His dad, Manuel, had purchased the car in 1993 when he was fresh out of school. It followed him through every phase of his adult life—Tracy in the passenger seat and, soon, young Jonathan in the back, lulled to sleep by the motor. It followed him throughout his military career, cross-country from Georgia to Washington state. It took him and his growing family to Walt Disney World® for family vacations. And it only took a break from the road when the family got stationed in Japan in 2005. When Manuel finally retired and took "his baby" out of storage, he passed it onto Jonathan, who had joined the Air Force himself and took it to New Mexico. But as Jonathan began a family of his own, the '92 sports car was no longer practical. He couldn't bring himself to sell it, though. So, when he moved back to Hawaii, he passed the car on to Mano.  
"It had too much value to me," says Jonathan. "Not a lot of people understand that kind of thing. They say it's 'just a car,' but for me and my family, it's more than just a car. It's definitely a family heirloom. That car has been through a lot." 
The Mustang came at the perfect time, giving Mano and his dad something to focus on outside of the daily challenges coping with a brain tumor. "As a parent, you start thinking about what you can do to spend more time with your kids," says Manuel. "I thought maybe this is my chance to spend more time with him: teach him how to fix cars." 
Working on the Mustang has become the father-son duo's favorite pastime over the past two years since Mano's surgery, with Manuel teaching Mano how to replace the brakes and the suspension, among other maintenance. Mano can often be found in the driveway washing the car, paying no mind to the faded red paint rubbing off onto the towel. Instead, he thinks of all the car has meant to his family and all that is still yet to come.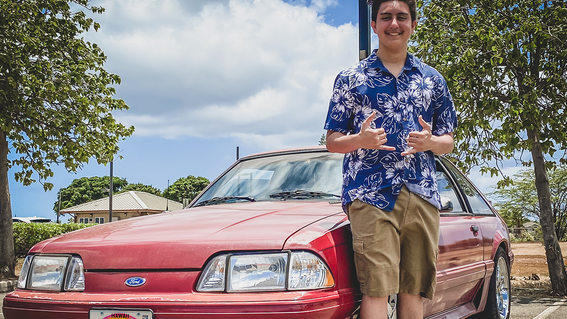 It's been in the family for 27 years. I plan on keeping it in the family, and I really do want to give it to my kids. 
Mano
Wish Kid
When doctors encouraged the family to refer Mano for a wish, it was no surprise that a Mustang makeover was high on his wish list. Mano envisions a fresh coat of ruby red paint and a new sound system. He hopes his wish can restore the car to mint condition so that its next 160,000 miles will be driven in style.  
Through his ongoing medical journey, the car—and Mano's wish—has given him something positive on which to focus. Says Manuel, "When he's down and out, feeling bad or sick, I say 'Hey, think about your car.' He's online looking up how the Mustang would look in this color, that color. It keeps his mind going. It keeps it off how he feels or how sick he is." 
Mano often thinks about how this wish will impact him in the months and years to come. The car is truly a symbol of life beyond illness. Before he passes it onto his future kids, he sees it as part of his return to life as a 'normal' teenager. He dreams of taking it to prom next year, of driving into the parking lot at school with his music up and his windows down, of winding along Tantalus Drive with his friends by his side. 
Thanks to a generous donation from First American Title, Make-A-Wish Hawaii fulfilled Mano's wish, presenting him with the final product during an unforgettable day. Mano and his family first followed a custom map with links to messages from his wish granting volunteers and from Patsy Saiki, Hawaii State Manager for First American Title, announcing his car was ready for pickup. After receiving the keys at First American Title, Mano got back behind the wheel for a test drive around a cone course set up by SCCA Hawaii before returning home for a surprise drive-by parade of nearly 50 vehicles led by two officers from the Honolulu Police Department, District 8, Second Watch.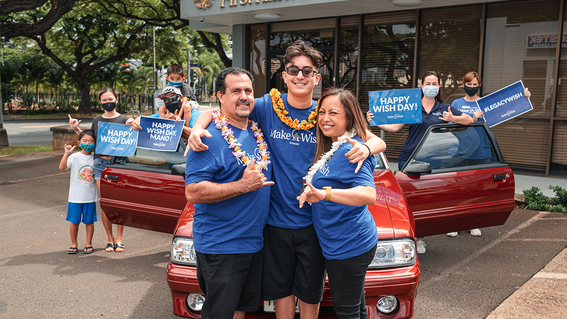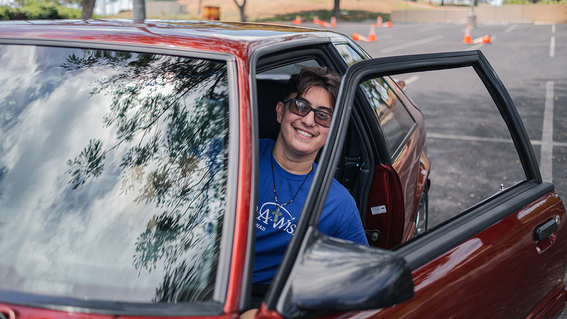 Making Mano's wish come true brought us closer together as a team and we are grateful to have been a part of the effort. 
Patsy Saiki
Hawaii State Manager, First American Title
"It's overwhelming—it's so much excitement and joy," said Mano, who is grateful to all who brought his wish to life. "It's going to change my life for the better. Mahalo to everyone who's been with me on my journey."
Make-A-Wish Hawaii would like to thank First American Title for sponsoring this wish, as well as Jspec Kustumz LLC, Drag Tech Racing, SCCA Hawaii Region, Super Cars of Hawaii, the Honolulu Police Department, and the many community supporters and volunteers who made it possible.