I wish to have a 16th birthday bash
Christhor
16
rare disease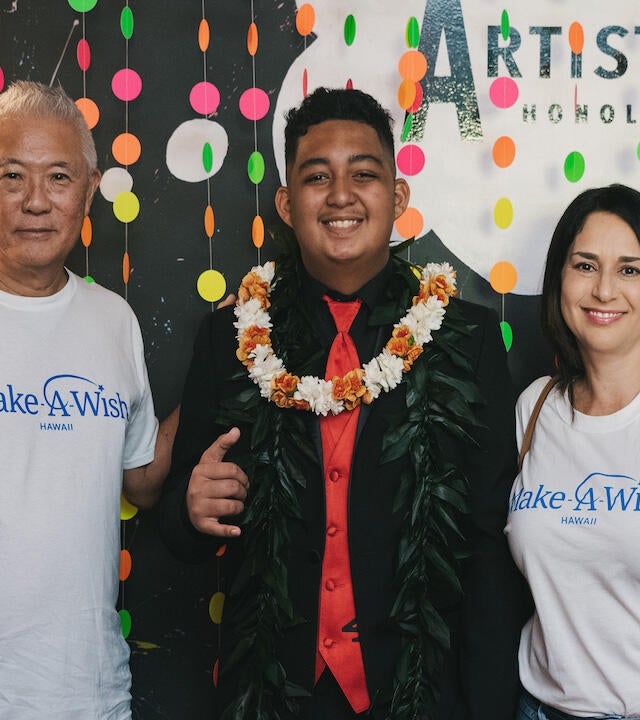 Leadership Works grants Christhor's wish for a 16th birthday bash
For 16-year-old Honolulu wish kid Christhor, family is everything.
With three brothers and two loving parents, his home is full of life—of intense football conversations, close gaming matches, and a shared faith in God that has carried them all through Christhor's recent diagnosis with a rare histiocytosis disease.  
"It was stressful to see him there," recalls brother Keoua of watching Christhor fight for his health at the hospital. But, as difficult as it was, the brothers didn't let the hospital interfere with their close bond. "After a few trips, Mom called me his miracle; every time I go visit him, he gets released," says Keoua. 
In spite of these extended hospital stays and the serious pain and uncertainties that come with a rare diagnosis, Christhor remained hopeful, finding strength in family and faith.   
"All the time he's spent in the hospital, being diagnosed with what he has, and just continuing to smile and have fun with his siblings…I can see that strength in him," explains Christhor's dad, Charles. 
When Make-A-Wish Hawaii entered the family's lives, it was an opportunity to envision life beyond illness, to shift conversations back to what made Christhor happy. Though he explored various ideas with his family, such as going to the Super Bowl, Christhor ultimately wished for a 16th birthday bash that would unite his family, friends, and church ohana under one roof. He'd often asked his parents, "Why do we always get together for sad things?" Instead, he dreamed of using this opportunity to bring all his loved ones together to enjoy live entertainment, a gaming tournament, and valuable quality time. 
If I rated it on a scale of 1-10, it'd be an 11.
Christhor
Wish Kid
And, thanks to the generous support of Debbie and Glenn Furuya of Leadership Works, a local business development and consulting company, Christhor's imagination would soon become reality. 
Five years ago, Debbie and Glenn were first touched by the Make-A-Wish Hawaii mission at our annual Jingle Rock Run community walk, when a chance encounter set off a chain of events that would forever change their lives—and the lives of local wish children like Christhor. The couple had met a wish child named Reece, who told them all about his wish to go to Walt Disney World® and the impact it had on his life. Debbie and Glenn made a sizable donation to Make-A-Wish Hawaii in Reece's name shortly thereafter, beginning a longstanding partnership in transforming the lives of more local children fighting critical illnesses.  
Debbie and Glenn were immediately touched by Christhor's story in particular. "It was a very selfless wish," says Glenn. "He wanted to do something for his family and to be with his friends, loved ones, and his church—and that's really special." 
 When the big day arrived, wish mom Taresa was elated to see that Christhor "did not stop smiling the entire time." As she watched her son's unique vision come to life—complete with a gaming tournament and live performances Rebel Souljahz, Mahkess & The Colors Band, and Natural Vibrations—she knew this would be an unforgettable milestone in the entire family's journey.    
But the best news was still to come: Christhor's last chemotherapy would likely be just a few short months after the party.  
"We continue to pray complete healing over Kaeo," wrote Taresa in a mahalo message to the many people who came together to celebrate her son along this journey. "He will be ringing that final treatment bell and walking out of there so happy to be healed."  
And as Christhor reflected on his life-changing wish, he wrote, "There isn't a lot of time where my whole family comes together; it meant a lot and we had a great time. If I rated it on a scale of 1-10, it'd be an 11. Mahalo, Leadership Works!"  
Make-A-Wish Hawaii would like to thank Leadership Works for adopting Christhor's wish. Thank you to our friends at Pacific Media Group and the incredibly talented musicians from Rebel Souljahz, Mahkess & The Colors Band, and Natural Vibrations for making Christhor's party truly unforgettable. Thank you also to Da Braddahs and Primetime Pipi for emceeing and DJing, as well as to the many volunteers, staff, and friends and family who came together for Christhor's 16th birthday bash.