I wish to have a beach-access wheelchair
Jake, 17, Kailua
endocrine disorder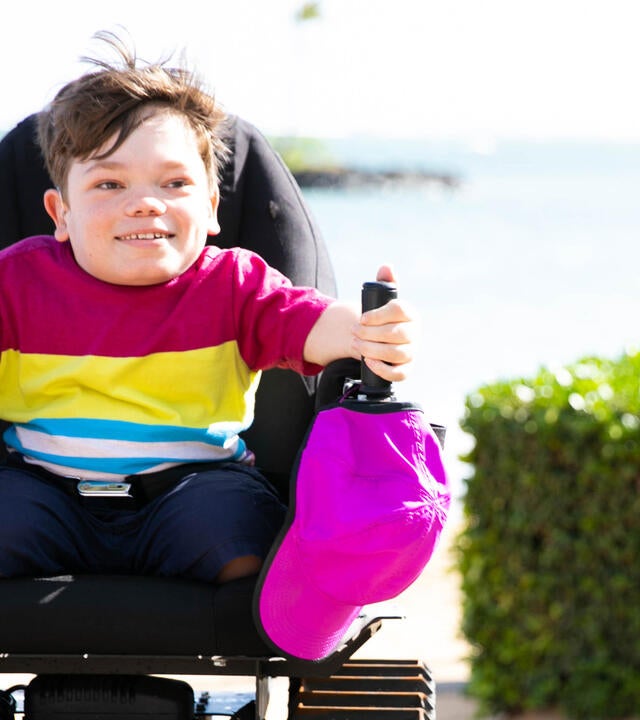 Jake's wish for a beach-access wheelchair gives him newfound independence
Jake dreamt of the independence that an all-terrain wheelchair would provide. When his wish granters approached him, Jake knew without hesitation that this was his one true wish.  
Seventeen-year-old Jake is guaranteed to make you laugh. He has that effect on nearly everyone he meets, with his big personality and quick wit. "He's funny, he's mischievous…he laughs just the best belly laugh," his mom, Heidi, explains, as she starts to tear up. 
Heidi and Jake's dad, Doug, have countless stories that illustrate Jake's personality—how his attitude has added much-needed levity throughout even the most difficult periods of coping with his illness. For four years, Heidi and Doug took turns flying with Jake to California every single week for a clinical trial, logging millions of miles of airline travel. The airline was always accommodating, sometimes even offering the family first-class seats. But Jake was, as Heidi describes, "not impressed." He preferred the very last row of the plane, seats 36 H and J, where he believed the plane was the coolest in temperature. "It's also the last to get off the plane," Doug points out, but Heidi just laughs. "Excuse me! We'd like to change our first class seats with whoever has 36 H and J, please," she recalls saying more than once. 
This clinical trial was just one step along Jake's medical journey, which began when he was around 6 months old. Heidi and Doug had taken him to the hospital after he had had a bout with croup, an upper airway infection common in infants. While reviewing Jake's x-rays, the radiologist noticed some differences consistent with a rare metabolic disorder. After running a number of tests, it was confirmed: Jake had MPS4A, a rare enzyme deficiency. According to Doug, it was extremely lucky that they found out when they did, as most children aren't diagnosed until much later at the age of 3 or 4 years old.  
"At the time Jake was diagnosed, he was the only kid in Hawaii with this disorder. No doctors had any experience with it unless they just moved here," he said, noting that only 300 kids have the condition in the United States currently. "Just as luck would have it, the radiologist had some experience on the mainland with kids with this metabolic disorder."  
After they received the diagnosis, the couple moved forward as "appropriately overprotective parents," as Doug puts it. They monitored his condition, they sought out the best medical care, and they adapted—doing everything they could to make Jake's life as 'normal' as possible. And despite two neck surgeries, hospital stays, and weekly IVs, they succeeded. "Whatever obstacle came his way, that was his normal," said Doug. "It's amazing to see the resilience."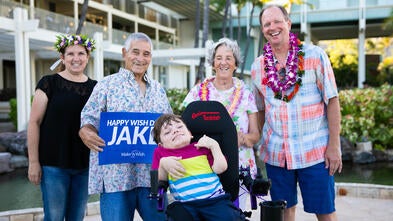 Today, Jake is like any other high schooler in a lot of ways. He goes to school, he does his homework, he plays videogames, and he hangs out with his friends. He just happens to also use a wheelchair. In fact, Jake has three different motorized wheelchair scooters: one that he uses at home, a large one that can elevate like a cherry picker to allow him to reach different heights, and one smaller version of the latter that serves as a backup.  
"The one weakness is that on any type of terrain…they don't go," said Doug. "They get stuck. That's always been a limitation." When Jake was younger, Doug would take him as far as his scooter or stroller would allow and carry him the rest of the way down to the local beach. Once Jake became a teenager, that option became less feasible. "The older you get, the less you want to be carried someplace," said Doug.  
So, despite living just blocks from the beach in Kailua, the family hardly went, as it was one of the few logistical challenges they hadn't been able to overcome. Further still, Jake often had to miss out on field trips with his classmates; they would get to go to the marsh for science class, while Jake waited for them in the library. 
And while Jake never complained, he still dreamt of the independence that an all-terrain wheelchair would provide. When his wish granters approached him, Jake knew without hesitation that this was his one true wish.  
And recently, Jake's wish became a reality thanks to a generous donation from local Aloha apparel company Reyn Spooner. Representatives from Reyn Spooner joined Make-A-Wish Hawaii volunteers and Jake's family and friends for a special reveal at The Kahala Hotel & Resort. Jake received a tour of the hotel and watched a dolphin demonstration before being led to the beach to find his brand new wheelchair: an all-terrain track chair in his favorite color, purple. 
"We were inspired by Jake's positive attitude and desire to enjoy his backyard beach," said Lynne Koplin, CEO of Reyn Spooner. "It was extremely special for us to share the Aloha spirit and help make his wish come true. We hope that Jake will now get to spend many hours wheeling along the sand and creating special memories with his friends and family." 
In fact, Jake and his family have been to the beach every weekend since his wish was granted.  
"I am loving the freedom that Jake has to roam and explore," said Heidi. "It's like giving him a new set of legs, a set of legs that can get him where we haven't been able to." 
But the best is certainly yet to come. Said Doug, "It has opened doors for so many possibilities in his life, we can't fully imagine them." 
Make-A-Wish Hawaii would like to thank Reyn Spooner for adopting Jake's wish, as well as the many community supporters who helped bring Jake's wish to life, including The Kahala Hotel & Resort, Hawaii Self Storage, and All Out Access, LLC.