I wish to be a recording artist
Angelica
18
heart condition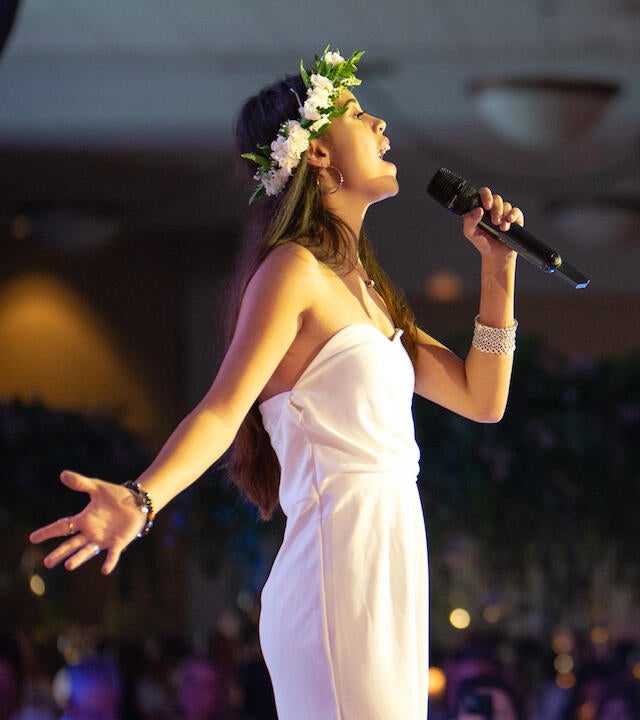 Channeling her story into song: Wish kid Angelica finds her voice
"If you make a wish it will come true…if you believe in what you do. If you make a wish, just believe that it already happened in a world you can imagine…"  
As 18-year-old Angelica sat in the recording studio listening to the heartfelt lyrics she had written come to life, she couldn't quite believe this moment was real. She watched with a smile as her grandparents nodded their heads… as her mother, father, siblings, and wish granters danced around the room…as her mentor and producer Imua Garza grinned and moved to the beat he had helped her create. This moment was a long time coming—the culmination of nearly 20 years battling a critical illness and a life-changing wish that allowed her to translate this journey into music.   
Angelica was born with a heart condition that threatened her life immediately. Doctors cautioned her parents Reena and Matthew that she may not survive. But Angelica did survive. And she fought her way through surgeries and hospital stays until she was a preteen with little recollection of just how dire her condition had been and could be. "I never thought of it as a big deal," she explains. "I have medication, I take it, I'm fine."  
As Angelica got older, however, she realized that her heart condition was the reason she couldn't participate in sports and other activities her friends were doing—and that "anything could happen."  
Angelica had always loved singing, calling it "the most amazing thing I could do in life." She soon began to turn to music as an outlet for her emotions and dreamed of channeling her story into song to inspire others fighting similar battles.  
My song, and my story, is about never giving up, even when you are at your lowest.
Angelica
Wish Kid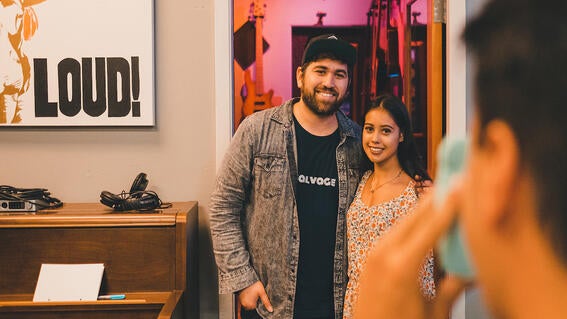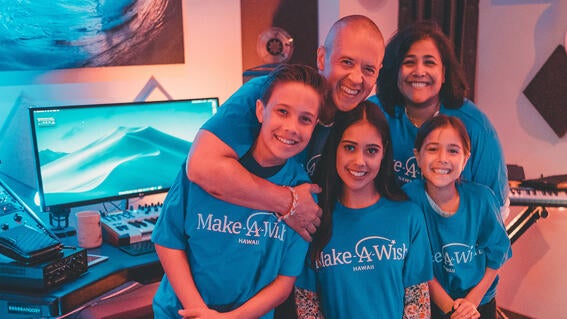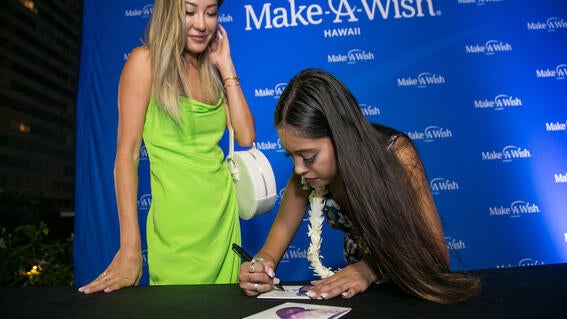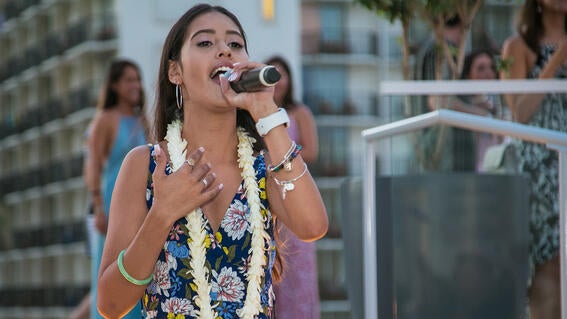 When wish granters Janelle and Jason from Make-A-Wish Hawaii approached Angelica with the idea of a wish, it didn't take her long to describe her dream of becoming a professional recording artist. Janelle, Jason, and wish coordinator Amanda were immediately struck not only by Angelica's story, but by her personality. "She is spunky, spicy and just has a heart of gold," says Amanda.  
Amanda returned to the office and soon joined a meeting regarding the organization's upcoming gala, WISH! In an Enchanted Garden. Staff sat at a table, notebooks in hand, tossing out ideas for the gala—who should perform? Which wish child could have their wish revealed that night? "What about Angelica, our wish kid who wants to be a recording artist…do you think she'd want to sing?" one staff member posed. That question led to an incredible start to Angelica's wish journey. The wish team asked Angelica if she'd like to perform a song at the gala—she'd get to rehearse with New Hope Oahu Music and learn a little bit about the life of a recording and performing artist.  
Angelica eagerly agreed, and soon, she was standing in front of more than 700 guests, microphone in hand, performing "Look Up Child" by Lauren Daigle. After receiving a standing ovation, Angelica turned her attention to the screens behind the stage, which began to play a video from Hawaii-based recording artist and producer Imua Garza. As he toured the recording studio, Imua had a message for Angelica: "Today I'm at the studio called Blue Planet and this will be one of the studios where we'll be recording. What? We're going to be recording?! YES! Together, I'm going to write a song with you, produce it, mix it, put music to it, and make your wish come true. I'm looking forward to working with you, and Angelica? The best is yet to come."  
Shortly after her performance, Angelica met Imua in the studio, set to work putting pen to paper to turn her story into song, and stepped into the recording booth. What she didn't tell Janelle, Jason and Amanda was that her song would be titled "Make a wish." 
After revealing her completed song in the studio, Angelica then debuted it with a live performance at the Wine for Wishes event. As the evening's star celebrity, she even signed copies of her new CD—the cover featuring a heart to symbolize her condition and how far she'd come.  
Janelle, Jason, Amanda, and her entire Make-A-Wish ohana were there to cheer her on. "It has been a true honor and blessing to be a part of Angelica's journey," said Jason. "She was our little caterpillar that has turned into a beautiful butterfly! She has spread her wings and found her voice." 
According to Angelica, the experience was beyond anything she could've imagined. "It impacted me in a positive way, because I got to share my passion with other people," she explains. "My favorite thing about music is that there is a story behind each song. My song, and my story, is about never giving up, even when you are at your lowest." 
And her advice to other wish kids who may be listening? Says Angelica, "Never give up—If you make a wish, it will come true!"