I wish to have a backyard play structure
Blaize
4
leukemia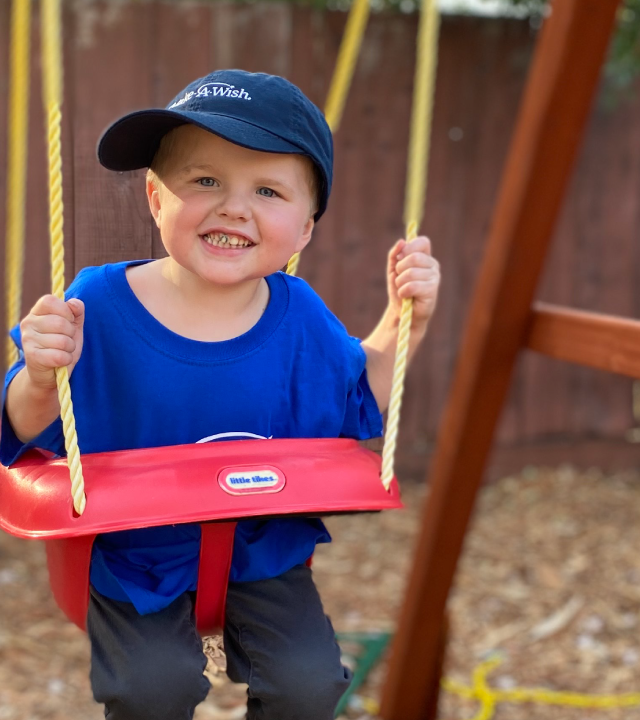 A wish to enjoy for years to come
Four-year-old Blaize lives in a big, loving house in the East Bay with three generations of caring women–his mom, Kira, grandmother Donna, and his great-grandmother, Betty.
"He's a really happy, happy, little boy," says Kira. "He always has energy."
Unfortunately, the first few years of Blaize's life weren't so joyful. At only eight months old, he was diagnosed with infant leukemia. For over a year and a half, Blaize was in and out of treatment, and when his cancer reoccurred at 14 months, he had to undergo a risky bone marrow transplant surgery.
Thankfully, Blaize's surgery was successful, and at 18 months old, he was finally able to return to the safety of home. His family was excited for a chance to embrace the fun parts of childhood—a future filled with playtime and laughter, far away from the hospital stays, injections, and painful treatments that had consumed his life so far.
But Blaize's recovery was slow, with many visits to the doctor's office to check in on his healing. "He was pretty much in isolation for about a year; his numbers were not always coming up," explains his grandmother, Donna. "Just as soon as he was getting ready to start being with other kids, then COVID hit."
When Kira and Donna learned that Blaize would qualify for a wish, they immediately thought about creating a backyard structure for him to play in. "He loves the outside. This seemed like the perfect thing for him," explains Donna. "We have a big backyard with wild plants, it was perfect for a playground."
And when the COVID-19 pandemic began closing parks across the nation, Blaize's wish seemed even more fitting. His wish would allow him to exercise safely, enjoy the outdoors, and continue to build up his strength, without compromising his immune system.
Despite the challenges of 2020, we were determined to grant Blaize's wish this fall. Although there was a national shortage of play structures for sale, Make-A-Wish staff tracked down the perfect playset for the family's backyard. And a generous team of volunteers dedicated three days of labor in the hot sun, getting it set up just right.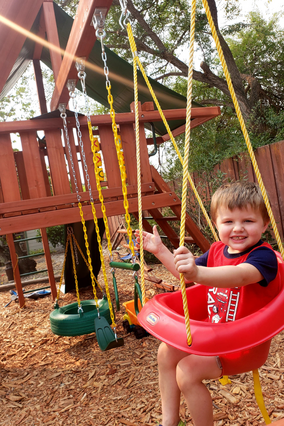 All that hard work was worth it for the moment when Blaize finally saw his wish come true! "They added a bunch of little toys to go along with the playground, so I set up the whole back yard with all these toys—bubbles and ring toss, a bunch of very cool stuff," explains Kira.
When he first arrived home, Blaize was immediately excited by his new toys. "He saw all these toys, and he just thought that was amazing," says Donna. "And then we turned the lights on in the back, and he saw the play structure. He dropped all the toys and made a bee line back there!"
Blaize was beyond excited, and immediately ran over and started to play. "He did not want to come inside that night," says Donna.
Since his wish came true, Blaize has been playing outside just about every day. "We are just amazed at what an amazing job Make-A-Wish did," says Donna. "It's so great for him. What a thing to have for him moving forward."
As Blaize continues to enjoy his play structure for years to come, his family can share why it came to be his. Although Blaize is currently too young to understand his cancer journey, it's an important piece of who he is. "Now, we can share the story behind it," says Kira.
It's so great for him. What a thing to have for him moving forward.
Donna, Blaize's grandmother
"He'll always know that it came from Make-A-Wish, from what we went through," adds Donna. "This is something he'll always have, and we'll always tell him about the journey he went on."
And when Blaize visits the doctor for his annual checkup, an event he dreads (he hates getting his blood drawn), he can think of his play structure as the reward at the end of a hard day.
Blaize's wish was generously adopted by Solid Personnel. Our Adopt-A-Wish program offers the opportunity to invest in a wish experience, altering the course of a child's life, forever. Thank you, Solid Personnel, for helping make wishes like Blaize's come true!