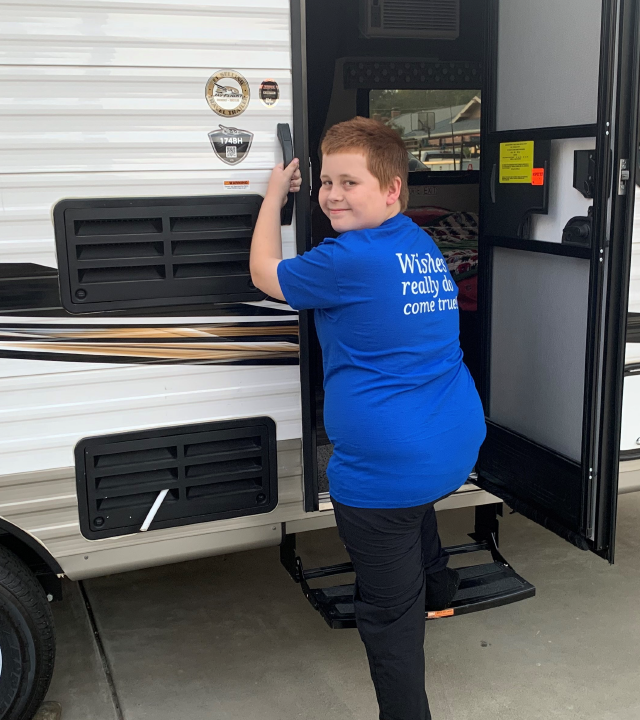 Camping trailers: The wish that keeps on giving
While most of our travel wishes are on hold due to the COVID-19 pandemic, Make-A-Wish is still able to grant wishes for camping trailers.  
Trailer wishes are huge, and even the cost of a refurbished trailer can be a much higher than the average wish cost. However, it's Make-A-Wish's mission to fulfill the one true wish of every child. For families whose children love travel and the outdoors but need access to power or special equipment, a trailer allows them to keep doing what they love.  
For example, camping has always been a safe space for 11-year-old Nathan, who lives with multiple diagnoses. Nathan has high-functioning autism and enjoys quiet activities out in nature. "He's socially awkward, and he doesn't like big crowds–it's too over stimulating" says his mother, Brandy. "He's always really enjoyed our family camping trips."
And take Anabelle, who is 3 years old and loves traveling to new outdoor spaces, but her nervous system disorder requires her to have some medical equipment. "Travelling with her is a little bit difficult because she does have an adaptive stroller, a gate trainer to help her walk, and she still needs to sleep in a crib," her mother, Sarah, says.  
For both these families, a trailer wish was the perfect fit.  
"I was shocked that Make-A-Wish would do something like a trailer, because that's huge," says Brandy. "Making travelling easier was appealing to us," says Sarah, "Having a safe environment for Annabelle to be in, with all of her things, seemed like the best option. So we could do more things together as a family."
Turning wishes into reality at Manteca Trailers
Granting wishes like Nathan and Annabelle's would not be possible without community partners who are dedicated to bringing the power of a wish to local children. Partners like Manteca Trailer, a family-owned business with a warm community of employees, many of whom have been with the organization for 20 years or more. Their team is committed to bringing joy to families.  
"We see families coming in here every day, day in and day out," says General Sales Manager Giovanni Romiti. "That's what keeps us in businesses, that's our livelihood–our families." This passion for family inspired Manteca Trailer's owner David Tenney to partner with Make-A-Wish Greater Bay Area.  
"The work we do in collaboration with Make-A-Wish is the most rewarding part of my job," says Jacob Trucker, who works closely with Tenney and Romiti to make wish experiences come to life at the dealership. "From the very first wish, we were excited and honored to be a part of turning these families' wishes into a reality."  
Romiti concurs. "It's an awesome thing to get to be a part of," he says. "It's our way of trying to help give back to what is our livelihood."  
Romiti also has a personal connection to Make-A-Wish–his cousin's daughter had a wish granted during her battle with cancer. "It was probably one of the roughest things that I've ever gone through," he says, "seeing my cousins and their child suffer. You can't imagine children getting sick like that. Older people, parents–we're supposed to get sick before our kids."   
From the very first wish, we were excited and honored to be a part of turning these families' wishes into a reality.
Manteca Trailers
Nathan's trailer trips give him something positive to look forward to.
  Nathan was diagnosed with SCN8A, a rare genetic mutation that results in severe epilepsy. Because he experiences most of his seizures in his sleep, Nathan's oxygen levels have the potential to drop dangerously low, putting his life at risk.  
"I get absolutely no sleep because the chances of him passing in his sleep are so great that every noise I wake up or I have to lay next to him to make sure he's still breathing," says Nathan's mother, Brandy.  
Unfortunately, the family had to put their camping trips on hold when Nathan's seizure activity became more severe. Due to his condition, Nathan requires an oxygen mask to sleep, which means the family can't be away from a power source overnight.  
When Nathan found out that he was eligible for a wish, he considered a trip to Yankee Stadium or perhaps Hawaii. But then he realized that what he missed the most throughout his treatment was going camping with his family.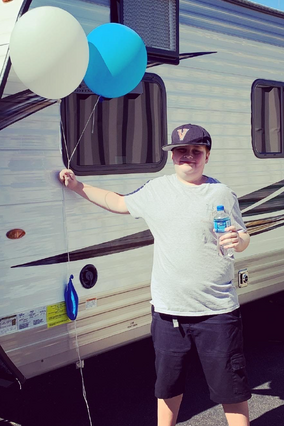 When it clicked that Nathan could wish for his own trailer, the family was thrilled. Nathan was even able to combine a few of his passions–he received a Yankees license plate frame for his trailer and the trailer's interior was decorated with Yankees colors.  
On the day Nathan's wish came true, his parents told him that they were heading to Manteca to do some shopping. They "just happened" to drive by Manteca Trailer, and Brandy suggested they pop in to check out the trailer, which Nathan didn't think they'd receive until the next summer. To Nathan's shock, their entire extended family was already there, standing in front of a balloon arch with a Make-A-Wish banner.   
They then announced an even bigger surprise–his trailer was ready to pick up, and they would be going camping that very weekend! "It was really cute," says Brandy. "Manteca Trailers went above and beyond to make it a special thing for him."  
"I know that Nathan had been looking forward to going camping for so long," says Romiti, who was there for the big reveal. "When he walked in, you could see him tear up. It was very special."  
Since receiving their trailer, Nathan's family has already been camping four times, and the trips have been both restorative and transformative.  
One of the side-effects of the medication that Nathan takes to treat his epilepsy is depression, and it's been hard for him to feel motivated at school. Now, he has weekends in his trailer to think about.  
"It's giving him something to look forward to at the end of the week that he truly enjoys," says Brandy. "It has helped tremendously, and he is so happy."
When he walked in, you could see him tear up. It was very special.
Giovanni Romiti
Manteca Trailers
Annabelle's trailer made it easier to spend time as a family
When Annabelle was just 2 ½ months old, she began experiencing infantile spasms. Doctors tried everything–MRI scans, EEG tests, several different medications, even stem cell therapy–but nothing seemed to improve her condition. "On paper, she was a relatively healthy kid," says her mother, Sarah. "They didn't know why she was having seizures."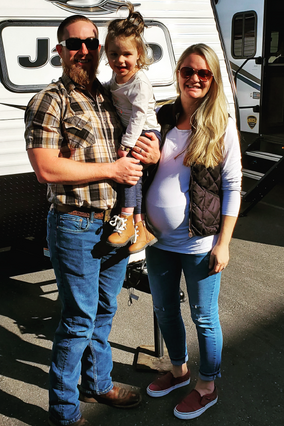 More than a year later, an MRI finally revealed the source of her spasms. Annabelle was diagnosed with cortical dysplasia, a brain malformation that causes epilepsy. At her doctor's recommendation, Annabelle underwent a right-side hemispherectomy, an operation that would disconnect the right side of her brain, where the cortical dysplasia was occurring. "She went from having 700 seizures a day to none," says Sarah. "So, it was a pretty successful surgery!"  
Today, Annabelle is three years old, seizure-free, and only requires one type of medication for maintenance. Now that her spasms have stopped, she's finally able to grow and thrive. "She was seizing so much that she didn't really have a chance to develop," says Sarah. "She's finally developing, and it's just rapid fire, which is great." She's started preschool and has begun vocalizing and even asking for her 'mama.'"  
Annabelle loves travelling to new places, being outside, and going swimming, but because of her condition it can be a challenge to get around. That's why the family decided that a trailer would be the perfect wish for Annabelle.   
Having a safe environment for Annabelle to be in, with all of her things, seemed like the best option. So we could do more things together as a family.
Sarah
Anabelle's mom
The team at Manteca Trailer was able to select the ideal RV for Annabelle's family, featuring two bunk beds, a queen-sized sleeping area, and a bathroom. "It's perfect for us," Sarah says. "It has everything we need for Annabelle and our other one on the way."  
Annabelle was introduced to her new RV with a reveal party at Manteca Trailer featuring cupcakes and balloons. As the family arrived, they were beaming, recalls Romiti. "Seeing the smiles on their faces and how happy they were–it was just incredible."  
Romiti describes trailers as the wish that keeps on giving, because there's no limit to the number of trips families can make together.  
"There's something to be said about going RVing, going camping, that just reduces all the stresses and the pressures that we accumulate in everyday life," he says. "And if there's anyone that's more affected by that, it would be the parents of the wish kids. They need an escape too, something that they can all do as a family."  
You can change lives. When you donate to Make-A-Wish, you're giving children renewed strength to fight their illnesses and bringing families closer together.