I wish to give back to the Lucile Packard Social Services Fund
Natalie
15
cancer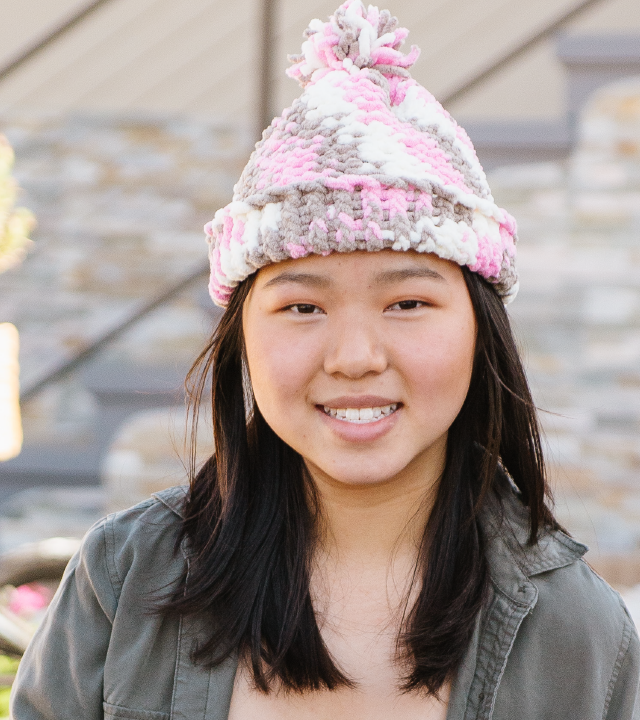 Knitting with Natalie
Natalie's wish brings the sunshine and the hats!
When 15-year-old Natalie was facing down a life-threatening illness—T cell lymphoma—it was her supportive medical team that gave her the strength to go on.
That's why, when she learned that she qualified for a wish, she immediately knew she wanted to use it to give back.
"I want to be that sunshine in someone's life during a tough time," Natalie says, "just like the doctors and nurses were for me."
During her treatment, Natalie found comfort in the caring staff at Lucile Packard Children's Hospital. "I met a lot of wonderful doctors and nurses who helped me get through all of that," she says. "The staff at the hospital were always there to cheer me up and guide my family during tough times."
Even when she was feeling her worst, Natalie's spirits were lifted when she'd meet with her medical team. "They'd walk in my room with big smiles on their faces, which made me smile," she says. "Even when I was upset and crying, they would talk to me and make me feel like a normal person."
One nurse, Kendall Conn, became a close confidant for Natalie. Conn was an inspiration to Natalie and the close bond they developed helped her immensely during her recovery. "She was so joyful and cheerful and every time I saw her, I would smile," says Natalie, "even if I was midway through throwing up."
I want to be that sunshine in someone's life during a tough time, just like the doctors and nurses were for me.
Natalie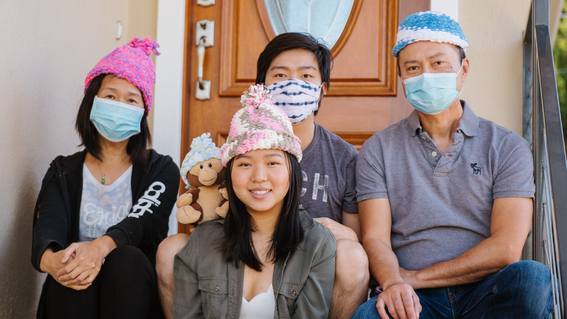 Hats have always had a special place in Natalie's heart.
Hats have always had a special place in Natalie's heart.
Picking up a new hobby was another thing that gave Natalie comfort during treatment.
"I was so bored at home because I couldn't go to school, so I found a knitting set that my dad's sister gave me and I just started learning it," she says. Knitting became a fun way for her to pass the time, and something to keep her busy while in and out of the hospital.
Natalie chose to use her wish to give back to the Lucile Packard Social Services Fund, the supportive social workers who helped guide family through those uncertain times. As part of Natalie's wish, the Social Services fund received a $5,000 donation, which will help more families like hers benefit from important counseling and crisis intervention services.
Natalie didn't want to just give back to the hospital, she wanted to spread the sunshine even further. After consulting with Make-A-Wish staff members, Natalie decided to launch a knitting challenge to raise awareness for her cause. "I wanted to raise awareness for cancer and help give back to the community and involve everyone in it," she explains.
Natalie launched her #KnittingWithNatalie awareness campaign on July 23, 2020—her 15th birthday and the last week of her treatments for cancer. She asked the community to knit hats and send them to the Make-A-Wish Greater Bay Area office in Oakland and also share photos on social media and tag Make-A-Wish, Lucile Packard, and use #KnittingWithNatalie.
Make-A-Wish arranged for the hats to be donated to Teen Health Van, a service within Lucile Packard that provides expert care for the community's high-risk kids and young adults, including homeless youth.
Natalie asked, and the community delivered, to an amazing extent! Knitters from all around the Bay Area and beyond began sharing via the hashtag and sending in hats along with heartfelt cards and letters for Natalie. Each and every one wanted to help make Natalie's wish come true. Some participants were grandparents, wish parents, and cancer survivors themselves, who were touched by Natalie's wish and wanted to get involved.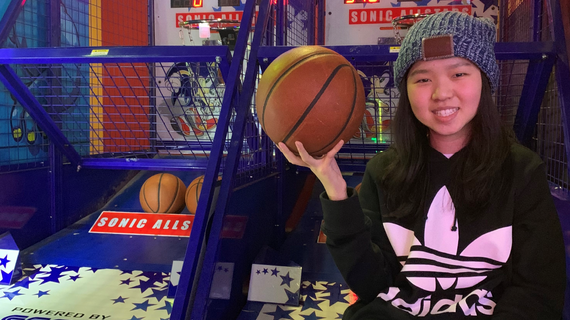 "I understand how it feels to go through chemo," wrote a young girl named Mena, "I went through it myself when I was thirteen years old. I know all of the hard things that you're going through like the medications that make you feel sick and not being able to be around people or go to school and see your friends. It's hard."
By the time the challenge concluded at the end of August, more than 800 hats lined the office wall—creating a cozy, colorful rainbow. "I want to thank everyone who participated in my knitting challenge," says Natalie. "It was incredible seeing all the photos of your hats. I know that everyone at Lucile Packard will appreciate all your support!"
Natalie is now in the maintenance phase of her treatment, and looking forward to continuing with high school and on to college. Inspired by the kind nurses who supported her during her journey, Natalie dreams of one day becoming a nurse herself.
"It makes perfect sense that she would be so giving and generous with her wish," says Nurse Conn. "It speaks volumes about who Natalie is as a person, and who she's going to be. She's going to be that sunshine."