I wish to have a backyard play structure
Brooklyn
3
leukemia
Brooklyn's wish to have a backyard play structure
Three-year-old Brooklyn's wish feels like it could only have happened in 2020.
At the same time, there were moments when it seemed like it might not happen at all.
In January 2020, Brooklyn was diagnosed with leukemia—when she was only two years old. "It hit hard for our home, our family," says Brooklyn's mom, Brandi. "It is hard to grasp that a little girl that just started life was having this huge battle now."
This spring, the family found themselves focused on fighting Brooklyn's cancer, while trying to maintain as much normalcy for her as possible. For Brooklyn, an active and social child, that meant playing outside.
Unfortunately, the escalating global pandemic and her ongoing cancer treatments made things difficult. "We knew that with COVID, we weren't going to be going out much anywhere due to the high risk," says Brandi.
That's why Brooklyn wished for a play structure in her backyard to keep her entertained as she faced her treatment. "So she could play in the backyard, to be able to get out and be active, even with her situation," explains Brandi.
Unfortunately, at first COVID-19 shelter-in-place restrictions in the Bay Area prohibited construction projects like Brooklyn's play structure. For several months, Brooklyn's wish had to be placed on hold until it was safe to proceed.
It is hard to grasp that a little girl that just started life was having this huge battle now.
Brooklyn's mom, Brandi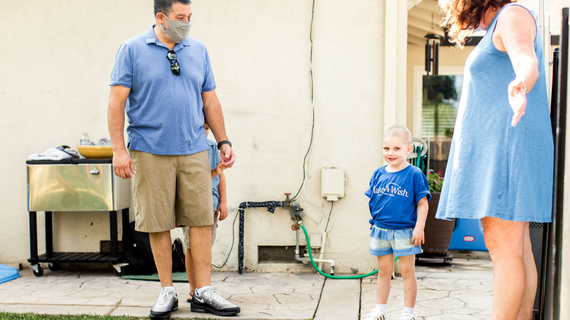 Eventually, county restrictions eased up and staff were able to plan a safe and socially distanced construction plan—it finally seemed like Brooklyn's wish was within reach. The play structure was ordered and delivered and volunteers, including staff members from Bristol Myers Squibb, were ready to put it together.
Then, in the days before assembly was due to begin, major fires broke out across northern California, and the project had to be postponed once again, this time due to very unhealthy air quality.
But—thanks to the persistence and flexibility of all involved—on one hot, smoky day in September, Brooklyn's play structure was finally revealed!
Brandi was blown away by the team's dedication to bringing her daughter's wish to life. "These are people who don't even know Brooklyn," she says. "For them to come and take the time out of their day, especially the kind of day it was—hot, lots of fires going on, the air quality. It just warmed our hearts."
The volunteers from Bristol Myers Squibb went above and beyond to make Brooklyn's wish day extra special. "A couple employees brought Brooklyn a birthday gift," says Brandi, "and I thought that was so nice. The kindness out of their heart to take the time and be so genuine and giving, it really is something I will never forget."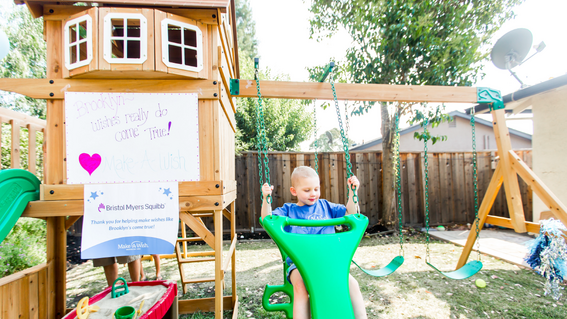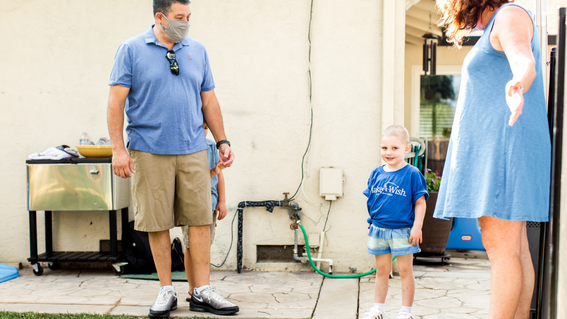 Since her wish came true, Brooklyn has been enjoying her play structure daily, spending full afternoons playing outside. "She loves it, she just adores it," says Brandi. "The kitchen, the sandbox—she plays pretend cooking, plays up and down the slide, and swings on the swings."
The new play structure has become a crucial place for Brooklyn to get away from the tough realities of cancer treatment. "Now, she doesn't complain that she wants to go see other kids," says Brandi. "She asks if she can go outside and play!"
Brandi says that wishes are crucial for kids like Brooklyn. "They are down and out. They are fighting cancer and other illnesses that change their lives," she says. "If you can find something fun for them, then they have something to look forward to when they get home after hard days, like Brooklyn does. It is wonderful. It is priceless."
Brandi and her husband William hope that one day, they can become wish granters themselves. "In the future, we hope that we are able to volunteer our time to fill a child's heart with joy and love and kindness," she says. "I think it is so important, and I feel very blessed."
Thank you to Bristol Myers Squibb for their generous contribution to help grant wishes like Brooklyn's. We're also grateful to volunteers from Bristol Myers Squibb who helped put Brooklyn's backyard play space together. If you or someone you know would like to donate goods or services for wishes, please contact Allie Reynolds at [email protected] or visit our In Kind web page for more information.