I wish to have a swim spa
Bennett
4
nervous system disorder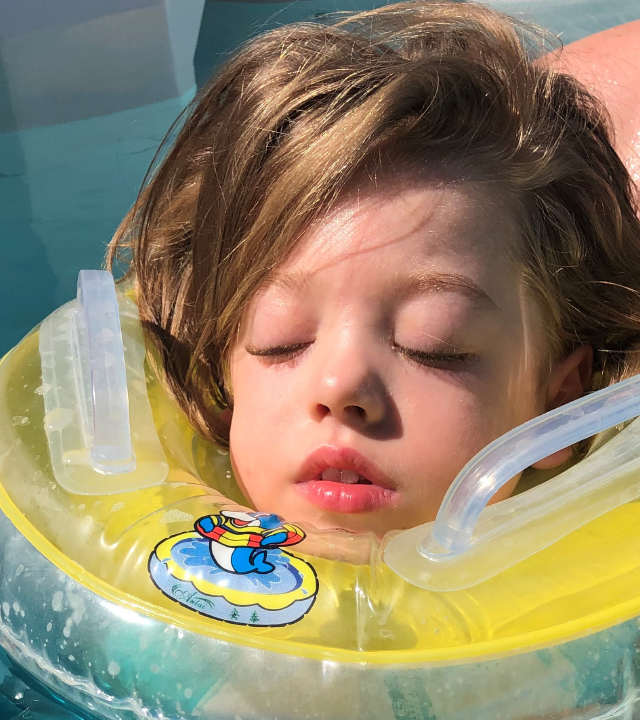 *While it was our tremendous honor to grant Bennett's swim spa wish, due to the complex nature of installation for large swim spas and lack of quality vendor access across the country, which resulted in inequity in wish granting across the Make-A-Wish national enterprise, Make-a-Wish is no longer granting wishes for swim spas.
At just 11 months of age, Bennett was diagnosed with a rare neuro developmental disorder, CDKL5, which affects his brain growth and development.
Bennett suffers from several seizures a day and is frequently hospitalized.
CDKL5 is incredibly rare and the medical community is only now beginning to understand the disorder. The deficiency largely presents itself in young girls, and boys who are diagnosed with the disorder tend to suffer from even more severe developmental impacts.
When they received the news, Bennett's parents felt overwhelmed. "A diagnosis of a rare, devastating disorder can feel very lonely and isolating without any support," says his mother, Kara.
Initially, Bennett's future felt very uncertain. "Bennett's first year was the hardest year in my life," says Kara. "It has changed me forever in many ways, good and bad."
In addition to coming to terms with the news of Bennett's diagnosis, Bennett's parents had to find ways to mitigate his painful symptoms. To date, doctors have been unable to find a medication that will control his daily seizures, which are heartbreaking and terrifying to watch. In order to minimize them, Bennett receives breathing treatments three times a day, suctioning several times a day, and requires constant repositioning in order to stay healthy.
Many of the days are hard; still, Kara says that "on a normal day when he's happy and healthy, I enjoy my sweet, cuddly angel and appreciate him for being him. I no longer wish for him to be someone different. He's happy living his best life and that is all I want for him."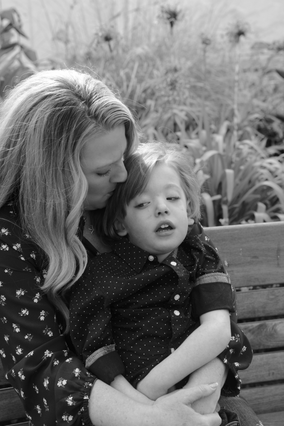 Bennett's parents are always looking for new therapies that may help Bennett's condition and improve his quality of life. "We try to do therapies with him daily when he's feeling well enough," she explains. "He loves to use switch adapted musical and light up toys, play with his brothers, watch Disney movies, and listen to music."
When Kara first learned about Make-A-Wish from an old friend, she was eager to submit Bennett for a life-changing wish that would adhere to this spirit of ongoing improvement. "We really wanted a wish for him that he would be able to use for the rest of his life," she explains. "The swim spa seemed the perfect wish."
Kara had read about aquatic therapy as a successful tool for children like Bennett—spending time in a swim spa helps kids with developmental disorders gain strength, and the act of swimming is joyful and therapeutic. Unfortunately, there were no local options available to the family. That's why they wished to have a swim spa installed at home to help Bennett heal and grow.
"He doesn't get to experience fun activities like other four-year-old little boys," explains Kara. "The spa gives us a safe place at home to let him have fun and get some of the strengthening benefits, increasing his quality of life immensely."
Since receiving his swim spa, Bennett has been swimming every day, and the restorative results are already apparent. "It calms him and is helping him build his core strength," says Kara. "We are so grateful!" She is hopeful that Bennett will continue to benefit from the swim spa for years to come, and his daily swims will be a peaceful break from his often stressful and painful days.
The spa gives us a safe place at home to let him have fun, increasing his quality of life immensely.
Bennett's mom, Kara
More hope is on the horizon for Bennett as well. Researchers have been hard at work experimenting with treatments and seeking a cure for CDKL5. "We are very hopeful that there will be the start of a cure by 2025," says Kara. "Gene replacement and protein therapies are in our near future!"
Bennett's wish was generously adopted by Horizon Therapeutics. Our Adopt-A-Wish program offers a unique opportunity to make an immediate, direct and substantial impact on the life of a child by underwriting the average cost of a wish.
Research shows that children who have wishes granted can build the physical and emotional strength they need to fight a critical illness. You can give families like Bennett's the hope they need today so they can look forward to a better tomorrow.